The official Dragon Ball website's eighty-eighth entry in "The Nearly Complete Works of Akira Toriyama" — an on-going series highlighting rare and important pieces of the author's work over the years — is "Captain Gyao", the mascot character designed for Jump's 20th anniversary, from the 1988 No. 32 issue of Weekly Shōnen Jump (released 05 July 1988):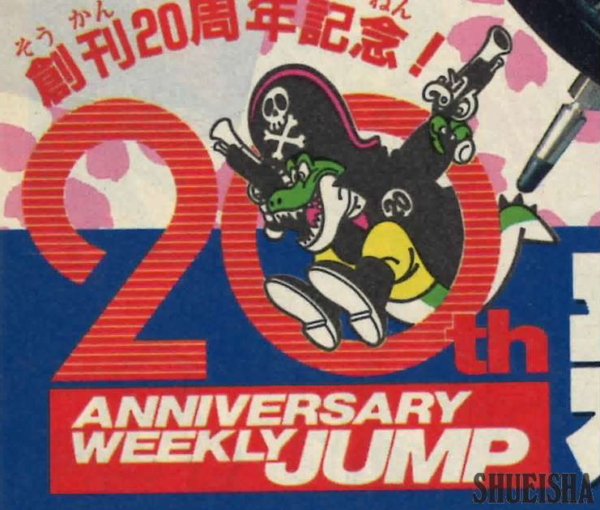 The character was designed with Jump's existing pirate mascot in mind. Gyao also appears in the 1988 Nintendo Famicom game Famicom Jump Hero Retsuden, a crossover game created for the 20th anniversary featuring characters from a wealth of Jump properties including Dragon Ball and Dr. Slump: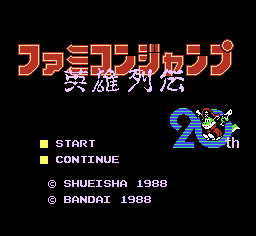 Famicom Jump Hero Retsuden and its 1991 sequel are set to be included on the forthcoming Nintendo Classic Mini Famicom Weekly Shōnen Jump 50th Anniversary Edition alongside three of the Famicom's Dragon Ball games, the original Dragon Quest, and more.
This particular issue also contained chapter 182 of the Dragon Ball manga. In his accompany author comment, Toriyama discussed playing the then-upcoming Dragon Ball Famicom game Dragon Ball: Daimaō Fukkatsu ("Dragon Ball: The Great Demon King's Revival", also included on the forthcoming Nintendo Classic):
ドラゴンボールのファミコンがとても面白かった。興味がある人は、8月に買ってみて下さい <明>
---
Dragon Ball for the Famicom was a lot of fun. If you're interested, please buy it in August. <Akira>