This year's forthcoming Dragon Ball Super theatrical film has been revealed as a new story featuring Broli ("Broly"). Following suit, the movie's official subtitle appears to simply be Broly, with the new tagline, "The Greatest Enemy, [a] Saiyan."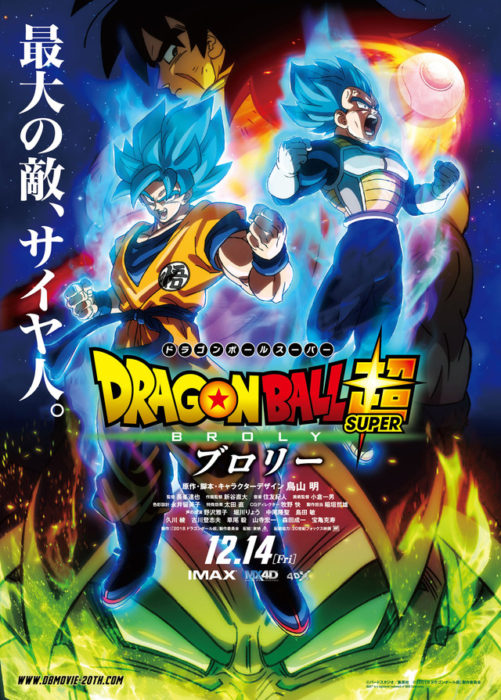 In addition to the movie's title, additional staff and cast have been announced. Bin Shimada will return to presumably reprise the role of Broli, while Katsuhisa Hōki will likely portray Broli's father, Paragus (Hōki has recently been voicing Paragus in the Dragon Ball Heroes arcade games following original voice actor Iemasa Kayumi's passing in 2014). Aya Hisakawa will also make her theatrical debut, presumably as Bulma (following the tragic passing of original voice actress Hiromi Tsuru). The updated cast listing also lists the voice actors for Beerus, Whis, Piccolo, and Trunks (Koichi Yamadera, Masakazu Morita, Toshio Furukawa, and Takeshi Kusao, respectively).
The film's official website includes a new comment from original author Akira Toriyama, who is providing the script and character designs for the new film. As opposed to the last comment provided on the film's official website, the accompanying English translation is sufficient:
Everyone, are you familiar with Broly?

He's an incredibly strong Saiyan who only appeared in the old anime movies, and I apparently at least drew the designs for him, but I had practically no involvement with the anime at the time, so I had totally forgotten about the story content.

So, about Broly. I hear these days, he's still very popular not only in Japan, but also overseas. Based on that, my editor suggested we have Broly appear in this next movie.

I went ahead and watched the movies from back then, and I felt this could be quite interesting once I rearrange some things. I got right to work trying my hand at a story that incorporates him into the Dragon Ball Super series.

While keeping in mind Broly's classic image so as not to disappoint his fans, I updated him and added a new side to his character, and I think this has resulted in a more fascinating Broly.

Naturally you'll get to see fierce combat, but also, the paths of destiny that lead to an encounter between Goku, Vegeta, and Broly. It also involves the Frieza Force and the history of the Saiyans, which end up having a major connection to everything. The story content turns out to be very large-scale and dramatic.

Here comes that almighty Saiyan, Broly! I'm also including lots of other content all you fans will enjoy, so look forward to it, and be patient a while longer for it all to come together!!
Advance tickets for the film go on sale in Japan 20 July 2018, and will entitle movie goers to one of two keychains — of either Goku or Vegeta in their new outfits — that change color from regular Super Saiyan to Super Saiyan Blue depending on the temperature: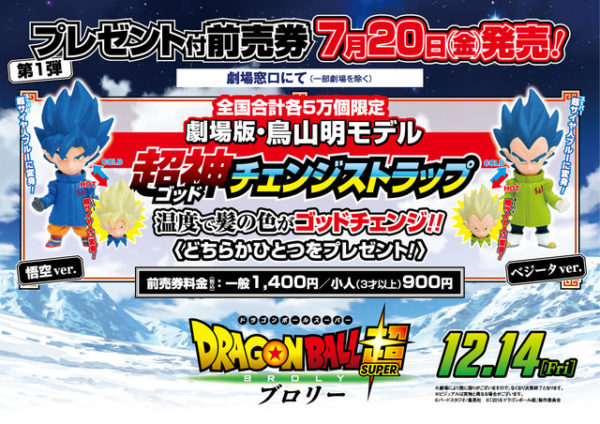 The film opens 14 December 2018 in Japan, with a wide international release hinted at by production staff. IMAX screenings will occur alongside standard screenings; 2013's Dragon Ball Z: Battle of Gods was the first Japanese film to be screened in IMAX Digital, while 2015's Dragon Ball Z: Resurrection 'F' was the first IMAX 3D presentation for a Japanese film.
Broli, a character originally created by writer Takao Koyama, was originally featured in three films in the 1990s; Akira Toriyama provided design thoughts and critiques alongside these appearances, but was otherwise not directly involved with these specific stories. Since then, the character has appeared in numerous video games and bits of ancillary media, including 2017's Dragon Ball Z: The Real 4-D special feature at Universal Studios in Japan.
In a 2003 interview between Akira Toriyama and champion inline skaters Eito and Takeshi Tasutoko published in Viz's American Shonen Jump magazine, Toriyama questioned the character of Broli when referenced for a sketch:
Eito: I made a homepage called "Cabin Eight" where I'm displaying my rough sketches. I'm wondering if I could get an autograph from you? Would it be possible for you to do a self portrait of yourself?

Toriyama: Aaaagh, that's like the hardest request. (laughs)

Takeshi: How about Kame-Sen'nin? Or Vegeta? I like Vegeta too. Or Brolli [sic] from the movies?

Toriyama: Brolli? Who was he? I don't know if he was in the manga…
Following a preview screening of the 2013 theatrical film Dragon Ball Z: Battle of Gods, Koyama penned a blog post expressing his thoughts on the new God of Destruction Beerus in comparison with Broli:
For this time, Goku's opponent, designed by Toriyama-sensei, was even a God of Destruction. In the world of Dragon Ball Z, that's a setting where even Broli, before the God of Destruction, would face a gap like that between a Yokozuna and the very bottom of the sumo ranks. That Broli, reduced to a pushover.

Only, from the impression I got of the character on the screen, Broli was scarier, no contest. Am I the only one who found that Broli looked overwhelmingly frightening? Or am I just biased towards my own creation?
The character's overall design and transformation was recently adapted for Kale, a Saiyan from Universe 6, during the Universe Survival arc of the Dragon Ball Super television series; Broli himself did not appear and was not referenced in the series.
In addition to within Toriyama's comment for the new film, Broli's international popularity was pointedly cited last year in an interview with "Dragon Ball Room" head and V-Jump editor-in-chief Akio Iyoku:
One particularly large difference between Japan and overseas is the "incredible popularity" of the movie-original character Broli, who appeared as an enemy in three films (one of which featured a clone of him): "He's got bulging muscles and gives Goku a tough fight, so the Super Saiyan version of Broli is popular."
The new movie details come on the heels of a prior announcement of older Dragon Ball Z theatrical films and a television special receiving screenings in American theaters this fall, with the original Broli film kicking off the screening series this September.