FUNimation's online shop reveals an 02 October 2018 release date for their fifth part of the Dragon Ball Super television series on DVD and Blu-ray.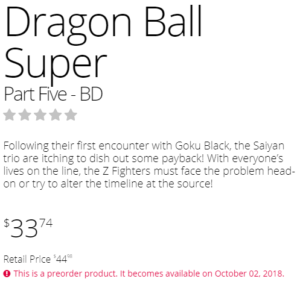 Following their first encounter with Goku Black, the Saiyan trio are itching to dish out some payback! With everyone's lives on the line, the Z Fighters must face the problem head-on or try to alter the timeline at the source!
The bilingual (English/Japanese) two-disc set will span episodes 53 to 65 and is slated to contain 17 minutes of bonus material. The set will retail for $39.98 MSRP on DVD and $44.98 MSRP on Blu-ray.
The Dragon Ball Super television series concluded in March 2018 with 131 total episodes. FUNimation owns the American distribution license for the series, with the English dub airing on Cartoon Network, and the home video release reaching its fourth box set last month.