Advance tickets for the upcoming Dragon Ball Super: Broly movie officially went on sale in Japan on 20 July 2018, following the debut of the movie's first official trailer. It is being reported by Japanese news site Daily Sports Online that as of 23 July 2018 — three days after going on sale — 23,866 tickets have already been sold. In comparison, the sale of advance tickets for the franchise's previous movie, Dragon Ball Z: Resurrection 'F', were only half of that after two days of being on sale, with approximately 11,518 total tickets sold. Resurrection 'F' ultimately surpassed the box office numbers set by its predecessor, Battle of Gods, selling a rough total of 2.4 million tickets.
Pricing for these advance tickets comes in at ¥1,400 for adults and high schoolers or ¥900 for middle schoolers and children 3 years and up. A special present designed by original author Akira Toriyama will also come with the purchase of these advance tickets, which includes one of either a Goku or Vegeta "God Change Strap" whose hair color changes depending on the temperature — regular Super Saiyan when hot, or Super Saiyan Blue when cold.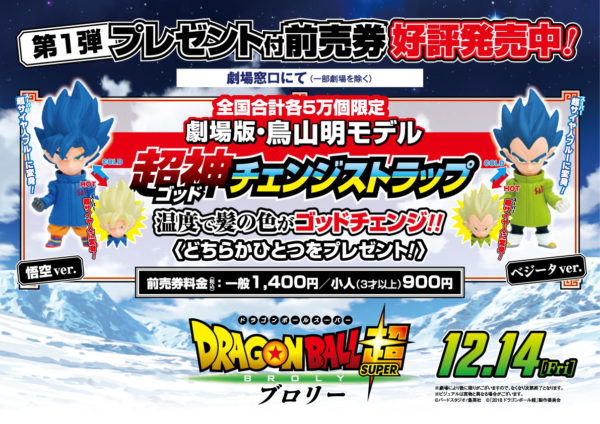 The story, script, and character designs for Dragon Ball Super: Broly, opening nationwide in Japan 14 December 2018 in 2D, IMAX, and MX4D, are being crafted by original manga author Akira Toriyama. The film will be directed by Tatsuya Nagamine, and will feature animation supervision by Naohiro Shintani along with art direction by Kazuo Ogura.