Dragon Ball FighterZ wrapped up its debut at the 2018 Evolution Championship Series ("Evo") not only as the game with the highest number of registered entrants, but also raking in the highest viewer count for an Evo main event on Twitch.
American player Dominique "SonicFox" McLean ultimately took home the win against Japanese player Goichi "GO1" Kishida in the grand finals with a match-up of Bardock + Merged Zamasu + No. 16 against Cell + Bardock + Super Saiyan Vegeta, respectively. The grand finals win came after a prior match between the two as "GO1" worked his way up the losers' bracket, as well as a last-minute player side swap following a initial bracket-reset win from "GO1".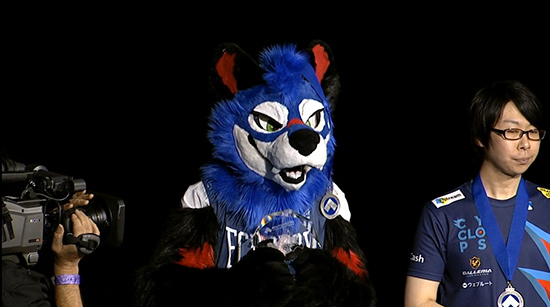 Perhaps the evening's biggest excitement came in the previous battle between "SonicFox" and "GO1", where in the third round "GO1" managed to restore the health of Vegeta, his sole remaining fighter, with a wish to Shenlong. This merely prolonged the inevitable, as "SonicFox" still managed to sweep 3-0; the two clashed again in the aforementioned grand finals.
In conjunction with the grand finals, Bandai Namco released a new promotional video for upcoming downloadable content in the game, revealing an 08 August 2018 release date for Goku and Vegeta, and formally unveiling Coola as a forthcoming playable character as well:
Coola — Freeza's brother, originally from the fifth and sixth theatrical Dragon Ball Z films in the 1990s, and most recently a central figure within the latest Super Dragon Ball Heroes "Universe Mission" arc — has been heavily rumored and suspected as a playable character since the earliest datamining post-release. Thus far, all of the datamined and "leaked" characters have come to fruition; No. 17, while not officially revealed in any way, is heavily expected to round out the eight announced downloadable character slots.
Additional characters are available individually for ¥500/$5, or as part of the game's game's optional $34.99 "FighterZ Pass" covering eight total characters. Broli, Bardock, Vegetto, and Merged Zamasu were the first four of eight promised paid downloadable characters.
The 3-on-3, "2.5D" fighting game is developed by Arc System Works and is currently available on the PlayStation 4, Xbox One, and PC (via Steam); on these systems, the game runs at a 1080p resolution and 60fps frame rate, with higher resolutions available on the PlayStation 4 Pro and Xbox One X consoles, as well as the PC. A Nintendo Switch port is due in 2018. Playable characters include Son Goku, Son Gohan (Cell arc design), Vegeta, Freeza, Cell, Boo (Good), Trunks, Piccolo, Kuririn, #16, #18 (with #17), Yamcha, Tenshinhan (with Chiaotzu), Ginyu (with teammates), Nappa (with Saibaimen), Gotenks, Son Gohan (Boo arc design), Boo (Pure), Hit, Beerus, and Goku Black (with Zamasu), as well as "Super Saiyan God Super Saiyan" (SSGSS, or "Super Saiyan Blue") versions of Goku and Vegeta that can be accessed early via pre-orders or unlocked through gameplay. The Akira Toriyama-designed "#21" is a new character central to the game's story mode.
Dragon Ball FighterZ was originally released 26 January 2018 in North America and Europe, and 01 February 2018 in Japan. Alongside its Japanese release, Bandai Namco announced that they had shipped two million copies of the game, making it the fastest-shipping game in the franchise's history. The game ships on the Nintendo Switch next month.