As part of the ongoing 50th anniversary celebration of Weekly Shōnen Jump, as highlighted in this week's December 2018 issue of V-Jump, Shueisha will release a Dragon Ball: Jump Best Scene Top 10 (『DRAGON BALL』ジャンプ ベストシーンTOP10) mook 02 November 2018.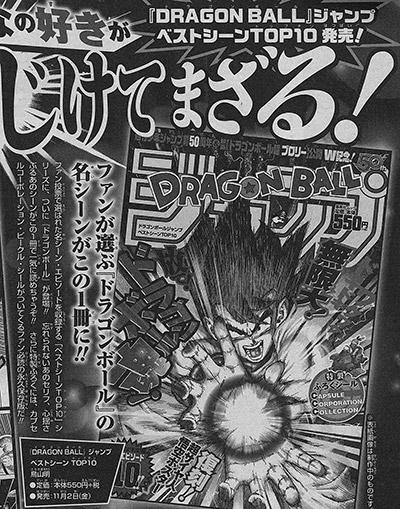 The release follows similar mooks for Fist of the North Star and Yū Yū Hakusho.
"Mook" (magazine-styled book) releases, such as 2015's Dragon Ball Super: Super Start Guide, are traditionally only available shortly after their original print date, as opposed to guide books and compiled manga releases that remain in print for several months or even years.
The Dragon Ball: Jump Best Scene Top 10 mook is available to pre-order on Amazon Japan for ¥594.