In conjunction with today's January 2019 issue of Shueisha's V-Jump magazine, Bandai Namco has announced a "Super Saiyan Full Power" version of Broli coming as paid downloadable content to Dragon Ball XENOVERSE 2 this winter as part of the "Extra Pack 4":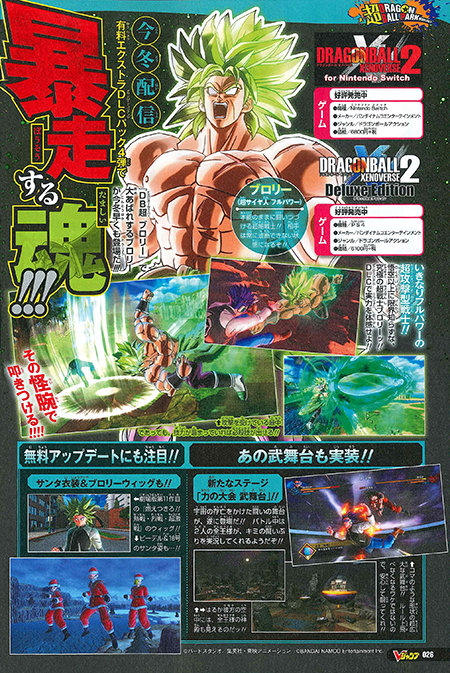 The character, styled as his appearance in the upcoming theatrical film, will be able to use a special move even in the middle of receiving an attack so long as the appropriate technique meter is full.
The original version of Broli, as well as a "Super Villain" version, is already available in the base Dragon Ball XENOVERSE 2 content.
The Dragon Ball Super series' Tournament of Power arena will be included as a fighting stage in the paid DLC, though players will face no flying restrictions in the game as characters did in the series itself. Shaped like a giant top, the Omni-King temple is visible in the far distance.
A free update will accompany the paid downloadable content, which will include access to a Broli wig, as well as Santa outfits.
Following the four paid content packs covered by the game's original season pass, Bandai Namco released two additional paid content packs for Dragon Ball XENOVERSE 2. Earlier this year, Bandai Namco promised additional free and paid content updates coming to Dragon Ball XENOVERSE 2; "Extra Pack 3" was released back in August.
Developed by Dimps for Bandai Namco, Dragon Ball XENOVERSE 2 is available worldwide for the PlayStation 4, Xbox One, PC (via Steam), and Switch. In North America, the game launched for consoles 25 October 2016 with a PC release following 28 October 2016. In Europe, the game launched across all platforms 28 October 2016. In Japan, the game launched on the PlayStation 4 console 02 November 2016. The Nintendo Switch port was released in Japan and internationally in September 2017.