Toei Animation and Avex Trax recently revealed the cover art and full track listing for the forthcoming Dragon Ball Super: Broly theatrical film's original soundtrack: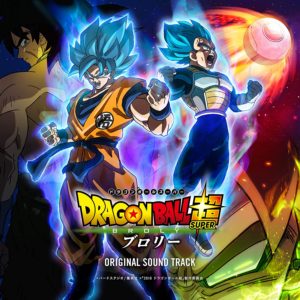 Birth of Freeza's Army
Ruled by Freeza
Broli's Potential
Paragus' Rage
Dragon Ball Super: Broly Theme
Broli on the Frontier
Freeza's Scheme, Premonition of Death
Bardock Falls
CHA-LA HEAD-CHA-LA
Vegeta's Irritation
The Adventure Begins
Bulma's Wish: Another Five Years
Freeza's Wish: Another Five Centimeters
The Wild Child, Broli
An Unexpected Bounty
Broli's Sorrowful Situation
Memories of Bah
Freeza and Broli
Broli Begins to Battle
Awakened Power
Kakarrot vs. Broli
Broli Evolves
Prelude to a Comeback
Broli's Rage and Sorrow
Will They Fuse?!
The Birth of Gogeta!
The World in Danger
Broli vs. Gogeta ~ Theme Song
Omen of Battle
Full-Force Kamehameha
Freeza's Ambition
Friendship with Broli
I'm Kakarrot
Blizzard (Movie Edit)
The soundtrack — due out 12 December 2018 for ¥2,700 — is currently available for pre-order via CDJapan and Amazon Japan.
Separate from the soundtrack, the film's main theme song — "Blizzard" by Daichi Miura — is currently available on digital purchase and streaming platforms, with a formal CD single release planned for next month. We recently added the song's lyrics to our archive.
The story, script, and character designs for the film, formally opening nationwide in Japan 14 December 2018 in 2D, IMAX, and MX4D, are crafted by original manga author Akira Toriyama. The film is directed by Tatsuya Nagamine, and features animation supervision by Naohiro Shintani along with art direction by Kazuo Ogura. The film will receive international distribution following its Japanese debut. A world premiere was held 14 November 2018 at Nippon Budōkan with special guests including Masako Nozawa, Ryō Horikawa, Ryūsei Nakao, Bin Shimada, Katsuhisa Hoki, Tatsuya Nagamine, and Daichi Miura.