A new Amazon listing for Viz's seventh volume of the Dragon Ball Super manga's print edition is dated for 03 December 2019 at a $9.99 MSRP. A digital edition will also be available at various retailers, including Amazon, Comixology, and direct from Viz.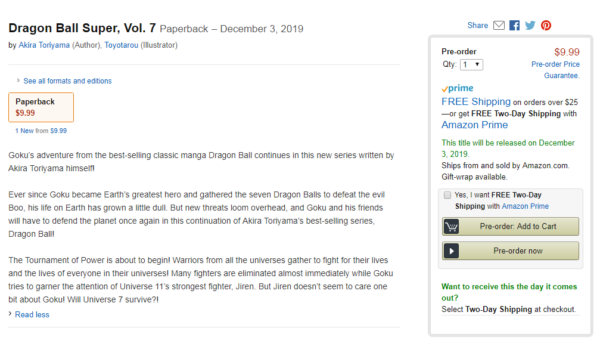 Goku's adventure from the best-selling classic manga Dragon Ball continues in this new series written by Akira Toriyama himself!

Ever since Goku became Earth's greatest hero and gathered the seven Dragon Balls to defeat the evil Boo, his life on Earth has grown a little dull. But new threats loom overhead, and Goku and his friends will have to defend the planet once again in this continuation of Akira Toriyama's best-selling series, Dragon Ball!

The Tournament of Power is about to begin! Warriors from all the universes gather to fight for their lives and the lives of everyone in their universes! Many fighters are eliminated almost immediately while Goku tries to garner the attention of Universe 11's strongest fighter, Jiren. But Jiren doesn't seem to care one bit about Goku! Will Universe 7 survive?!
The seventh collected edition is expected to cover chapters 33-36 a la its Japanese counterpart.
The Dragon Ball Super "comicalization" began in June 2015, initially just ahead of the television series, and running both ahead and behind the series at various points. The manga runs monthly in Shueisha's V-Jump magazine, with the series' forty-fifth chapter coming next week in the magazine's April 2019 issue. Illustrated by "Toyotarō" (in all likelihood, a second pen-name used by Dragon Ball AF fan manga author and illustrator "Toyble"), the Dragon Ball Super manga covered the Battle of Gods re-telling, skipped the Resurrection 'F' re-telling, and "charged ahead" to the Champa arc, "speeding up the excitement of the TV anime even more". Though the television series has completed its run, the manga continues onward telling its own version of the existing story, having recently entered its own original "Galactic Patrol Prisoner" arc. Viz is currently releasing free digital chapters of the series, and began their own collected print edition back in 2017. The fifth collected volume is due in English from Viz this coming May, while Shueisha released the eighth collected volume in Japan back in December.
The Dragon Ball Super television series concluded in March 2018 with 131 total episodes. FUNimation owns the American distribution license for the series, with the English dub airing on Cartoon Network, and the home video release reaching its seventh box set this coming April.
Thanks to @Adil_OPP for the heads-up!