The sixth collected volume of Naho Ooishi's Dragon Ball SD — the spin-off/re-telling of the Dragon Ball series currently serialized in Saikyō Jump — saw its release both digitally and in print in Japan today (04 June 2019).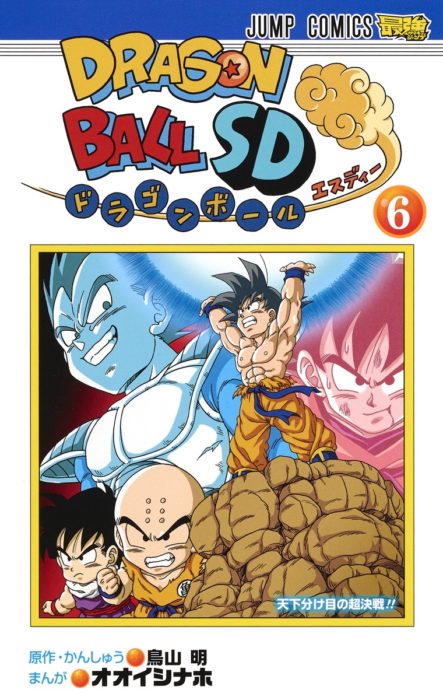 The volume picks up with Chapter 49 of the monthly/bimonthly reboot of the comic as the Earthlings battle Nappa, and concludes with chapter 58 and the defeat of Vegeta (and his surprise landing on Vampa). During its serialization in 2016, Dragon Ball SD skipped to the Saiyan arc following the the 22nd Tenka'ichi Budōkai.
In addition to the aforementioned standard chapters, the sixth collected volume contains two bonus chapters:
A two-page comic from the 2013 Saikyō V-Jump Festa Official Guidebook (which has somehow never been reprinted up until this point, despite the 2012 and 2014-onward bonus comics before and after it receiving collected edition reprints) featuring an entry in the since-then long-running series of Trunks accidentally returning to the wrong point in time: right after the battle with Pilaf.

… as well as a four-page comic from the 2017 Jump Victory Carnival Official Guidebook, with Trunks this time accidentally returning during the battle with Vegeta, Nappa, and the Saibaimen, where he meets an untimely defeat instead of the expected character.
The 192-page tankōbon-sized volume runs ¥600 plus tax and preserves the full-color presentation from its original Saikyō Jump serialization. The print version also comes packed with a Son Goku card for Super Dragon Ball Heroes in the latest "Universe Mission 8" update series.
Volume 5 of the collected Dragon Ball SD is available to order from CDJapan and Amazon Japan. Chapter 52 of the reboot also sees its serialization in today's March 2018 issue of Saikyō Jump in Japan.
Dragon Ball SD began in Saikyō Jump as a quarterly publication with four total issues in 2011 re-telling major aspects of the franchise in an even more childish tone. When the magazine switched to a monthly format in 2012, Dragon Ball SD started over at the very beginning of the series with the same kind of writing and artistic style. The publication switched to a bimonthly release schedule in late-2014. The series' sixtieth chapter was serialized this week in Saikyō Jump's July 2019 issue.