Each month, Toyotarō provides a drawing — as well as a brief comment — on the official Japanese Dragon Ball website. Thus far, Toyotarō has provided drawings of #8, Lunch, Chapa with Oob, Tambourine, Man-Wolf, Tapion, Janenba, Broli, Ozotto, Ginyu, Bardock, Paragus, King Cold, Bardock's original television special crew, Onio with his wife, Shiirasu, Great Saiyaman, Nail, and Toninjinka. For his July 2019 entry, Toyotarō has contributed a sketch of Zarbon: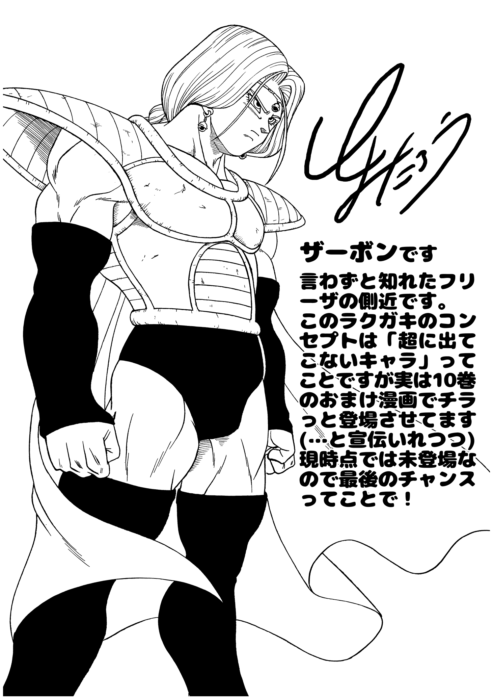 It's Zarbon.

As I'm sure you're well aware, he's Freeza's right-hand man.

The concept for these sketches is "characters who don't appear in Super", but (to make a shameless plug…) he'll actually appear very briefly in the bonus comic from Volume 10. But at present, he hasn't appeared yet, so this is his last chance—!
The forthcoming tenth collected volume of the Dragon Ball Super manga is due out in Japan 02 August 2019. Zarbon, along with several other Freeza-related characters, made cameo appearances in the 2018 theatrical film Dragon Ball Super: Broly, which was not adapted in the manga.
This drawing and comment set has been added to the respective page in our "Translations" archive.