As originally revealed in the October 2019 issue of Shueisha's V-Jump magazine (released 21 August 2019), Bandai Namco has announced that a brand-new character — Bonyu, designed by Akira Toriyama — will make an appearance in a short sub-quest in the forthcoming Dragon Ball Z: Kakarot video game.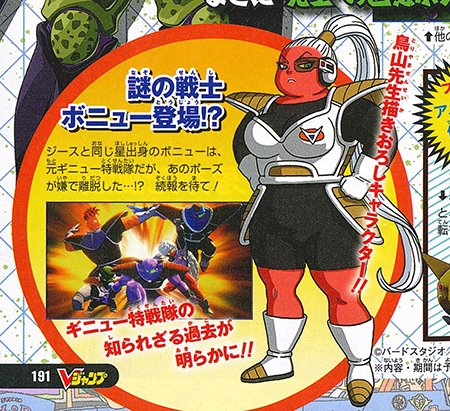 Bonyu, from the same planet as Jheece, was once part of the Ginyu Special-Squad, but left because she hated that pose…?! Wait for more info!

The Ginyu Special-Force's unknown past will come to light!
The character's name of ボニュー bonyū likely comes from 母乳 meaning "breast milk" (also read as bonyū), continuing the ongoing pun series of items that would be stored inside a refrigerator (as explained by Akira Toriyama in 2009's Super Exciting Guide: Character Volume):
It's a real pain to decide on the names for lots of characters. If you unify the names into a series, it makes it easy to think them up. For instance, there's Freeza, who directed the Saiyans and the other evil aliens. Strictly speaking, a "freezer" is a reitouko, but I named him with the image of a refrigerator [reizouko] in mind. So, the names would be unified as food items that one puts inside [a refrigerator]. The Saiyans are vegetables, the Ginyu Special-Squad are dairy products, that kind of thing.
Developed by CyberConnect2 for Bandai Namco, the action role-playing game is due in early 2020 on the PlayStation 4, Xbox One, and PC (via Steam).
Amazon is currently offering the game for a $49.94 pre-order on both Xbox One and PlayStation 4.