Following a tease in last month's March 2019 issue of V-Jump announcing the "Ultra Instinct" version of Son Goku, Bandai Namco formally unveiled a forthcoming third season of updates coming to Dragon Ball FighterZ in conjunction with the "Red Bull Dragon Ball FighterZ World Finals" event this weekend in France.
Various updates include:
A third "FighterZ Pass" comprised of five characters, including Kafla (available February 28th) and Son Goku (Ultra Instinct) (available this spring)
A new "Z Assist Select", allowing players to select from different moves when an assist character is called in
Additional updates aiming to improve matches, particularly when one player has a single character left
Congratulations to Goichi "GO1" Kishida on his latest win at the World Finals!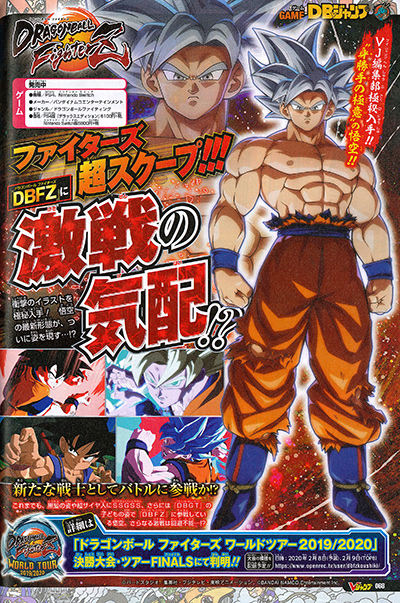 The 3-on-3, "2.5D" fighting game is developed by Arc System Works and is currently available on the PlayStation 4, Xbox One, Nintendo Switch, and PC (via Steam). A first "FighterZ Pass" with eight additional playable characters is available for $29.99, with a "FighterZ Pass 2" available for $24.99 adding another six. Said additional paid characters are also all available piecemeal at $4.99 each.
Dragon Ball FighterZ was originally released 26 January 2018 in North America and Europe, and 01 February 2018 in Japan, across the PlayStation 4, Xbox One, and PC. Alongside its Japanese release, Bandai Namco announced that they had shipped two million copies of the game, making it the fastest-shipping game in the franchise's history. The game also shipped on the Nintendo Switch back in September 2018.