Each month, Toyotarō provides a drawing — as well as a brief comment — on the official Japanese Dragon Ball website. Thus far, Toyotarō has provided drawings of #8, Lunch, Chapa with Oob, Tambourine, Man-Wolf, Tapion, Janenba, Broli, Ozotto, Ginyu, Bardock, Paragus, King Cold, Bardock's original television special crew, Onio with his wife, Shiirasu, Great Saiyaman, Nail, Toninjinka, Zarbon, Pui-Pui, Slug, Vermoud, Tapikar, Thouser, and Bonyu. For his February 2020 entry, Toyotarō has contributed a new image of Man-Wolf: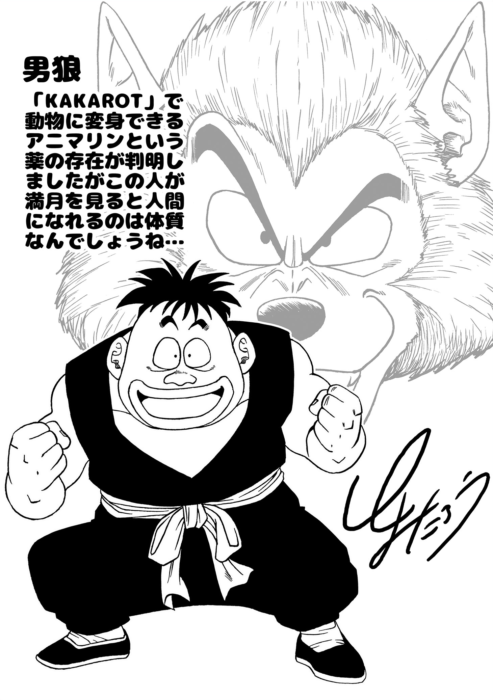 Man-Wolf

In Kakarot, we learn there is a drug called Animaline, which lets people turn into animals, but I wonder if this guy is just able by nature to turn into a human when he sees a full moon…
Man-Wolf, in a reversed position with the "wolf" persona in front, was a previous entry in this series back in 2018. Toyotarō's latest entry here flips that position, and references the "Animaline" ("Animorphaline" in the English localization) side-story in this year's Dragon Ball Z: Kakarot video game, new information/lore contributed by original author Akira Toriyama himself (per this month's April 2020 issue of Shueisha's V-Jump magazine).
This drawing and comment set has been added to the respective page in our "Translations" archive.