Each month, Toyotarō provides a drawing — as well as a brief comment — on the official Japanese Dragon Ball website. Thus far, Toyotarō has provided drawings of #8, Lunch, Chapa with Oob, Tambourine, Man-Wolf (twice, once in each form!), Tapion, Janenba, Broli, Ozotto, Ginyu, Bardock, Paragus, King Cold, Bardock's original television special crew, Onio with his wife, Shiirasu, Great Saiyaman, Nail, Toninjinka, Zarbon, Pui-Pui, Slug, Vermoud, Tapikar, Thouser, and Bonyu. For his March 2020 entry, Toyotarō has contributed a new image of an unnamed crocodile from the 22nd Tenka'ichi Budōkai: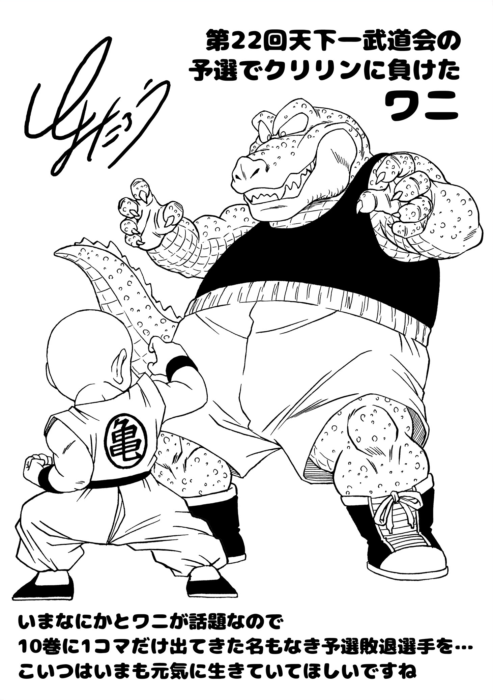 The CROCODILE who lost to Kuririn in the prelims of the 22nd Tenka'ichi Budōkai.

Right now it seems that a crocodile is in the news, so here's a contestant who doesn't even have a name, who appeared for a single panel in volume 10 to get knocked out in the preliminary round… I hope he's still alive and well!
The character in question can indeed be seen in a single panel in chapter 115 of the original manga: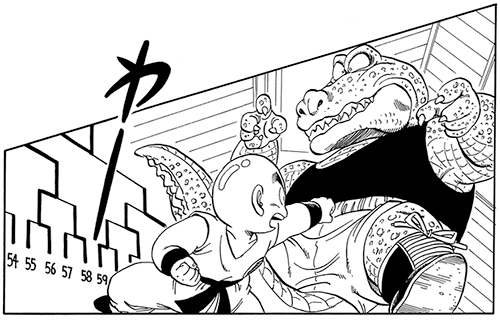 Toyotarō's comment about a crocodile being "in the news" is in reference to an Internet comic/phenomenon, "The Crocodile With 100 Days Left to Live" by Yūki Kikuchi, which wrapped up earlier this month.
This drawing and comment set has been added to the respective page in our "Translations" archive.