The obi (paper band surrounding a book) advertisement included with the upcoming twelfth collected volume of Toyotarō's Dragon Ball Super manga series announces the release of new digital color editions for the series. The first three volumes will retail for ¥570 (+tax) and are set to be released on 03 April 2020, the same day as the aforementioned twelfth collected volume. All subsequent full color editions of the collected volumes will be released individually, although no release time frame has been provided.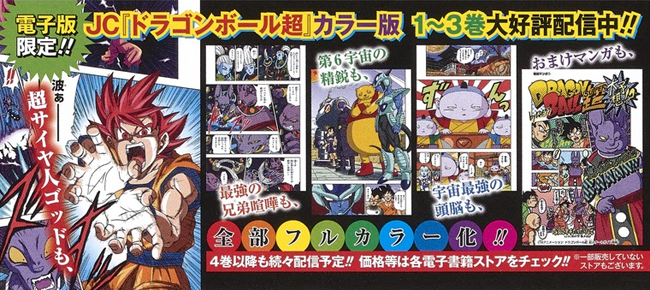 To date the Dragon Ball Super manga has primarily only been available in a black and white format, with a very limited number of colored pages drawn by Toyotarō appearing in V-Jump. The original Dragon Ball manga previously received a digital color edition release in 2013, which was also simultaneously released in a separate print edition. At this time no print version of the Dragon Ball Super color edition manga has been announced.
Many online retailers have already posted listings for these digital editions, including Amazon Japan. Some retailers have also included short samples of each volume, as shown in the example pages below.
The Dragon Ball Super "comicalization" began in June 2015, initially just ahead of the television series, and running both ahead and behind the series at various points. The manga runs monthly in Shueisha's V-Jump magazine, with the series' fifty-eighth chapter coming today in the magazine's May 2020 issue. Illustrated by "Toyotarō" (in all likelihood, a second pen-name used by Dragon Ball AF fan manga author and illustrator "Toyble"), the Dragon Ball Super manga covered the Battle of Gods re-telling, skipped the Resurrection 'F' re-telling, and "charged ahead" to the Champa arc, "speeding up the excitement of the TV anime even more". Though the television series has completed its run, the manga continues onward, entering its own original "Galactic Patrol Prisoner" arc. Viz is currently releasing free digital chapters of the series, and began their own collected print edition back in 2017. The eighth collected volume was released earlier this month.
The Dragon Ball Super television series concluded in March 2018 with 131 total episodes. FUNimation owns the American distribution license for the series, with the English dub having wrapped its broadcast on Cartoon Network, and the home video release reaching its tenth and final box set back in January.