The name "Shueisha" began trending on social media website Twitter yesterday as the company — the top rights-holder for the Dragon Ball franchise and various other properties, including the full Jump branding line — appeared to issue numerous takedown notices on individual users for alleged content violations. Supposed violations included snippets, photographs, and direct screen captures from both comic and television series alike, including user profile icons in addition to standard post content.

The "Digital Millennium Copyright Act" is a particular — and oft-abused — arm of copyright law that (in layman's terms) seeks to control means of circumvention and digital distribution, and through its provisions, shifts the "blame" of copyright infringement from a service host to the end-user. Through DMCA Title II, "safe harbor" is granted to service providers against infringement, provided they meet certain guidelines and block or otherwise remove copyrighted material when formally notified of it.
In an example shared on Twitter, user "RoseScape" (@BlackScapeRose) noted a takedown request for a December 2020 post sharing an animated GIF of Goku's Super Saiyan transformation from the Dragon Ball Z television series. The post's text stated, "Just Admit It You've Tried To Go Super Saiyan".
Are. You. Kidding. Me?

A GIF.
I got locked down by SHUEISHA on Twitter for a GIF.

If they can do this once they can do it again and ill lose my account for SHARING A DRAGON BALL GIF.

Watch out guys. pic.twitter.com/K67Lyjkkob

— RoseScape 💖🌸 (@BlackScapeRose) January 7, 2021
The animated GIF post was the only one on RoseScape's account hit by a strike, though in response they independently went back and deleted all prior Dragon Ball media source posts. "The threat of having our accounts suspended over sharing Dragon Ball content is terrifying," RoseScape told Kanzenshuu. "We all love this franchise and connect on it together as a community. Shueisha has broke my heart today and I hope for the sake of this fandom they redeem themselves."
In the past, FUNimation — the North American sub-licensee for the Dragon Ball franchise's animated products — has regularly encouraged fans to post animated GIFs on Twitter.
Japanese artist "fenyo_n" — widely believed to be a freelance artist currently working on Dragon Ball imagery for official Dragon Ball merchandise, including mobile video games — posted a message in English early in the day, noting (without any further specifics):
My twitter account was locked once
I went back because I checked the copyright policy
I don't know when it will be erased.
If it is erased, it will not be revived.
Bye bye minna…🥲

— ふぇにょん (@fenyo_n) January 8, 2021
Professional artists like "fenyo_n" and creators like "RoseScape" have significant followings, but a follower count does not seem to have necessarily come into play with these strikes.
Responding to "fenyo_n" and numerous other accounts discussing the issue, user "Red Dog" (@FishermanWest, with 28 followers) claimed on Twitter that their "Vegito Vs Beerus" fan manga had been taken down:
At the time of this article's publication, this fan manga — clearly their own exaggerated art style, and not one directly reminiscent of official art — was separately still available on the user's Facebook page.
Much of Red Dog's tweet history has been removed, an action specifically taken in response to this account strike, as explained in a response to Kanzenshuu. Many replies from other Twitter users back to (now-deleted) Red Dog posts remain of course, with countless conversations including extensive collections of full manga pages, anime screenshots, photographs, and crude translation attempts. When asked if any of their own prior posts with these official manga images came into play with the account strike, Red Dog told Kanzenshuu — whether this is accurate or not is largely debatable, of course — that they believed their fan manga was targeted specifically. "It's not surprising they would strike down those using their work," Red Dog told Kanzenshuu. "But for them to target fan-made artwork is rather surprising and funny due to how extreme those measures are."
Spanish fan "Red Ribbon DRAGON BALL 亀" (@Red_Ribbon_DBZ) reached out to Kanzenshuu and shared a December 2020 post comparing scenes from Jaco the Galactic Patrolman and chapter 67 of the recently-released Dragon Ball Super manga. The post received a DMCA strike, prompting "Red Ribbon" to make their account private and cease all further posting for the time being. In a message to Kanzenshuu, they expressed their frustration over a strike coming to an account they felt provided serious and researched analysis of Dragon Ball and Akira Toriyama's works, not an account focused on "spoilers" and material leaked ahead of its official and legal release date.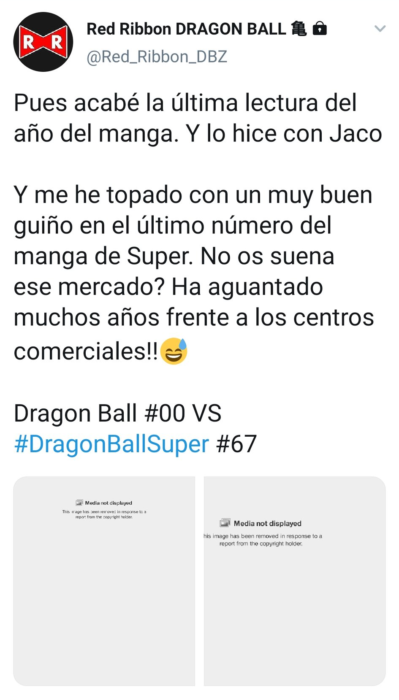 In another example privately emailed to Kanzenshuu, a Twitter user explained that a strike was issued to a years-old post with a cropped panel from a chapter of the Dragon Ball Super manga. While the user responded to Kanzenshuu saying they do not remember the exact panel used (which they can no longer view due to it being removed), from the specific surrounding context and screenshot of the tweet content in their original communication to us, we can confidently say that the image in question was posted two days ahead of the respective chapter's official release date.
Multiple Twitter users are sharing their DMCA notifications, which curiously include long lists of other users' posts, including RoseScape, whose own list does include a reference to Red Dog's "FishermanWest" account. Were it not for RoseScape's single animated GIF example, one might be led to think that these strikes were focused on accounts sharing significant portions of Shueisha-owned manga properties, or those sharing material before its legal release date.
What this behavior ultimately seems to imply, however, is perhaps the action of an overzealous and misguided legal firm or — Occam's Razor here — an automated and effectively unsupervised takedown toward the end of the day (Japan time) on a Friday to avoid having to worry about any fallout for a little bit. There is always the potential for further abuse of the antiquated and insufficient DMCA from unaffiliated, everyday users — literal bad actors — posing as official companies, but, again, the simplest solution is almost always the correct one. Several industry professionals, including those actively working with Shueisha, have responded in ways similar to other fans, assuming this to be a genuine Shueisha maneuver.
Many fans have cited recently-enacted Japanese laws as a potential instigator for this Twitter wave, though this seems misguided; while these laws seek to curb illegal manga distribution, particularly based on prior pushback, they focus on larger, organized, wholesale manga distribution and accompanying "leech sites", far removed from individual Twitter users. Likewise, fans often point to "fair use" as some sort of legitimizing basis for posting copyrighted material, but this is a defense for the act that is analyzed on four major criteria when legally challenged, rather than a blanket permission.
The wave of Twitter notices come after similar strong-arm maneuvers from Shueisha, Toei, Bandai Namco, and other Japanese partner companies both on- and offline.
In late 2018, multiple Dragon Ball FighterZ tournaments were shut down with little explanation; meanwhile, Shueisha was currently publishing Hiroshi Otogi's DeSpo FighterZ manga series in the children's magazine Saikyō Jump. The series, which ran from the magazine's September 2018 to September 2020 issues, followed a group of young protagonists in a world obsessed with eSports as they attempted to become the ultimate Dragon Ball FighterZ pro-gamers.
In 2009, we spoke with TeamFourStar's Scott "KaiserNeko" Frerichs on Episode #0187 of our podcast about dealing with similar account strikes on YouTube. At the time, Toei appeared to be on their own rampage, taking out numerous videos and entire accounts, TeamFourStar included. At the time, Frerichs explained, "YouTube has a three-strike [system]. Unfortunately, Toei was like, 'Well that video, that video, that video.' just one after another, and when you don't have time to say, 'Uh oh, they're pulling the videos,' and it's only a three-strike limit… so if they take down three videos at once, you're done."
"One of the most frustrating aspects about being struck with a DMCA takedown is that there are no clear guidelines on what is and isn't acceptable," video creator, animation critic, and occasional Kanzenshuu contributor "AnimeAjay" told us this week. "Spending days writing and editing a video only to lose all your hard work and earnings for a nebulous reason is one of the most agonizing parts of the job. Ultimately, I know we as creators don't really have much of a leg to stand on, and are always at the will of the rights holders, but it's that lack of transparency and consistency that causes the most frustration. Now we're running into cases where profitless tweets and fan art are being taken down, and nobody has any idea why, and especially why now."
This is, of course, only a small selection of users affected by these potential Shueisha takedowns, and as a Dragon Ball-focused website, we have only spoken with Dragon Ball fans; the reach extended far beyond just our own community. While it can be easy to shrug off these strikes as unintended consequences of legitimate action being taken against piracy accounts, it is clear that regular, everyday fans can and do become disenfranchised over such draconian actions. With Dragon Ball continuing to rake in significant international licensing revenue, however, just how much should the rights-holders ultimately care about their actions and their easily-replaceable fans?
It is worth noting that it is difficult-to-impossible for us to verify the legitimacy of since-deleted tweets for users that we were not already following and could not preemptively save tweets ahead of these events. In these cases, we have made every attempt to corroborate as much as we can with what resources are still available to us, such as searching out responses to alleged tweets that still remain from other users. We are confident in the validity of the tweets mentioned in this article.
---
UPDATE (14 January 2021): Shueisha released a brief statement today today acknowledging last week's "copyright infringement scam", noting:

It has come to our attention, Shueisha has been falsely misrepresented by an individual sending copyright and removal requests on Twitter and other social media platforms. Shueisha is currently consulting with the various platforms to investigate what measures can be taken to address this issue.
Rather damning evidence posted online and shared with Kanzenshuu — particularly that from @jessix_tv and from @newworldartur — seems to convincingly point to a repeat-harasser.
Several of the tweets mentioned in our previous report have been reinstated.
Thank you to all who took the time to speak with Kanzenshuu to share their experiences and frustrations alike.