While a large number of Dragon Ball fans have at least a passing familiarity with the Daizenshuu guidebooks released in Japan in the 1990s, many are unaware that three supplemental volumes brought the total to ten books, covering the ongoing Carddass releases and wrapping up with a third animation guide.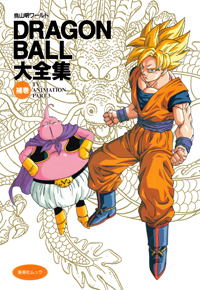 Our latest translation comes from this July 1996 release: a column called "Animation's Gleanings," covering production of the television series, names of the theatrical films themselves in addition to their respective characters, how some of the sound effects were made, crossover voice actors, and much more.
■ The Secrets Behind the Choosing of the Movie Sub-Titles!!
Apparently, the production staff always struggled immensely with the varied and elaborate sub-titles of the theatrical movies, which were always undecided until the very end. These sub-titles were also intimately connected with things such as popular trends of the time. For instance, A Super Decisive Battle for Earth is an altered version of the title of a popular TV show. Meanwhile, Burn Up!! A Red-Hot, Raging, Super-Fierce Fight gave a mental image of F-1 racing, which was popular at the time!! Now that we've told you, it all makes sense, doesn't it?!!

■ Bardock was Goku's enemy?!
The TV special, A Final, Solitary Battle, is quite popular for having given greater depth to the world of Dragon Ball. This concept grew out of the ideas, "What were Goku's roots?" and "Goku must have had a father," and developed into the form that ultimately aired on television. Incidentally, in the initial plan, we hear that there was also the suggestion that perhaps they could make Goku and his father enemies. Hmm… we want to see Goku and his father face off?!
This column has been archived in our "Translations" section.