Earlier today, links to an unpublished article on Toei Animation Europe's website appeared indicating a "surprise announcement" of a forthcoming Dragon Ball Super movie for release in 2022: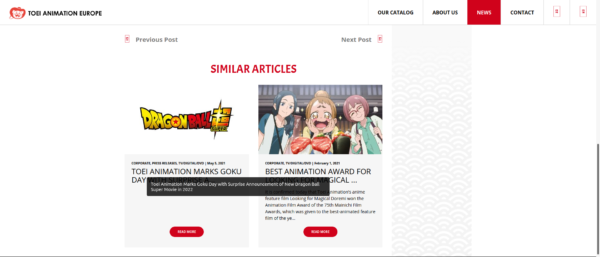 The article — made visible through "Similar Articles" functionality in the website's content management system, now since removed — noted the announcement as coming on "Goku Day." Though the article's full title was cut off in a standard view, underlying code revealed its full headline as:

Toei Marks Goku Day with Surprise Announcement of New Dragon Ball Super Movie in 2022
Kanzenshuu was able to independently confirm and capture screens of this content before its removal later in the day. Content was also visible on Google's cache of the page for some time, though this has also since updated to reflect the content's removal.
UPDATE: An image hosted on the official Toei Animation website as of earlier this morning (May 8th) contained a quote from original Dragon Ball author Akira Toriyama. Like with the article data from yesterday, this image has since been taken down, but was saved by Kanzenshuu (presented below) prior to this removal.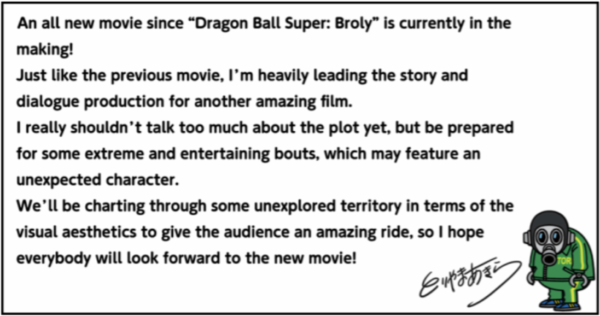 An all new movie since "Dragon Ball Super: Broly" is currently in the making!

Just like the previous movie, I'm heavily leading the story and dialogue production for another amazing film.

I really shouldn't talk too much about the plot yet, but be prepared for some extreme and entertaining bouts, which may feature an unexpected character.

We'll be charting through some unexplored territory in terms of visual aesthetics to give the audience an amazing ride, so I hope everybody will look forward to the new movie!

Akira Toriyama
The designation of May 9th — now formally recognized in Japan — is a play on on "Gokū," where the date's representative numbers, "five" and "nine," can be pronounced as go and kū, respectively. The unpublished article was referenced today, May 7th, two days ahead of Goku Day.
The "announcement" — if it can truly be called such — of a second Dragon Ball Super film originally came by way of comments from planner and head of Shueisha's "Dragon Ball Room" Akio Iyoku, as well as producer Norihiro Hayashida, in an interview printed in a 60-page booklet accompanying the home video release of 2018's Dragon Ball Super: Broly theatrical film: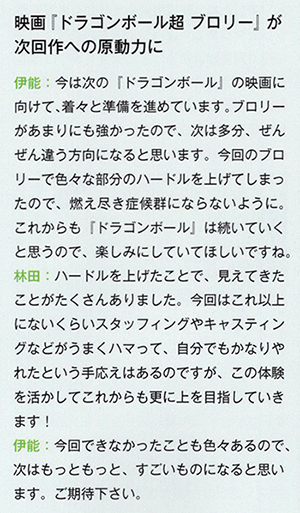 Dragon Ball Super: Broly is the driving force for the next movie.

Iyoku: Preparations are now steadily underway for the next Dragon Ball movie. Broli was too powerful, so I think it will probably go in an entirely different direction next time. There were parts in the film where we ended up raising the bar, so we have to be careful to avoid burnout. I think Dragon Ball will continue on in the future, so I hope everyone looks forward to it.

Hayashida: A lot of things became apparent by raising the bar. The staffing and casting were on point to a level they've never been before, and though I feel that we did a great job, I'll use this experience to aim even higher in the future!

Iyoku: There were some things that we weren't able to execute this time, so I think the next one will turn out to be even more amazing. Please look forward to it.
Since the film's home release in June 2019, there have been no further official statements or clarification regarding any future theatrical films or continuations of the series beyond the manga running in Shueisha's monthly V-Jump magazine, where Dragon Ball Super has now entered its second additional story arc going beyond the original television series and manga storylines.
The Dragon Ball Super television series concluded in March 2018 with 131 total episodes. FUNimation owns the American distribution license for the series, with the English dub having wrapped its broadcast on Cartoon Network, and the home video release reaching its tenth and final box set back in January 2020.
The Dragon Ball Super "comicalization" began in June 2015, initially just ahead of the television series, and running both ahead and behind the series at various points. The manga runs monthly in Shueisha's V-Jump magazine, with the series' seventy-first chapter coming a few weeks ago in the magazine's June 2021 issue. Illustrated by "Toyotarō" (in all likelihood, a second pen-name used by Dragon Ball AF fan manga author and illustrator "Toyble"), the Dragon Ball Super manga covered the Battle of Gods re-telling, skipped the Resurrection 'F' re-telling, and "charged ahead" to the Champa arc, "speeding up the excitement of the TV anime even more". Though the television series has completed its run, the manga continues onward, moving into its own original "Galactic Patrol Prisoner" and "Granolla the Survivor" arcs. Viz is currently releasing free digital chapters of the series, and began their own collected print edition back in 2017. The thirteenth collected volume is due this June.