On the heels of yesterday's inadvertent website reveals, the revamped Dragon Ball Official Site formally announced today that a new Dragon Ball Super film is in the works for a 2022 release.
The website posting contains a comment from original Dragon Ball author Akira Toriyama, presented both in English and Japanese. As with a similar comment posted in 2018 ahead of Dragon Ball Super: Broly's release, the official English comment — itself publicly accessible earlier today prior to the formal reveal — differs slightly from that as originally written in Japanese.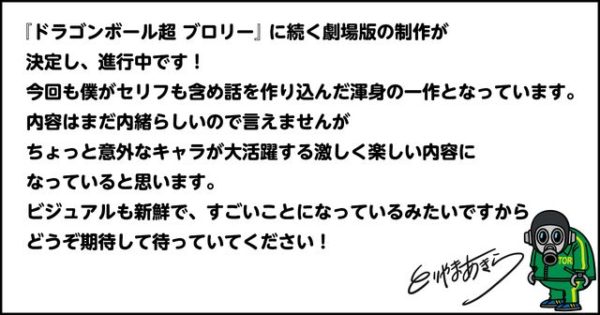 「ドラゴンボール超ブロリー」に続く劇場版の制作が決定し、進行中です!今回も僕がセリフも含め話を作り込んだ運身の一作となっています。内容はまだ内緒らしいので言えませんがちょっと意外なキャラが大活躍する激しく楽しい内容になっていると思います。ビジュアルも新鮮で、すごいことになっているみたいですからどうぞ期待して待っていてください!

---

(Kanzenshuu translation follows)
Production of a theatrical film following on from Dragon Ball Super: Broly has been given the go-ahead and is currently underway! Once again, I've poured my heart and soul into it, writing the story down to the dialogue itself. Apparently, its content is still under wraps, so I can't talk about it, but I think it'll be a real hoot, with a bit of an unexpected character playing a big role. It seems the visuals are going to be fresh and pretty crazy, so please look forward to it!
The website's own English version reads as: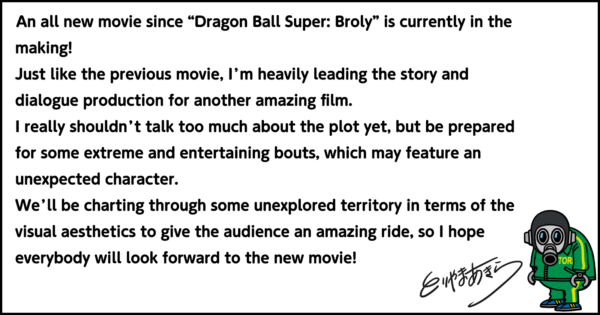 An all new movie since "Dragon Ball Super: Broly" is currently in the making!

Just like the previous movie, I'm heavily leading the story and dialogue production for another amazing film.

I really shouldn't talk too much about the plot yet, but be prepared for some extreme and entertaining bouts, which may feature an unexpected character.

We'll be charting through some unexplored territory in terms of visual aesthetics to give the audience an amazing ride, so I hope everybody will look forward to the new movie!

Akira Toriyama
The official website promises more information soon. For additional context regarding this announcement and the lead-up to the forthcoming film, please see our update from yesterday.