Shueisha has listed the sixteenth collected volume of the Dragon Ball Super manga series by Toyotarō and the second collected volume of the Super Dragon Ball Heroes: Big Bang Mission!!! manga series by Yoshitaka Nagayama as releasing 04 August 2021 in Japan for ¥484 each.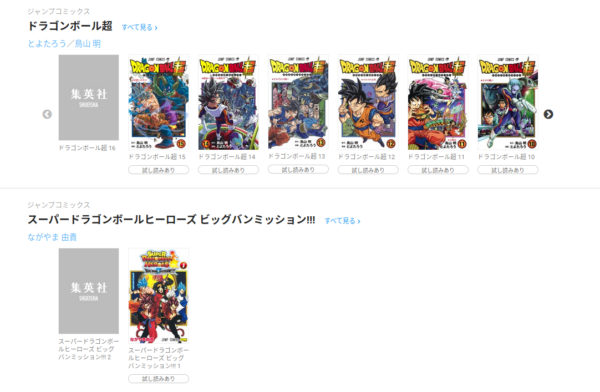 The Dragon Ball Super "comicalization" began in June 2015, initially just ahead of the television series, and running both ahead and behind the series at various points. The manga runs monthly in Shueisha's V-Jump magazine, with the series' seventy-third chapter coming this week in the magazine's August 2021 issue. Illustrated by "Toyotarō" (in all likelihood, a second pen-name used by Dragon Ball AF fan manga author and illustrator "Toyble"), the Dragon Ball Super manga covered the Battle of Gods re-telling, skipped the Resurrection 'F' re-telling, and "charged ahead" to the Champa arc, "speeding up the excitement of the TV anime even more". Though the television series has completed its run, the manga continues onward, moving into its own original "Galactic Patrol Prisoner" and "Granolla the Survivor" arcs. Viz is currently releasing free digital chapters of the series, and began their own collected print edition back in 2017. The fourteenth collected volume is due this September.
Yoshitaka Nagayama debuted in a supplemental booklet packed in with the December 2013 issue of Saikyō Jump, with Dragon Ball Heroes: Rookie Charisma Mission Episode 0 depicting the daily life and "training" of Engineer Yoshito and new Battle Navigators Tsubasa and Momo-chan in a cartoony style. The series eventually received its own standard serialization in Saikyō Jump beginning in the July 2014 issue, followed by the traditional story serials of Dark Demon Realm Mission! beginning in the September 2016 issue, Universe Mission!! beginning in the May 2018 issue, and now the latest and current series, Big Bang Mission!!!, beginning in the May 2020 issue. The prior two series have been collected in full, and the first collected volume of the Big Bang Mission!!! series saw a release back in December 2020. The various Dragon Ball Heroes manga series remain without an official English translation and release.