Bandai Namco has announced that the closed beta for the forthcoming Dragon Ball: The Breakers video game will be held next weekend (03 December to 05 December 2021 depending on / according to local time zones), exclusively on the PC via Steam. Registrations are required for the closed beta (separate sign-up links are available for Japan, Europe and North America), with registrations closing next Tuesday, 30 November 2021, and selected users being notified ahead of the beta timeframe.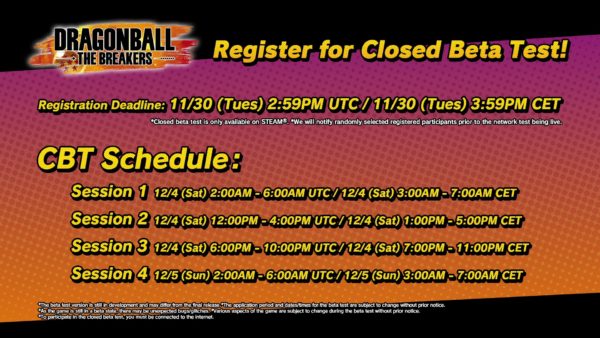 Alongside the closed beta details, Bandai Namco shared a combination "Closed Beta Test Trailer" and "Game Systems Overview" trailer:
Developed by Dimps, Dragon Ball: The Breakers puts a small group of seven survivors up against a "raider" in an asymmetrical race to survive. Currently scheduled for release some time in 2022, The Breakers will release on the Sony PlayStation 4 (also playable on PlayStation 5), Microsoft Xbox One (also playable on Series S|X), Nintendo Switch, and the PC via Steam. The game will be released an an "accessible pricing" and shares a world with Dragon Ball XENOVERSE 2.