Each month, Toyotarō provides a drawing of a Dragon Ball character — as well as an accompanying comment — on the official Japanese Dragon Ball website. Following up on the wealth of characters already drawn, for his December 2021 entry, Toyotarō has contributed a drawing of Pu'er transformed as Son Goku:
Pu'er (transformed into Goku)

He appears in Dragon Ball volume one. These character designs from the early serialization are so distinctive and adorable; I love them.
This particular transformation occurs in chapter nine of the original manga as Yamcha and Pu'er attempt to lure Bulma and Oolong outside, though the two transforming animals have a little bit of a surprise for one another…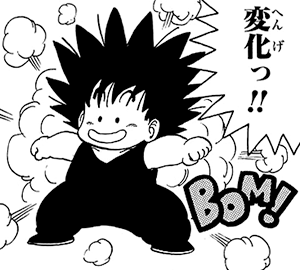 This drawing and comment set has been added to the respective page in our "Translations" archive.