Following prior reveals and announcements, Bandai Namco officially released No. 21 (Lab Coat) as a stand-alone paid (US $4.99) downloadable content character today (24 February 2022) for Dragon Ball FighterZ:
Artificial Human ("Android") No. 21 is an original character created for Dragon Ball FighterZ — designed by Akira Toriyama himself in both her "lab coat" and "Majin" forms — central to the game's single-player story mode. The character later made appearances in games such as Dragon Ball XENOVERSE 2 and Dragon Ball Z: Kakarot. While the character appears in her "Lab Coat" design during the story mode of Dragon Ball FighterZ, only the transformed version of the character had previously been made playable in said game's original release.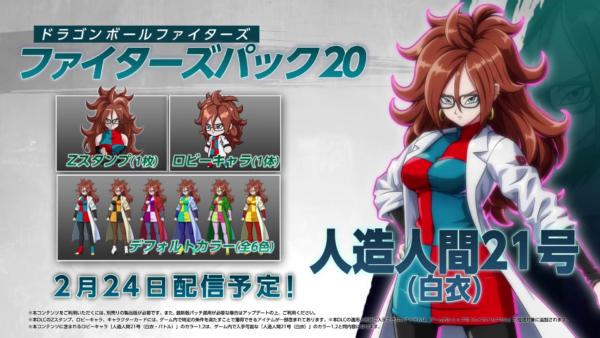 The 3-on-3, "2.5D" fighting game is developed by Arc System Works and is currently available on the PlayStation 4, Xbox One, Nintendo Switch, and PC (via Steam). A first "FighterZ Pass" with eight additional playable characters is available for $29.99, a "FighterZ Pass 2" available for $24.99 adding another six, and "FighterZ Pass 3" with an additional five for $19.99. Said additional paid characters are also all available piecemeal at $4.99 each.
Dragon Ball FighterZ was originally released 26 January 2018 in North America and Europe, and 01 February 2018 in Japan, across the PlayStation 4, Xbox One, and PC. Alongside its Japanese release, Bandai Namco announced that they had shipped two million copies of the game, making it the fastest-shipping game in the franchise's history. The game also shipped on the Nintendo Switch back in September 2018.