Dragon Ball SD, a spin-off manga series written and illustrated by Naho Ooishi, adapts events from the original story in humorous new ways with "chibi" or "super deformed" (the titular "SD") styled characters. The series was a launch title for Saikyō Jump and the debut official work for Naho Ooishi, and — other than planned breaks from the January 2017 and November 2020 issues — appeared in each and every issue of the magazine from its launch in December 2010 until its major refresh and relaunch last year. Following the relaunch, Dragon Ball SD shifted to a YouTube-only series.
Dragon Ball SD returned to the magazine for a single "Special Edition" (特別編) chapter in the August 2022 issue, released last week on 04 July 2022 (with front cover artwork provided by Ooishi herself, and the back cover featuring the twelfth entry in the 40th anniversary gallery from Hirohiko Araki).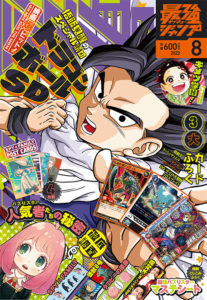 In this special chapter — which breaks from the currently serialized Freeza arc storyline — Ooishi flashes-forward for a Cell Games recap as a noted tie-in for the new theatrical film, Dragon Ball Super: Super Hero.
In the special chapter, the heroes gather for the Cell Games… with the notable exception of Gohan, who makes a fashionably late entrance decked out in suspiciously-superhero-looking garb (itself highlighted by the numbers "5" and "8", a Japanese number play on "Gohan"). After Gohan is provided with Piccolo's clothing (to Goku's minor chagrin), Goku steps into the ring only to immediately concede — there are a limited number of pages, after all! — and passes the battle to Gohan. Cell is impressed enough with Gohan's strength, but as Gohan provides the standard spiel of his anger boosting his power and taking control of him, Cell reveals a devious plan: the Cell Jrs. have procured one of Gohan's treasured Piccolo action figures, and they are going to take it out of its original packaging! This pushes Gohan over the edge into a new transformation, which allows him to make quick work of Cell. This prompts Cell to expand like a balloon, forcing Goku into action, teleporting them away to Kaiō's planet where Cell can explode in relative safety. The future of the Earth (and the new movie…) is now in Gohan's hands!
This is actually the second time that Ooishi has covered this particular material in Dragon Ball SD: the first four chapters of the series were released in Saikyō Jump's original quarterly format and featured specific major events from the original series (namely Son Goku's training with Kuririn, the battle with Freeza, the Cell Games, and the battle with Boo). With the magazine's relaunch into a monthly publication following the four original issues, Dragon Ball SD rebooted itself to the beginning of the series again, and the four original chapters have never been republished.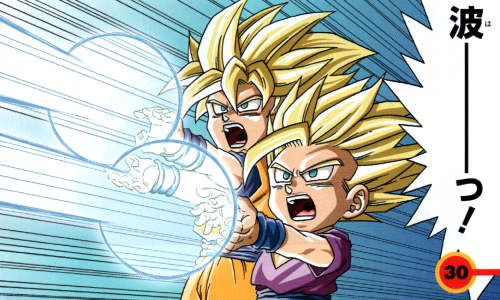 Ooishi and Dragon Ball SD have made other special appearances in promotion of theatrical films: the April 2013 issue of Saikyō Jump made a slight divergence from the standard serialization to provide an introductory manga version of that year's new theatrical film, Dragon Ball Z: Battle of Gods.
Though the standard Dragon Ball SD serialization has shifted to YouTube, it does continue to receive sporadic collected editions. The eighth collected volume was released 04 April 2022 in Japan for ¥639 + tax spanning 192 pages and covering reboot chapters 69-78. Dragon Ball SD has not received an official English language release, though it has been released in other territories in other languages.