Bandai Namco has announced two forthcoming paid downloadable content packs for Dragon Ball XENOVERSE 2 based on the new theatrical film Dragon Ball Super: Super Hero.
The first pack will include Gamma No. 2, with the trailer heavily indicating that Gamma No. 1 will likewise make the cut. Of the two packs, the first is set to include three distinct items, with the second pack still yet to be determined/announced in terms of specific contents.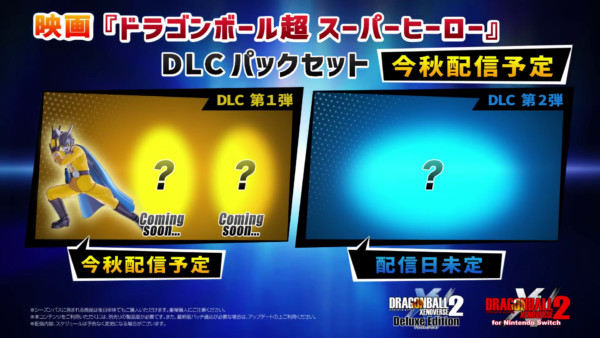 The pack set is current scheduled for release "this fall".
Developed by Dimps for Bandai Namco, Dragon Ball XENOVERSE 2 is available worldwide for the Sony PlayStation 4, Microsoft Xbox One, PC (via Valve's Steam and Google's Stadia platforms), and Nintendo Switch. In North America, the game launched for consoles 25 October 2016 with a PC release following 28 October 2016. In Europe, the game launched across all platforms 28 October 2016. In Japan, the game launched on the PlayStation 4 console 02 November 2016. The Nintendo Switch port was released in Japan and internationally in September 2017. The game has consistently received additional paid downloadable content packs since its release above and beyond the originally-promised support timeframe, with 2021's two "Legandary Pack" releases including even more playable characters, story beats, and skills.