Toei Animation has announced the forthcoming home video release of this year's new theatrical film, Dragon Ball Super: Super Hero, set for 07 December 2022 across various standard and "limited edition" packages on 4K Ultra HD Blu-ray, standard Blu-ray, and DVD.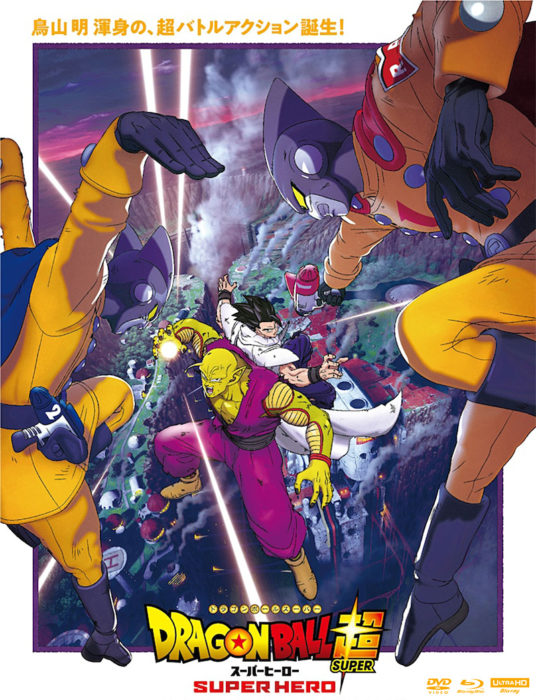 Tentative extras for the various "limited edition" versions include a 60-page booklet and postcard set, with on-disc extra features including trailer and commercial collections, event footage, and more.
Versions of the film's home video release will include:
4K Ultra HD Blu-ray & Blu-ray Steelbook Special Limited Edition: ¥10,780
Blu-ray Limited Edition: ¥7,480
DVD Limited Edition: ¥6,380
4K Ultra HD Blu-ray Standard Edition: ¥6,380
Blu-ray Standard Edition: ¥5,280
DVD Standard Edition: ¥4,180
Different retailers will offer their own unique pre-order incentives, including clear files, keychains, and more.
The story, script, and character designs for Dragon Ball Super: Super Hero were crafted by original manga author Akira Toriyama. Shueisha's executive producer Akio Iyoku noted that the movie's story takes place after the events in Dragon Ball Super: Broly, but before the 28th Tenka'ichi Budōkai, and features the revival of the notorious Red Ribbon Army. The film's director is Tetsuro Kodama, who was most recently the CG Sequence Director for the Dragon Ball Super: Broly film, with Hoon Jung-jae taking over the CG Director role after being a CG effects artist in the preceding two films, Battle of Gods and Resurrection 'F'. The film's theatrical score is composed by Naoki Satō. The movie was released theatrically in Japan on 11 June 2022, following a delay decided upon in conjunction with a Toei network hack. Various international theatrical screenings for the film began last month.