Following up on their original Nintendo Classic Mini Famicom (and subsequent NES edition internationally), Nintendo teamed with Shueisha to produce a Jump-branded/specific edition of the mini Famicom console in July 2018. The mini console contained various games for series originally featured in Weekly Shōnen Jump, including three for the Dragon Ball franchise.
Alongside the mini console, a guide book was released covering the various games and providing strategy guides for players. The book concludes with an extensive interview with Kazuhiko Torishima, a name readers of Kanzenshuu are no doubt familiar with. Serving as editor-in-chief of various Shueisha magazines and direct editor to Akira Toriyama himself, Torishima also helped usher in the era of Dragon Quest through a convoluted series of white lies and constant nudging at his peers.
While the interview in the mini console guide book covers a wealth of stories concerning various series, we are providing a partial translation here: the four questions directly associated with the Dragon Ball franchise and its games.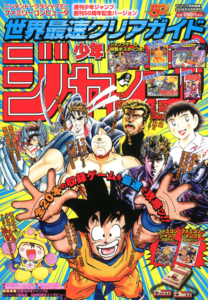 Stay tuned to Kanzenshuu in the coming weeks, as this is a very specific prelude to a series of new translation work coming your way regarding the entire history of Dragon Ball's video games!