The Dragon Ball franchise has seen numerous animation supervisors and animators throughout its run, all with their own unique artistic style and approach that has shaped the appearance of the animation. This catalog provides a listing of the animation studios and supervisors involved with the various television series, with a profile page for each studio, in addition to a detailed look at the role and influence the animation supervisor has on the overall look of an episode and the general use of animation studios. For more information related to Toei Animation's general animation process and roles of the other production staff, please visit the appropriate pages provided in the production section of this guide.
It should be noted that due to the artistic nature of this section, some personal artistic opinions will be necessary to evaluate and examine a given animator's artistic style. While the artistic opinions presented may not match your own, it should be clear that a great effort has been placed on avoiding the use of personal opinion as much as reasonably possible. Any such statements of opinion will be noted accordingly and supporting information will be incorporated when available.
Glossary of Terms
Several animation production terms are used throughout this page and its various subsections to discuss the various roles and processes involved with the production of an animated series. These terms are defined below for reference:
Key Frame: a single drawing that defines a transition or point of movement within animation. A cut or scene can be comprised of a varying number of key frames depending on the amount of motion being depicted.
Cut: a single, continuous (unedited) shot between edits. As a cut is not defined by a specific length of time, but rather its continuity, it can be as short as a single frame (if it is a static shot) or several minutes long.
Scene: a segment or division of an episode that takes place at a certain place and time in the story. A scene can be comprised of only a single cut, or by several cuts edited together in sequential order. A scene change is typically identified by a transition to a different location.
The Role of Animation Supervisor
The animation supervisor is the first layer of quality control for an episode and is responsible for overseeing, checking, and correcting the key animator's layouts and drawings. They oversee every aspect of the key animation process, and ultimately the final look of the animation hinges on their artistic ability. After the layouts for a key animator's assigned cuts have been corrected and approved, they begin drawing the episode's key art based on these layouts. As the key art for a given cut is completed, it is sent to the animation supervisor for review.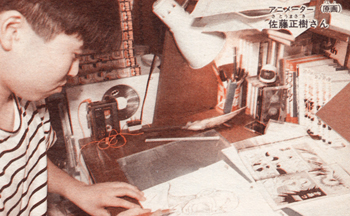 If a cut's key art diverges too far from the episode's overall style, does not appear to be inline with the character designs, or for any other reason, the animation supervisor will revise the drawings and add corrective notes. This is done by placing a sheet of translucent paper (typically yellow) over each key frame and marking up portions with needed corrections, although in some cases when necessary the animation supervisor will redraw the entire frame or cut. However, it is also possible that the animation supervisor will provide no corrections, and approve the key art as-is. Provided below are examples of various animation supervisor corrections, which range from slight corrections (Redict's eye) to complete redraws (Freeza).



As the in-between frames will be based on the key art, they also take on the look of the animation supervisor's corrections. Once all of the frames from a cut or scene have been corrected or approved, the in-between animation process begins. Beyond this point the look and style of the episode is set, as the key animators and animation supervisors have no further involvement in an episode's production.
Just as with key animators, each animation supervisor is different, particularly with their corrections. Some animation supervisors will heavily edit key art to make an episode as cohesive as possible, while others will only provide minor corrections and let the key animator's individuality more predominately show through. There are also instances where the production schedule does not allow the animation supervisor enough time to sufficiently make the necessary corrections — which is especially prevalent when a production outsources much of its animation — and uncorrected cuts make their way into the final broadcast episode. In some of these instances, the uncorrected cuts are later replaced with corrected footage in the home video release. On occasion the animation supervisor will also provide a few cuts or scenes in order to help meet the production deadline, but there are also those that simply prefer to provide the key art for an entire episode by themselves.

As with many key positions, the role of the animation supervisor has changed over the years as common production processes have shifted toward the use of more digital production methods with constrained production schedules. Due to these shortened schedules, the use of multiple animation supervisors is often required to complete the animation for a given episode. To counteract the use of multiple supervisors, a "Chief Animation Supervisor" has become common to provide an additional layer of quality control. As each animation supervisor is overseeing only a specific section of the episode's production, the chief animation supervisor fills the role of overseeing the entire episode's production and provides additional corrections to those already provided by a section's animation supervisor. However, the corrections from the chief animation supervisor are often minor in comparison, and therefore a section's overall look is still heavily dictated by the corrections provided by the animation supervision.
The Use of Animation Studios
At the time of Dragon Ball's original syndicated run, Toei Animation lacked the number of in-house animators required to produce the significant number of animated series they were producing. Therefore, Toei Animation would often subcontract various outside studios in these instances to produce the bulk of the animation for their TV series and supplement them with their own in-house animators as needed. This type of multi-studio production process was used to produce the three original Dragon Ball TV series. The subcontracted animation studios provided their own animation supervisors and key animators, who for the most part worked only on episodes being animated by their specific studio. On occasion animators from Toei Animation would fill in to assist an episode's key animators, but it would not be until partway through Dragon Ball Z that any animation supervisor from Toei Animation would step in to actually supervise an episode.
Following the departure of Studio Junio, Katsuyoshi Nakatsuru of Toei Animation officially took over the roles of chief animator and character designer in episode 200 of the Dragon Ball Z TV series, both of which had been held up to that point by Minoru Maeda of Studio Junio. At the same time Tadayoshi Yamamuro assumed the same roles for the series' movie productions. It was also at this point that Toei Animation began subcontracting some additional animation studios, such as Studio Cockpit, Doga Kobo, Studio Carpenter, K-Production, and Kino Production, to assist in the series' production. The chart below illustrates the involvement of each subcontracted animation studio, which are further broken down by animation supervisor in the following section.

In contrast to this, the production of Dragon Ball Super was largely handled in-house by Toei Animation, using a combination of their own animation staff, animators from Toei Animation Philippines, and a few subcontracted studios as needed. A more detailed discussion of the series' production is provided in the section below.
Supervisor Catalog
The catalog is organized by series and then further by studio, along with each supervisor's general series involvement. Supervisors listed with a blue corner tab are linked to a detailed studio profile page with additional information, such as detailed biographical notes, discussion of each supervisor's artistic style, corrections, and animation abilities, a breakdown of their animation teams and their notable animation cuts, and much more. While this catalog does list all of the animation supervisors credited, it should be noted that some of the supervisors listed with very few episode credits to their name were either key animators filling in for their studio's regular supervisor(s) or a supervisor from Toei Animation stepping in to help cover an episode.
Note that the images shown below are not necessarily drawn by that respective animation supervisor, but rather are taken from episodes under their supervision.