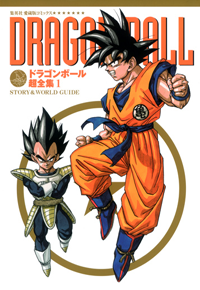 Databook Information
| | |
| --- | --- |
| Released: | 05 February 2013 |
| Retail: | ¥2,200 (tax included) |
| Publisher: | Shueisha Inc. |
| Size / Pages: | JIS B5 (18.2 × 25.7 cm) / 352 pages |
| Catalog No.: | ISBN 978-4-08-782496-4 |
| Availability: | CDJapan | Amazon Japan |
Databook Contents
The first Chōzenshū is a combination of two previously released guides, "Daizenshuu 2: Story Guide" and "Daizenshuu 4: World Guide", which cover the manga story and world aspects of Dragon Ball. The front cover borrows the cover artwork from Daizenshuu 4, and the book includes two JIS B4-sized fold-out posters. The first poster has the cover art for Daizenshuu 1 one one side and for Daizenshuu 2 on the other, while the second has the cover art for Daizenshuu 4 on one side and a "character relations" chart on the reverse.
Dragon Ball Daizenshuu: Complete Guide to Reprinted Pages

004

A guide to the pages reprinted from Daizenshuu volumes 2 and 4, explaining the contents of each section and what page they can be found on. An inset block on page 5 also outlines the structure of the "New Dragon World" section, which includes new information not present in the original books.

NEW DRAGON WORLD

Introduction: "New" Dragon World

008

A sort of "mission statement" about the new section, about how the Dragon World is ever-expanding, and there have been new stories yet untold, featuring powerful enemies descending to Earth, and battles for the fate of planets in far-off space. The new world of Dragon Ball will continue to unfold…

New Story Guide: Kanzenban Subtitle Guide

012

A volume-by-volume breakdown of the chapters contained in each Kanzenban volume of the manga, originally released between 2002 and 2004.

New World Guide

A guide to new stories, characters, and information about the structure of the Dragon Ball cosmos that were introduced in the 17½ years between the publication of the Daizenshuu and the Chōzenshū.

The Endlessly Expanding World of the Gods

018

An explanation of the life-cycle of the Kaiō and Kaiōshin, as first revealed in the 2009 databook Super Exciting Guide: Story Volume, as well as a look at the complementary roles of the Kaiōshin and God of Destruction, tying in with the 2013 film Dragon Ball Z: Battle of Gods, the story outline and character designs of which were the work of Akira Toriyama himself.

Neko Majin World

020

An overview of the Neko Majin series published between 1999 and 2005, profiling the characteristics and abilities of the "Neko Majin" race, along with the other characters who appear within (including Freeza's "son" Kureeza, the Saiyan Onio, and Dragon Ball characters Vegeta, Majin Boo, and Son Goku), plus information on environments and vehicles.

Episode of Bardock World

026

An overview of the manga side story Episode of Bardock by Naho Ooishi (and its companion animated adaptation), going over Bardock's connection to the main series storyline and profiling the characters specific to the special (Chilled, Ipana, and Berry).

Dr. Mashirito Abale World

027

An overview of the one-shot Dr. Mashirito — Abale-chan, first published in the April 2007 issue of Monthly Shōnen Jump (and adapted into a theatrical short that March — remember, Shueisha's monthly manga anthologies are published two months in advance of their effective date). The section profiles Dr. Mashirito Junior and "Abale", his creation, who is designed to be a more-powerful rival to both Arale Norimaki and Obotchaman, but who nevertheless saves the world from aliens despite being a stereotypical "bad kid".

We Asked Akira Toriyama! 2013 (read translation)
028

A Q&A session with Akira Toriyama, revealing details about characters, background information on the Neko Majin race, and the role of the God of Destruction in the Dragon Ball cosmos. A running feature along the bottom picks out choice quotes from previous Dragon Ball databooks released between 2003 and 2009.

NEW DRAGON WORLD plus

032

A gallery of the alterations to chapters 516 and 519 in the Kanzenban, which were the only chapters in which the artwork and panel layout were modified by Akira Toriyama.

Dragon Ball Daizenshuu: Reprinted Pages

DRAGON BALL STORY GUIDE

033

This section consists of pages reprinted from Daizenshuu 2: Story Guide, beginning with Akira Toriyama's introduction to that book. Reprinted pages have "reprint" (復刻 fukkoku) on them in a faux-stamped design along the bottom, but are otherwise identical to their counterparts in the original book.

Adventure History

035

This section provides a recap of the entire manga series, listing one tankōbon volume per page with their respective chapters. Each volume cover is displayed, along with its title, main events, and general synopsis. Each chapter also has a very brief description, highlighting the main events of the chapter.

Personal History

081

This section details the first-appearances of major characters, their growth and transformations over the course of the series, relationships with other characters, and a brief overview of many supporting characters.

Battle History

135

An overview of the major battles over the course of the series, important techniques used, and more.

Before Dragon Ball

078, 079

A showcase of Akira Toriyama's early ideas for Dragon Ball. It displays most of his original concepts, and ideas such as Dragon Boy, Tongpoo's Great Adventure, and some interesting conceptual drawings.

STORY GUIDE plus: Complete Mark List

201

A complete listing of all logos, emblems, and Chinese characters that appear on characters' clothing within the series.

DRAGON BALL WORLD GUIDE

203

This section consists of pages reprinted from Daizenshuu 4: World Guide, beginning with Akira Toriyama's introduction to that book. Reprinted pages have "reprint" (復刻 fukkoku) on them in a faux-stamped design along the bottom, but are otherwise identical to their counterparts in the original book.

World

205

A quick look at the universe of the Dragon World, along with an explanation of the Dragon Balls and their properties.

Racial Groups

227

This section showcases a thoroughly detailed look at the various races that appear within the Dragon World. The racial groups included are: Saiyans, Namekians, People of the Heavens, Freeza and his Followers, Bobbidi and his Followers, and Earthlings (Martial Artists, Humans, Animals, and Monsters). Each racial group is then broken down further, providing hierarchy details, race specific abilities, and background information.

Field

261

In addition to detailing the Earth itself and its 12 areas (each with their own major events), this section details the various locations throughout the universe and heavens.

Grapple

283

Mind power attacks, body attacks, and emergency attacks are all detailed and further divided into sub-groups. A complete breakdown of each Tenka'ichi Budōkai is also included, noting each fight, the participants, and more.

Machines

301

This section provides classification of all machines used in the Dragon World. The categories include cars, air cars, bikes, air bikes, planes, anti-gravitational aircraft, boats, submarines, spaceships, alien spaceships, and time machines. Each machine has a brief description, along with Toriyama's own comments about each machine. Also included is a list of all four vehicles that Akira Toriyama used in the manga that actually exist in the real world. We are also given a special look at Mister Popo's Magic Carpet and Kinto-Un in the "Wonder Selection".

Technology

321

This section opens with a table of the different types of technology found in the Dragon World. The main categories include Bulma's Inventions, Dr. Brief's Inventions, Scientific Items, Weapons, Defensive Gear, Robots, Androids, and Supernatural Items. Some categories are further divided into sub-groups and each item is accompanied by a full description and a note of the different times they are used within the series.

Akira Toriyama's Best (read translation)
281, 284, 322

These pages include fun Q&A's with Akira Toriyama about different aspects of the series. Some questions include; "If he could be reincarnated as a character, who would it be? (Trunks)"; "What is your favorite technique? (Bukūjutsu)"; "What is your favorite place/location? (Karin's Tower)"; "If you could take one thing from the Dragon Ball world, what would it be? (Hoi Poi Capsules)"; "Which artificial human design was your favorite? (Cell, 2nd Form)".

Akira Toriyama Super Interview: Reprinted Version (read translations)
340

The "Akira Toriyama Super Interview" segments from Daizenshuu 2 and 4 have been included, but unlike the other reprinted pages, the text has been re-set in a new, "busier" layout.
Databook Staff Credits
It should be noted that although Akira Toriyama is listed as the author of this databook, he actually had very little involvement with the production of its content, if any at all. Toriyama makes it quite clear in most of his daizenshuu introductions that "they" (Shueisha) are responsible for putting these together, and he is often graciously humble in thanking them for all their hard work in sorting through his exhaustive series.
著者

Author

鳥山 明

Akira Toriyama

発行人

Publisher

鈴木晴彦

Haruhiko Suzuki

企画・編集

Planning & Editing

Vジャンプ編集部

V-Jump Editorial Department

発行所

Publishing House

株式会社 集英社

Shueisha Inc.

印刷所

Printing House

大日本印刷株式会社

Dai Nippon Printing Co., Ltd.

企画・構成

Planning & Organization

株式会社キャラメル・ママ

Caramel Mama

デザイン

Design

有限会社バナナグローブスタジオ

Banana Grove Studio Co., Ltd.

酒井布実子

Fumiko Sakai

櫛田圭子

Keiko Kushida

安部亮爾

Ryōji Abe

BGS制作部:附田慈子

BGS Production Department: Shigeko Tsukita

DTP

DTP

株式会社ビーワークス

Beeworks Co., Ltd.

宮川央士

Hiroshi Miyakawa

沼上聡美

Satomi Numagami

羽鳥美智子

Michiko Hatori

横山券露央

Kenrō Yokoyama