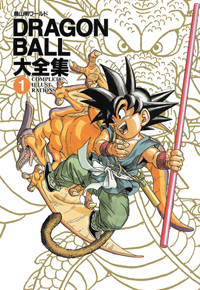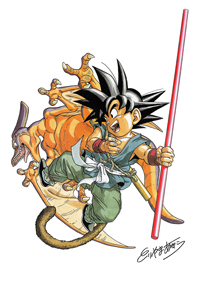 Databook Information
| | |
| --- | --- |
| Released: | 20 June 1995 |
| Retail: | ¥1,500 (tax included) |
| Publisher: | Shueisha Inc. |
| Size / Pages: | JIS B5 (18.2 × 25.7 cm) / 217 pages |
| Catalog No.: | ISBN 4-08-782751-8 |
Databook Contents
This first daizenshuu covers a multitude of illustrations and artwork drawn by Akira Toriyama himself. This includes everything from chapter title pages, to tankōbon cover illustrations, to Weekly Shōnen Jump cover illustrations, to video game promotional illustrations, and even some phone card artwork. Included before the table of contents is an introduction message from Akira Toriyama and the guides title page, which features the illustration from 1986 WJ #7. The book also features a beautiful foldout poster of the guides respective cover illustration drawn by Akira Toriyama. On the opposite side of the poster is the original sketch of the final page of the manga with a goodbye message from Toriyama-sensei.
Toriyama's Introduction (read translation)
013

Complete Illustrations

This section highlights some of Akira Toriyama's beautiful artwork drawn for the manga series, specifically anything he drew for Weekly Shōnen Jump. The illustrations and artwork are organized chronologically, listed under the respective year they were first published. In total, there are 265 illustrations published in the first daizenshuu, and it wouldn't be until April 2010, when "The Golden Warrior" anime illustrations collection was published, that another Dragon Ball artbook would be available. Beyond this point, we will not provide a break-down for each year, as there's nothing much to say about each individual year, other than "Look at the pretty pictures!"

1984

015

1985

017

1986

029

1987

043

1988

059

1989

067

1990

083

1991

101

1992

117

1993

133

1994

151

1995

161

Comics

176

The "Comics" section contains Akira Toriyama's masterful artwork that graced the cover of each volume of the original tankōbon. Each drawing includes the tankōbon volume number and date, and some even include the alternate color schemes that could have been. Also included in this sections are the original tankōbon spine art and Toriyama's tankōbon introduction artwork.

Weekly Jump

198

This section displays most, but not all, of the issues of Weekly Shōnen Jump that featured Dragon Ball on the cover. Most of the artwork featured on these covers is printed throughout the guide, so the majority of these images are quite small and are more so intended for documentation purposes. The section also lists both the "Akira Toriyama the World" and "Dragon Ball Adventure Special" covers, as these were special Dragon Ball-specific guides printed by Weekly Shōnen Jump.

Akira Toriyama Super Interview (read translation)
202

This is a five page interview with Akira Toriyama on 21 April 1995 at the Yamanoue Hotel in Tokyo, Japan. In the interview Toriyama discusses the art of Dragon Ball, including the evolution of his art style, his favorite drawing from the series, his love for drawing real-world vehicles, and believe it or not, he notes that he usually finishes most of his artwork in a single sitting.

Complete Works Commentary

208

This sections essentially lists every illustration printed in the daizenshuu (excluding those from the "Comics" and "Weekly Jump" sections) and where that illustration was originally published. Also, each illustration has commentary discussing each particular illustration, including a little backstory. In total there are a glorious 265 illustrations shown in the first daizenshuu.
Shenlong Times Bonus Insert Pamphlet
As a special bonus for buying the daizenshuu, Shueisha included a small newspaper type pamphlet called the "Shenlong Times". Within each of these 8-page pamphlets, there were interviews with staff members involved with Dragon Ball, Akira Toriyama, and fans from Japan. In the center of each pamphlet there was usually a short comic drawn by Toriyama detailing part of his life following the completion of series, or a tribute to Dragon Ball by other artists, similar to what was done with the kanzenban. Also in each pamphlet is a "Dragon Ball News" section that showcased "new" and upcoming Dragon Ball merchandise. There's also a section called "I Love Dragon Ball", in which famous people from Japan (or China), who love Dragon Ball are interviewed.
Past Editors Round-Table Discussion – 1st Round
— Kazuhiko Torishima (First Editor)
— Yū Kondō (Second Editor)
— Fuyuto Takeda (Third Editor)
Akira Toriyama's "Me These Days"
I Love Dragon Ball #1
— Jackie Chan (Actor & Martial Artist)
Dragon Ball News #1
— PlayStation's Latest "Dragon Ball Z: Ultimate Battle 22" (On Sale in July)
— "Dragon Fist Explosion!! If Goku Doesn't Do it, Who Will?" (In Theaters July 15th)
— "The World of Akira Toriyama" Exhibit (Currently on Display)
— Dragon Ball Comics Vol. 42 (On Sale August 4th)
— Daizenshuu 2 (On Sale August 4th)



Databook Staff Credits
It should be noted that although Akira Toriyama is listed as the author of this databook, he actually had very little involvement with the production of its content, if any at all. Toriyama makes it quite clear in most of his daizenshuu introductions that "they" (Shueisha) are responsible for putting these together, and he is often graciously humble in thanking them for all their hard work in sorting through his exhaustive series.
構成

Organization

キャラメル・ママ

Caramel Mama

アートディレクター

Art Director

田熊樹美

Jumi Takuma

デザイン

Design

フライハイト

Freiheit

協力

In Cooperation With

大日本印刷株式会社

Dai Nippon Printing Co., Ltd.

凸版印刷株式会社

Toppan Printing Co., Ltd.

株式会社美松堂

Bishōdo Co., Ltd.

著者

Author

鳥山 明

Akira Toriyama

発行人

Publisher

坂口紀和

Norikazu Sakaguchi

編集人

Editor

渡辺彰則

Akinori Watanabe

発行所

Publishing House

株式会社集英社

Shueisha Inc.

印刷所

Printing House

大日本印刷株式会社

Dai Nippon Printing Co., Ltd.