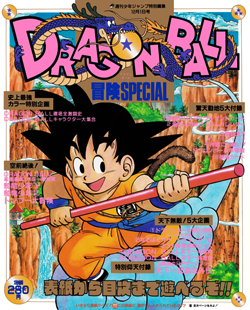 Databook Information
| | |
| --- | --- |
| Released: | 18 November 1987 |
| Retail: | ¥280 |
| Publisher: | Shueisha Inc. |
| Size / Pages: | JIS AB (21 × 25.7 cm) / 209 pages |
Databook Contents
This is the first-ever Dragon Ball guide book from Shueisha, and one of only a few that came out while the series was still in serialization. The guide was released on 18 November 1987 as a "Special Edition" of Weekly Shōnen Jump with an effective publication date of 01 December, and covers material from the manga up through Chapter 146. Hidden within the cover are the faces of Son Goku, Bulma, Yamcha, Kame-Sen'nin, and Kuririn as part of an illustration quiz. While the guide's cover was a collaborative effort, other original illustrations within the book were drawn by Akira Toriyama, Takashi Matsuyama (Toriyama's assistant), Masanori Nishimura, and Keiko Kuwabata. Much of the original content in this guide was later reused in the Daizenshuu guide books.
Shenlong's Christmas Present Card

002

The book opens with a three question challenge from Shenlong to fans who "read Dragon Ball every week" in Weekly Shōnen Jump. The names of those who answered the questions would be entered into a drawing and were eligible to win one of the four possible prizes. 5,000 participants would win an original set of 10 stickers, 100 would win an animation cel, 100 would win an original telephone card, and a lucky 20 would win an autographed sketch of a Dragon Ball character by author Akira Toriyama.

Kame-Sen'nin's Secret Uffun Calendar

005

This is a small 1988 calendar insert that is meant to be cut out of the book. The calendar features a collection of "uffun" (a flirtatious noise) photos of Lunch and Bulma taken by the perverted Kame-Sen'nin. These pictures were drawn by Akira Toriyama and later re-printed in Daizenshuu 1: Complete Illustrations.

Ultra-wide Board Game 1

017

Defeat Piccolo! Come Forth, Hero!! The Legendary Mafūba!!
The first of two board games included in the book, both of which were printed on heavier stock paper which could be folded out (hence being "ultra-wide"), is a dice-based game that follows the manga's storyline from Goku's training under Kame-Sen'nin to his battle with Piccolo Daimaō. A player moves along the board as either Son Goku or Yajirobe and faces off against various enemies (members of the Red Ribbon Army, Uranai Baba's warriors, etc.), gaining "Attack Power" and "Stamina". If your character does not have enough power or stamina to defeat an enemy they encounter along the way, they can receive training under Kame-Sen'nin or Karin. The game ends when you are able to consecutively defeat Tambourine, Drum, and Piccolo Daimaō.

Ultra-wide Board Game 2

019

A Wish to Shenlong! The Contest For the Dragon Balls
The second board game is a fight for the Dragon Balls, featuring a circular-style board, a deck of cards, and some dice. The players begin in the outermost circle and must overcome obstacles in their path to collect each circle's Dragon Ball. Once you safely advance through all six circles and draw the Seven-Star Ball from the deck, Shenlong will grant your wish… to win the game.

Shenlong Cards

021

These pages contain a set of custom cards, dice, character pieces, and strength place markers that are intended to be cut out to play the included board games.

Complete Dragon Ball Battle History

027

A complete listing of the battles from the Dragon Ball up to that point, covering everything from "Goku vs Big Fish" in Chapter 1 to "Kame-Sen'nin vs Piccolo Daimaō" in Chapter 146. A scorecard is provided for each main battle, which included categories for the battle's degree of strength, speed, skill, excitement, and its length. Many of the main enemies were also accompanied by a short biography card covering their various attributes (age, height, weight, gender, family members, attacks, etc). Each page features short comic strips along the outside, where characters related to that specific battle humorously performed and explained one of their signature techniques.

Look, Everyone! A Great Gathering of Dragon Ball Characters

058

This section examines some of the series' more notable characters, including Son Goku, the Pilaf Gang, Oolong, Pu'er, Bulma, Dr. Brief, Yamcha, Lunch, Kuririn, Kame-Sen'nin, and the Sea Turtle. The final two pages feature a detailed cross section of Kame House by Akira Toriyama's assistant, Takashi Matsuyama.

Akira Toriyama-sensei's Message
066

A presentation of Dragon Ball's first 16 Weekly Shōnen Jump cover illustrations drawn by Akira Toriyama, along with a short message from the author thanking fans for all of their support.

"I deliberately draw Dragon Ball without thinking about storylines up ahead. Because of that, I'm excited about those developments just like all you readers are. I am truly thankful for all of you who are following along with me."
– Akira Toriyama

A Hot-Blooded RPG Book: Tenka'ichi Budōkai Side-Story

067

A smaller RPG (role-playing game) insert booklet made to look like a tankōbon volume has been included, which covers Goku and Kuririn's training with Kame-Sen'nin up through the 21st Tenka'ichi Budōkai. The booklet is intended to be cut out of the book, folded in half, and stapled together.

Dragon Boy: Chapter 1

099

Dragon Boy: Chapter 2

115

The two chapter Dragon Boy manga series, which would become a major influence for Toriyama's more popular Dragon Ball series, has been reprinted in its entirety. This series originally premiered in the August and October issues of Fresh Jump in 1983.

Secret Stories of Dragon Ball's Creation

136

A two-page section that showcases Akira Toriyama's early ideas for Dragon Ball (helpfully "rejected" by editor Kazuhiko Torishima's avatar, Dr. Mashirito). It displays most of his original concepts, elements taken from Dragon Boy, The Adventure of Tongpoo, and some conceptual character art.

Is That So?! The Dragon Balls (read translation)
138

This Q&A with author Akira Toriyama is packed with loads of questions in which he discusses the Dragon Ball series, himself, and his love for manga.

How to Play These Five Great Dragon Ball Games

142

This section serves as an instruction manual for the five different games in the book, including how to cut out and assemble the boards, cards, and character pieces.

Three Great Training Maze Quizzes

147

Yet another game to test your knowledge of the Dragon Ball series, it is a quiz spread across three mazes. Each question has three possible answers, with each accompanied by a separate path through the maze. If you incorrectly answer any of the questions, you will be sent on a longer path to the end of the maze. You are then ranked on how many questions you had to answer to get to the end, with the shortest path consisting of only seven questions and the longest path requiring 51 questions.

Dragon Ball's Best Encyclopedia

155

The first Dragon Ball encyclopedia ever printed, some of which was later reused in various guide books. The encyclopedia covers all of the characters, items, and techniques seen in the manga from the beginning of the series up through the Piccolo Daimaō story arc.

The Adventure of Tongpoo

163

The one-shot manga The Adventure of Tongpoo, which would become a major influence for Toriyama's more popular Dragon Ball series, has been reprinted in its entirety. This one-shot originally premiered in Weekly Shōnen Jump issue 1983 #52.
Databook Staff Credits
アートディレクター

Art Director

田熊樹美

Jumi Takuma

レイアウト

Layout

渡辺章二

Shōji Watanabe

バナナグローブスタジオ

Banana Grove Studio

泉田充代

Mitsuyo Izumida

編集協力

Editing Collaboration

キャラメルママ

Caramel Mama

樹想社

Kisōsha

十八VAN PLANNING

18 Van Planning

原田央男

Teruo Harada

現代書院

Gendai Shoin

カメラ

Camera

新美宏昭

Hiroaki Niimi

協力

In Cooperation With

東映動画

Toei Animation

表紙・画・鳥山 明

Cover / Artwork: Akira Toriyama

イラスト

Illustration

石附 誠

Makoto Ishizuki

デザイン

Design

田熊樹美

Jumi Takuma

製版

Plate Making

土屋 旭

Asahi Tsuchiya

編集人

Editor

後藤広喜

Hiroki Gotō

発行人

Publisher

西村繁男

Shigeo Nishimura

発行所

Publishing House

集英社

Shueisha Inc.

印刷所

Printing House

共同印刷株式会社

Kyodo Printing Co., Ltd.