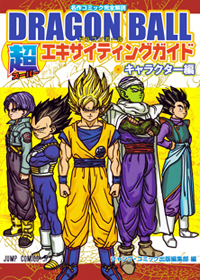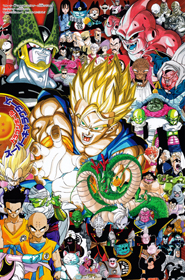 Databook Information
| | |
| --- | --- |
| Released: | 03 April 2009 |
| Retail: | ¥630 (tax included) |
| Publisher: | Shueisha Publishing Co., Ltd. |
| Size / Pages: | JIS B6 (12.8 × 18.2 cm) / 96 pages |
| Catalog No.: | ISBN 978-4-08-874804-7 |
Databook Contents
This is the second of two Dragon Ball Super Exciting Guide books, which covers the characters of the manga series. Unfortunately, the majority of the information in this guide is already available in the daizenshuu and the two official kanzenban guides (Landmark and Forever). The cover art was drawn by Akira Toriyama.
Included before the table of contents is a small fold-out poster of a montage of various characters seen throughout the series. This poster can be combined with that of the "Story Volume" to create a larger poster. The seven Dragon Balls are hidden throughout the two posters and on the back side the characters are color coded into groups, with names and brief biographies for each character. Following the poster, is a page of stickers entitled "Dragon Ball Family Collection Seal". The guide's title page showcases the cover artwork from 1992 WJ #8, which was drawn by Akira Toriyama in commemoration of Dragon Ball's seventh year of serialization.
Dragon Ball Story

002

This opening section to the book gives a very brief three page overview of the entire series, with highlights from the manga and some pretty colored illustrations.

SECTION 1: Character Collection

005

The first section of the guide provides detailed biographies of the series' main characters and is split into two parts; the "Heroes Collection" and the "Enemies Collection". Much of the personal and battle data is recycled from

Daizenshuu 7

, but some new information has been included, such as a character's hobbies, favorite food, and favorite vehicle. In addition, the introduction to this section says that these personal profiles were supervised by Akira Toriyama. While Goku, Tenshinhan, Chiaotzu, Yamcha, and Vegeta's height and weights were already printed in Daizenshuu 7, along with Yajirobe's height, the rest of the characters heights and weights are all new, presumably provided by Toriyama.

Following the main character biographies is a small section covering the "Sub Characters" of the series, which is organized by story arc and further by order of appearance. Each character entry contains a short one to two sentence biography, along with the chapter of their first appearance and a single picture of each respective character.

Heroes Collection 1 – Son Goku

006

Heroes Collection 2 – Son Gohan

008

Heroes Collection 3 – Son Goten

010

Heroes Collection 4 – Vegeta

012

Heroes Collection 5 – Trunks (Young Adulthood)

014

Heroes Collection 6 – Trunks (Childhood)

016

Heroes Collection 7 – Piccolo

018

Heroes Collection 8 – Kuririn

020

Heroes Collection 9 – Yamcha

022

Heroes Collection 10 – Kame-Sen'nin

023

Heroes Collection 11 – Tenshinhan

024

Heroes Collection 12 – Chiaotzu

026

Heroes Collection 13 – Yajirobe

027

Heroes Collection 14 – Bulma

028

Heroes Collection 15 – Chi-Chi

029

Heroes Collection 16 – Mister Satan

030

Heroes Collection 17 – Videl

031

Heroes Collection EX1 – Gotenks

032

Heroes Collection EX2 – Vegetto

033

Enemies Collection 1 – Piccolo Daimaō

034

Enemies Collection 2 – Freeza

036

Enemies Collection 3 – Cell

038

Enemies Collection 4 – Majin Boo

040

Sub-character Collection

042

SECTION 2: World Guide

049

The majority of this section is taken straight from Daizenshuu 4, including all of the information about the Dragon Balls, the universe, and racial groups. There are also "Extra Connections" listed throughout the section highlighting various related elements. For instance, the Saiyans section features a look at Freeza and his forces and the Earthlings section examines Doctor Gero and his many inventions created to defeat Goku. Each section also includes information about various related items, such as the capsules on Earth, the Dragon Balls on Namek, and the Nyoi-Bō from the divine realm.

Dragon Ball's Universe 1 – What Are the Dragon Balls?

050

Dragon Ball's Universe 2 – The Universe's Structure

052

Dragon Ball's Inhabitants 1 – Earthlings

054

Dragon Ball's Inhabitants 2 – Saiyans

058

Dragon Ball's Inhabitants 3 – Namekians

062

Dragon Ball's Inhabitants 4 – Divine Figures

066

SECTION 3: Battle Technique File

071

Once again, most of this section is recyled information, again taken from Daizenshuu 4. It covers the major techniques seen throughout the manga, such as the Kamehameha, Kaiō-Ken, Kienzan, Janken, and Dodonpa. While some techniques feature more detailed information, most of them simply list in which chapter it first appeared and who has performed it.

Battle Technique File 1 – Category Classification! Special Attack Explanation

072

Battle Technique File 2 – Ki Manipulation Techniques

074

Battle Technique File 3 – Martial Arts Techniques

083

Battle Technique File 4 – Unique Techniques

087

The Truth About the "Dragon Ball" Manga (read translation)
091

The true highlight of the book is a fairly lengthy interview with Akira Toriyama, in which he answers some questions about the DragonBall universe and its characters. Toriyama notes that he would love to try actually using Bukūjutsu and Shunkan-Idō, but more importantly he reveals that Mister Satan's real name is… Mark (a pun on akuma, meaning devil)! After that, everything else just doesn't seem as important…

Exciting Columns

There are three short one-page columns scattered throughout the book that focus on various topics related to the book's contents. The first column covers the different group name origins, such as all Saiyan names being based on vegetables and all Red Ribbon Army names come from colors. The second column is essentially a reprint of "The 22 Wishes" section found in Daizenshuu 4. Finally we have the last column that takes a look at the somewhat weird, yet humorous, techniques seen in the manga, like Goku's helicopter tail and Bacterian's stinky finger.

The Great Exhibit of Dragon Ball Character Name Origins

048

The 22 Wishes Granted in Dragon Ball

070

Unexpectedly Powerful? Weird Technique Collection!!

090
Databook Staff Credits
It should be noted that although Akira Toriyama is listed as the author of this databook, he actually had very little involvement with the production of its content, if any at all. The contents of this databook were almost entirely compiled and organized by Caramel Mama and Shueisha.
著者

Author

鳥山 明

Akira Toriyama

発行人

Publisher

太田富雄

Tomio Oota

編集人

Editor

木下暢起

Nobuoki Kinoshita

発行所

Publishing House

株式会社 集英社

Shueisha Co., Ltd.

印刷所

Printing House

共同印刷株式会社

Kyodo Printing Co., Ltd.

編集協力

Editing Coordination

キャラメル・ママ

Caramel Mama

デザイン

Design

バナナグローブスタジオ

Banana Grove Studio