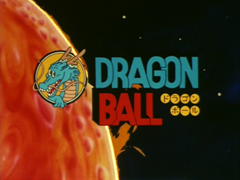 Series Information
Original Run:
26 February 1986 – 19 April 1989 (3 years, 1 month, 4 weeks)
Corresponding:
Dragon Ball Episodes 001 – 153 (153 episodes)
Dragon Ball Chapters 001 – 194 (194 chapters; approx. 1.3 chapters per episode)
Filler Content:
72% Canon / 28% Filler
Rating Shares:
Average: 21.2%
Maximum: 29.5% (Episode 047)
Minimum: 13.7% (Episode 110)

---

Main Staff:
Series Director — Minoru Okazaki & Daisuke Nishio
Series Organization — Takao Koyama
Planning — Keizō Shichijō & Kōzō Morishita
Character Design — Minoru Maeda
Art Design — Tadanao Tsuji & Yūji Ikeda
Music — Shunsuke Kikuchi
Following the success and popularity of Akira Toriyama's new manga series Dragon Ball, Toei Animation announced it would be creating an animated adaptation of the series. The first episode aired 26 February 1986, after the series first premiered in Weekly Shōnen Jump a little over a year earlier. The series took over the 7:00PM time slot every Wednesday on Fuji TV which was previously held by Toriyama's other hit anime series, Dr. Slump – Arale-chan. This time slot became known as the "Toriyama Block" amongst fans, as one of his series was broadcast in this specific time slot for over an astounding 18 years!
Much of the main staff from Dr. Slump would remain to work on Dragon Ball, including Minoru Okazaki as series director, Shunsuke Kikuchi as musical composer, Keizō Shichijō as series planner, and Minoru Maeda as the chief animator. In March 1987, the Red Ribbon Army arc of the series featured a humorous cross-over with characters from the Dr. Slump series as Toriyama had originally done in the manga, forever linking the two series. As the story progressed, Dragon Ball transitioned from a gag series into a much more action-oriented series, further increasing the series' popularity.
However, with the TV series nearing one of the manga's major turning points, the animation staff decided it was necessary to change the name of the series to denote such. Over the course of its three years the Dragon Ball TV series had come to a total of 153 episodes and three theatrical films, all of which were based on previously established events in the animated TV series. Unfortunately, the TV series is often overlooked by fans and merely remembered as a small stepping stone to one of the most successfully popular action anime series of all time – Dragon Ball Z.
Series Story Arcs
Select a story arc to view an episode-by-episode break-down of that specific arc, with additional information pertaining to the original broadcast run, filler content, and rating shares. We've also included detailed pages for each individual episode, which includes screen shots from the original episodes, episode summaries, next episode information, complete opening and ending credits, and much more.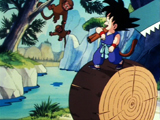 In search of the seven Dragon Balls, Bulma crosses paths with a mysterious young boy by the name of Son Goku. Realizing Goku's unnatural strength, she convinces him to join her in search of the remaining Dragon Balls. Along the way the two encounter many friends and foes, all in search of the same thing… the Dragon Balls.
Air Dates: 26 February 1986 — 21 May 1986 (13 weeks)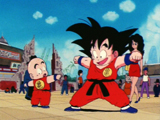 Training has begun at the Turtle Hermit School, and two new students have joined… Son Goku and Kuririn. As their training concludes, they travel to the 21st Tenka'ichi Budōkai to compete with the greatest fighters in the world. Little do they know that their master, Muten Rōshi, has disguised himself as a competitor to defeat his own students.
Air Dates: 28 May 1986 — 03 September 1986 (15 weeks)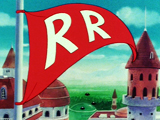 The ruthless Red Ribbon Army is on the hunt for the Dragon Balls, and they're using any means necessary to get their hands on them. Goku must take on the entire Red Ribbon Army to get his grandfather's Four-Star Ball back. Unfortunately for Commander Red and his army, they underestimate Goku, who is no ordinary boy.
Air Dates: 10 September 1986 — 01 July 1987 (43 weeks)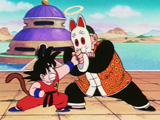 Goku has defeated the Red Ribbon Army, but he still cannot seem to find the last Dragon Ball. Kame-Sen'nin suggests they consult Uranai Baba, who can divinate the locations of lost items. However, her services aren't cheap, so our heroes must instead defeat her five mysterious warriors before she will help them.
Air Dates: 08 July 1986 — 09 September 1987 (10 weeks)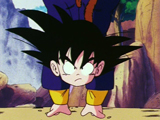 After using the Dragon Balls to bring Upa's father Bora back to life, Goku realizes he must get stronger, so he heads off to train on his own. Along the way he makes many new friends, and seemingly just as many enemies, all in preparation for the next Tenka'ichi Budōkai. But will it be enough for him to finally win the tournament?
Air Dates: 16 September 1987 — 14 October 1987 (5 weeks)
After some difficult training, Muten Rōshi's students head off to compete in the next Tenka'ichi Budōkai, but a surprise awaits them. Muten Rōshi's rival Tsuru-Sen'nin has brought his students to compete as well, and they're out for blood. As the matches heat up, they must fight for their master's honor, and their own lives.
Air Dates: 21 October 1987 — 17 February 1988 (18 weeks)
Kuririn is found dead after the Tenka'ichi Budōkai, and it soon becomes all to clear that Piccolo, the Demon King, has once again returned! He ravages the Earth in search of the Dragon Balls to regain his youth. With his newfound youth, Piccolo begins his reign over Earth and the only one standing in his way is Goku.
Air Dates: 24 February 1988 — 10 August 1988 (25 weeks)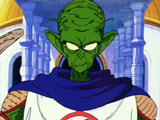 After narrowly defeating Piccolo Daimaō, Yajirobe takes Goku to Karin's Tower. Using the Nyoi-Bō, Goku ascends to God's Temple to receive special training from God himself, but he soon learns that God holds a terrible secret. Can Goku learn enough in time to do something God himself couldn't, defeat Piccolo?!
Air Dates: 17 August 1988 — 02 November 1988 (12 weeks)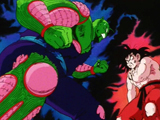 Goku's training with God and Mister Popo has ended, and the time has come to confront Piccolo once again. The preliminary rounds of the Tenka'ichi Budōkai begin, and as predicted Piccolo arrives. Fighting his greatest battle yet, Goku must now defeat the demon Piccolo to save everything that is good and right; he must save the world once again.
Air Dates: 09 November 1988 — 08 March 1989 (18 weeks)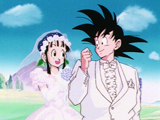 After winning the Tenka'ichi Budōkai, Goku and Chi-Chi head off to get married, but Gyūmaō and Chi-Chi's wedding dress are trapped in his castle by a terrible fire. To stop the fire, the two must travel to the Mountain of Five Elements and extinguish the Furnace of Eight Divinations. Will Goku and Chi-Chi ever get married?!
Air Dates: 15 March 1989 — 19 April 1989 (6 weeks)