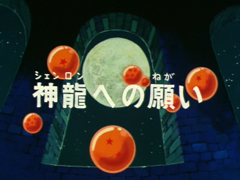 神龍への願い
Shenron e no Negai
The Wish to Shenlong
Episode Information
Episode Synopsis
Shenlong finally appears! Pilaf tries to say his wish, in order to rule the world!! Because Oolong said his wish of "Give me a girl's panties" a moment sooner, his wish ended up being granted! With the wish granted, Shenlong returns again to the Dragon Balls, and they scatter to the four winds. Enraged, Pilaf imprisons Goku and the others in a room covered in fortified glass and iron plates, intending to kill them with the sun's hot rays, but…?!
Prologue
Pilaf summons Shenlong. Yamcha and Bulma encourage Pu'er and Oolong to hurry, while Goku jumps up and down, too short to see through the hole that he blasted with his Kamehameha. The world is in grave danger!
Part A
Pu'er and Oolong hold on to each other as Shenlong appears. They were too late to steal the Dragon Balls. Yamcha and Bulma think it is all over, while Goku begs them to let him see what is going on. Pilaf celebrates the arrival of this moment, fantasizing about world domination while Shenlong forms in the sky. Eventually, Shenlong descends to ask Pilaf if he is the one who summoned him. Pilaf confirms this, and Shenlong asks him for his wish. Meanwhile, Oolong and Pu'er have returned to their normal forms; they gape at Shenlong in fear, while Shuu and Mai do the same near Pilaf. Yamcha curses their fate, to be ruled over by Pilaf; Bulma is frustrated that they worked so hard, only for it to come to this. Oolong tells Pu'er they should take this opportunity to get away, and Pu'er agrees.
Pilaf struggles to tell Shenlong his wish. With Yamcha and Bulma distracted by their gloom, Goku finally gets to climb the wall and get a look at Shenlong, who he thinks is huge. Pilaf still cannot seem to get the words out. Goku tries another Kamehameha, but it does not do anything; he is so hungry that he has no strength left. Then he remembers how bad he wants to meet the Dragon, so he gets up his nerve to try again. Shenlong is getting impatient with Pilaf, who is still tongue-tied, and Oolong and Pu'er are still frozen in place. But Oolong gets an idea: he just needs to say something before Pilaf does. As Oolong rushes toward Shenlong, Pilaf manages to get out the words "I wish for world…" but Oolong beats him, asking for a girl's panties. Everyone gapes, including Goku and the gang who have now escaped their prison thanks to the last Kamehameha. Then a shooting star crosses the sky, and a pair of panties falls on Oolong's upturned face. Yamcha cheers, and Bulma remarks that Oolong's perverted nature finally proved useful.
Pilaf is incensed. Shenlong bids them farewell, and disappears. The Dragon Balls scatter across the sky one by one. Goku notices this, and Bulma explains that they always scatter after a wish is granted. Goku realizes that means his Grandpa's Dragon Ball is gone, too. Oolong has fixed the panties over his head with his ears through the leg holes; he is still celebrating his victory when Pilaf orders Mai and Shuu to go after him. Oolong runs, Mai and Shuu on his tail, and then Pilaf notices that the others have also escaped, so he orders them captured as well. Mai opens fire on them; Bulma and Yamcha run, but Goku is hungry and out of strength, so Yamcha goes back for him, reminding him that hunger will not matter if he is dead.
On the ground, Mai tells Shuu they are trying to escape using the castle wall, so Shuu offers to call his dogs. He whistles, and in the kennels, the dogs come to life. Pu'er tells Oolong they should wait for Yamcha and the others, but Oolong thinks they should get away, and worry about rescuing them later. Pu'er doubts Oolong's sincerity, but at that moment, the dogs burst out of the ground right next to them. Oolong tells Pu'er to run. The others run through the castle, Yamcha dragging Goku along. Bulma worries they will encounter more traps, but Yamcha tells her they cannot just jump down from the walls. Dogs drop out of the ceiling in front of them; this was exactly what Bulma feared. Yamcha tries to rouse Goku, but Goku only complains about being hungry, so Yamcha tosses him to the dogs. The gamble works: all Goku can see is food! He attacks his would-be dinner with enthusiasm, and Yamcha joins in with his Rōga Fū-Fū Ken. Oolong and Pu'er barely manage to stay ahead of their dogs, but Goku and Yamcha manage to dispense with most of theirs, and they all run for the exit, with more dogs on their tail.
Part B
Yamcha and Goku continue to attack dogs within the castle, this time in a dining hall. Outside, Pu'er and Oolong continue to run from their dogs, and then they somehow fall inside the castle. Back in the dining hall, Goku tries to use Nyoi-Bō to propel them upward to a window, but they cannot get close enough, and they all fall over. Meanwhile, Oolong and Pu'er decide to transform into birds to get out of the castle, but then Bulma, Yamcha, and Goku fall on top of them. Yamcha gets up and tries to get Goku up as well, since the dogs are coming, but Goku has gone back to complaining about his hunger. Just then, Mai and Shuu drop in and hold Bulma hostage, while Pilaf laughs from above.
Goku and the others are locked in a cell again, this time with walls reinforced with steel. Goku thinks the ceiling is open, but Bulma tells him it is tempered glass. He thinks he can break it with his head, but when he jumps up and tries, he only manages to injure himself. Yamcha reminds everyone that if they do not get out, they will be killed, and they can forget about gathering the Dragon Balls again. Bulma tells them it will be a while before they can collect them, anyway. They will be stones for another year, undetectable by the Dragon Radar. Yamcha cannot believe he will have to be afraid of girls for a whole year longer.
There is no television screen in this cell, but Pilaf's voice comes through a loudspeaker. For interfering with his quest for world domination, he has decided to put all of them to death, slowly. When the sun rises, the tempered glass ceiling combined with the afternoon sun will turn their cell into a toaster oven and cook them. He tells them he is looking forward to tomorrow. Bulma did not bring any suntan oil and worries what this will do to her skin; Oolong reminds her that she is actually going to die. Bulma wails that she is too young to become a mummy; Oolong wails that he does not want to be roast pig; Yamcha whines about his dream of getting married; Pu'er needs to pee; Goku is hungry. Pilaf tells them that this is what they deserve. Yamcha tries punching the walls to no avail; Goku tries another Kamehameha, but nothing works. Pilaf boasts that the steel walls are 300 millimeters thick, and even a cannon could not crack the tempered glass ceiling. Yamcha realizes it is hopeless, and Pilaf boasts again that only death awaits those who get in his way. Pilaf builds a house of cards, and tells Mai and Shuu it is time for bed. The sun tomorrow will be hot, a billion times hotter than his coffee, which he pours on the house of cards, destroying it.
In the cell, Goku wakes up from a nap and looks at his morose companions. Oolong says they are going to die in here. Bulma says she hates dying. Oolong tells her everyone hates dying. Then he looks up, and notices Pu'er has flown up to the glass ceiling. He asks Pu'er what he is doing up there, and Pu'er says he is looking at the moon. Oolong wonders how Pu'er can think of something so carefree at a time like this, and Pu'er explains that it is a beautiful full moon, and he just wants to look at something pretty before he dies. Oolong warns Pu'er not to say things like that; it is bad luck.
Then Goku remembers something: there is a really big monster that comes out on nights when there is a full moon! Bulma laughs at him, and asks him if it is a werewolf. Then she tells him to stop wasting time saying stupid things and think of a way to escape. Goku insists he is not lying; this monster killed his Grandpa! It stepped on him and flattened him. Yamcha cannot believe that the great martial artist could die like this; that must be a strong monster! Goku says it destroyed their house, and a lot of trees too! Oolong asks what the monster looks like, but Goku says he is always asleep when it comes, so he does not know. Oolong wants to know how Goku slept through his house being destroyed, but Goku does not know. He remembers that his Grandpa always used to tell him not to look at the full moon. All at once, the others realize the truth. Goku goes on: he does not understand what him looking at the moon could have to do with anything, but he wonders if that monster will show up here, too, since the moon is full. Goku's friends cower as far away from him as they can get, and Goku asks them what is wrong. Bulma asks him if he looked at the full moon on the night his Grandpa died, and Goku confirms that he accidentally looked at it when he went outside to pee. Goku's friends are terrified, and Yamcha says he always knew Goku was not an ordinary boy. Bulma tries to convince herself that it was just a coincidence.
Goku asks them what they are talking about, and Oolong says they should test it. They will know for sure if he looks at the full moon. But Bulma thinks that, if by some chance it really is true, they will all be in danger. Oolong admits this is true, and Yamcha is relieved they prevented this danger. They cannot let him look at the moon! Bulma tells Goku not to look at the moon, pointing at it, and he turns around to look, realizing his mistake too late. Oolong asks him if he feels funny, and he turns back around, asking what Oolong means. Everyone breathes a sigh of relief, and Bulma says she told them there was no way it was true. But then, something snaps in Goku's head. His stare becomes vacant. His heart beats louder. His body begins to grow larger. His clothes rip to shreds, and fangs grow. He transforms into a Great Ape, breaking the glass ceiling of the cell. Pilaf's Castle rumbles, disturbing the Pilaf Gang's sleep. Shuu and Mai sit up, wondering what is going on and why they are making so much noise. Goku breaks completely through and begins destroying the castle. Even the writer is frightened out of his wits! What will happen?! He does not know!










Next Time:


"Goku's Great Transformation"
Musical Score
The background music for this episode, as with all Dragon Ball TV series background music, was composed by Shunsuke Kikuchi. Certain pieces of this music from the original Dragon Ball television series have been made available on two home format releases:
The Ongakushū ("Music Collection"), originally released on vinyl 21 April 1986 (CX-7272), and re-released on CD under the budget-priced ANIMEX 1200 series 25 September 2003.
The five-disc Daizenshū collection released on 01 April 1994, with the second disc specifically containing music from the original Dragon Ball television series.
The table below outlines all of the musical pieces used during this episode, and which (if any) CD releases contain said music. Most Dragon Ball background music collections compile multiple pieces of music into a single track; as such, individual pieces tend to not have their own unique titles, but rather exclusively have catalog numbers. The CD listings below indicate which disc (if applicable), which specific track, and which individual piece within that track's suite of music is that scene's corresponding background music.
| | | | |
| --- | --- | --- | --- |
| Scene Description | Catalog No. | Ongakushū | Daizenshū |
| Re-animated Recap | (Unreleased) | N/A | N/A |
| Shenlong Appears / Title Card | C3 | N/A | D2:14(a) |
| Pilaf's Daydream | M18 | N/A | D2:15(a) |
| The Daydream Continues | M13 | N/A | D2:14(b) |
| All Looks Hopeless | (Unreleased) | N/A | N/A |
| Oolong's Special Panties | (Unreleased) | N/A | N/A |
| Pilaf's Revenge | (Unreleased) | N/A | N/A |
| The Dogs Answer Shuu's Call | (Unreleased) | N/A | N/A |
| Goku Gets it Together | (Unreleased) | N/A | N/A |
| Eyecatch A | C2B-2 | N/A | D2:19(e) |
| Eyecatch B | C4 | N/A | D2:23(e) |
| The Great Escape | (Unreleased) | N/A | N/A |
| Bulma Held Hostage | G13 | 5(c) | D2:5(c) |
| Pilaf's Slow-Cooker | Unknown | 6(c) | D2:6(c) |
| Despair | G12 | 13(c) | D2:13(c) |
| Pu'er Admires the Moon | (Unreleased) | N/A | N/A |
| Everyone Suspects Goku | (Unreleased) | N/A | N/A |
| Goku Transforms | (Unreleased) | N/A | N/A |
Episode Credits
The overall credits listed follow a straight forward structure; the staff involved with the production of the series as a whole are listed in the opening credits and the staff involved with this specific episode are listed in the ending credits. All credits listed below are presented as they originally appeared in the episode's initial broadcast, although errors have been corrected to maintain accurate and consistent spellings throughout the site. For more information and a complete listing of the series' staff, visit the Animation Production Guide.
Cast Credits
The cast credits are listed in order of character importance within the series. For more detailed information about the series cast, visit the Cast Guide.
孫悟空

Son Goku

野沢雅子

Masako Nozawa

ブルマ

Bulma

鶴 ひろみ

Hiromi Tsuru

ナレーター

Narrator

八奈見乗児

Jōji Yanami

ヤムチャ

Yamcha

古谷 徹

Tōru Furuya

ウーロン

Oolong

龍田直樹

Naoki Tatsuta

プーアル

Pu'er

渡辺菜生子

Naoko Watanabe

ピラフ

Pilaf

千葉 繁

Shigeru Chiba

シュウ

Shuu

玄田哲章

Tesshō Genda

マイ

Mai

山田栄子

Eiko Yamada

神龍

Shenlong

内海賢二

Kenji Utsumi
Opening Credits
企画

Planning

七條敬三

Keizō Shichijō

原作

Original Author

鳥山 明

Akira Toriyama

集英社 (週刊少年ジャンプ) 連載

Shueisha (Weekly Shōnen Jump) Serialization

音楽

Music

菊池俊輔

Shunsuke Kikuchi

チーフアニメーター

Chief Animator

前田 実

Minoru Maeda

チーフデザイナー

Chief Designer

辻 忠直

Tadanao Tsuji

オープニング テーマ

Opening Theme

作詞

Lyrics

作曲

Composition

編曲

Arrangement

うた

Vocals

「魔訶不思議アドベンチャー!」

"Mystical Adventure!"

森 由里子

Yuriko Mori

いけたけし

Takeshi Ike

田中公平

Kōhei Tanaka

高橋洋樹

Hiroki Takahashi

(コロムビアレコード)

(Columbia Records)

エンディング テーマ

Ending Theme

作詞

Lyrics

作曲

Composition

編曲

Arrangement

うた

Vocals

「ロマンティックあげるよ」

"I'll Give You Romance"

吉田健美

Takemi Yoshida

いけたけし

Takeshi Ike

田中公平

Kōhei Tanaka

橋本 潮

Ushio Hashimoto

(コロムビアレコード)

(Columbia Records)

シリーズディレクター

Series Director

岡崎 稔

Minoru Okazaki

西尾大介

Daisuke Nishio

フジテレビプロデュサー

Fuji TV Producer

土屋登喜蔵

Tokizō Tsuchiya

清水賢治

Kenji Shimizu

制作

Production

フジテレビ

Fuji TV

東映

Toei
Ending Credits
製作担当

Production Manager

岸本松司

Matsuji Kishimoto

脚本

Script

井上敏樹

Toshiki Inoue

声の出演

Voice Performances

~~~~

協力

In Cooperation With

青二プロ

Aoni Production

原画

Key Animation

海老沢幸男

Yukio Ebisawa

富永真里

Mari Tominaga

楠田 悟

Satoru Kusuda

動画

In-Between Animation

松本明子

Akiko Matsumoto

宮司好文

Yoshifumi Miyaji

相田和彦

Masahiko Aida

星野紀美子

Kimiko Hoshino

和田浩一

Kōichi Wada

上杉恵美子

Emiko Uesugi

竹内浩志

Hiroshi Takeuchi

西川秀明

Hideaki Nishikawa

背景

Backgrounds

山元健生

Tatsuo Yamamoto

土井則良

Noriyoshi Tsuchī

高橋 忍

Shinobu Takahashi

石橋美佳

Miyoshi Ishibashi

美術進行

Art Manager

中村 実

Minoru Nakamura

仕上

Finishing Touches

沢田豊二

Toyoji Sawada

鈴木美佐江

Misae Suzuki

増井美知子

Michiko Masui

桜田和哉

Kazuya Sakurada

特殊効果

Special Effects

橋本由香里

Yukari Hashimoto

撮影

Photography

池上元秋

Motoaki Ikenoue

録音

Recording

二宮健治

Kenji Ninomiya

編集

Editing

福光伸一

Shin'ichi Fukumitsu

音響効果

Sound Effects

新井秀徳

Hidenori Arai

選曲

Music Selection

宮下 滋

Shigeru Miyashita

オーディオディレクター

Audio Director

小松亘弘

Nobuhiro Komatsu

演出助手

Assistant Director

橋本光夫

Mitsuo Hashimoto

製作進行

Assistant Production Manager

石川敏浩

Toshihiro Ishikawa

録音スタジオ

Recording Studio

タバック

TAVAC

現像

Film Development

東映化学

Toei Chemistry

美術

Art Director

池田祐二

Yūji Ikeda

作画監督

Animation Supervisor

海老沢幸男

Yukio Ebisawa

絵コンテ

Storyboard

有迫俊彦

Toshihiko Arisako

演出

Director

上田芳裕

Yoshihiro Ueda