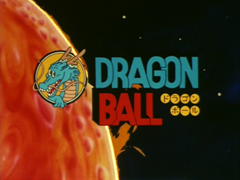 Series Information
Original Run:
26 February 1986 – 19 April 1989 (3 years, 1 month, 4 weeks)
Corresponding:
Dragon Ball Episodes 001 – 153 (153 episodes)
Dragon Ball Chapters 001 – 194 (194 chapters; approx. 1.3 chapters per episode)
Filler Content:
72% Canon / 28% Filler
Rating Shares:
Average: 21.2%
Maximum: 29.5% (Episode 047)
Minimum: 13.7% (Episode 110)

---

Main Staff:
Series Director — Minoru Okazaki & Daisuke Nishio
Series Organization — Takao Koyama
Planning — Keizō Shichijō & Kōzō Morishita
Character Design — Minoru Maeda
Art Design — Tadanao Tsuji & Yūji Ikeda
Music — Shunsuke Kikuchi
Following the success and popularity of Akira Toriyama's new manga series Dragon Ball, Toei Animation announced it would be creating an animated adaptation of the series. The first episode aired 26 February 1986, after the series first premiered in Weekly Shōnen Jump a little over a year earlier. The series took over the 7:00PM time slot every Wednesday on Fuji TV which was previously held by Toriyama's other hit anime series, Dr. Slump – Arale-chan. This time slot became known as the "Toriyama Block" amongst fans, as one of his series was broadcast in this specific time slot for over an astounding 18 years!
Much of the main staff from Dr. Slump would remain to work on Dragon Ball, including Minoru Okazaki as series director, Shunsuke Kikuchi as musical composer, Keizō Shichijō as series planner, and Minoru Maeda as the chief animator. In March 1987, the Red Ribbon Army arc of the series featured a humorous cross-over with characters from the Dr. Slump series as Toriyama had originally done in the manga, forever linking the two series. As the story progressed, Dragon Ball transitioned from a gag series into a much more action-oriented series, further increasing the series' popularity.
However, with the TV series nearing one of the manga's major turning points, the animation staff decided it was necessary to change the name of the series to denote such. Over the course of its three years the Dragon Ball TV series had come to a total of 153 episodes and three theatrical films, all of which were based on previously established events in the animated TV series. Unfortunately, the TV series is often overlooked by fans and merely remembered as a small stepping stone to one of the most successfully popular action anime series of all time – Dragon Ball Z.
Series Episode Listing
Click the episode's title to view its respective individual page, which will include screen shots from the original episode, an episode summary, next episode information, complete opening and ending credits, and more.