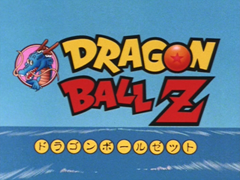 Series Information
Original Run:
26 April 1989 – 31 January 1996 (6 years, 9 months, 1 week)
Corresponding:
Dragon Ball Z Episodes 001 – 291 (291 episodes; 2 TV specials)
Dragon Ball Chapters 195 – 519 (325 chapters; approx. 1.1 chapters per episode)
Filler Content:
To Be Determined
Rating Shares:
Average: 20.5%
Maximum: 27.5% (Episode 218)
Minimum: 12.1% (Episode 273)

---

Main Staff:
Series Director — Daisuke Nishio
Series Organization — Takao Koyama
Planning — Kōzō Morishita
Character Design — Minoru Maeda & Katsuyoshi Nakatsuru
Art Design — Yūji Ikeda & Ken Tokushige
Music — Shunsuke Kikuchi
As the Dragon Ball TV series approached one of the manga's major turning points, the animation staff approached Akira Toriyama about changing the name of the TV series to help change the "image" of the series. Thinking he would be ending the series sometime soon, Toriyama decided to signify this by simply adding the last letter in the alphabet to the series name. Little did he know that Dragon Ball Z would go on to be one of the most successful, popular, and recognized animated action series of all time.
Taking over the Dragon Ball time slot at 7:00PM every Wednesday on Fuji TV, the first episode of Dragon Ball Z aired on 26 April 1989. The main staff of the series remained relatively unchanged from its predecessor and they continued on right where they had left off the week before. The story picked up five years after the end of Dragon Ball, and would greater explore Goku's mysterious background. With each villain stronger than the last, the series' battles and popularity quickly escalated. The series' TV ratings were amongst the best in Japan, with Dragon Ball Z remaining in the "Top 10" rated animated shows during its entire run.
In May 1995, Akira Toriyama announced he would be ending the manga series after 519 chapters, spelling the inevitable end for one of the most successfully popular action series of all time. After 291 episodes, 2 feature-length TV specials, and 13 theatrical films, the Dragon Ball Z TV series came to an concluded when the final episode aired on 31 January 1996. However, Toei Animation had no intention of letting the franchise die just yet and created an anime-only series of their very own — Dragon Ball GT.
Series Episode Listing
Select the page link under a given episode number to to view its respective individual page, which will include screen shots from the original episode, an episode summary, next episode information, complete opening and ending credits, and more.