Series Information
Original Run:
01 July 2018 – ongoing
Corresponding:
Super Dragon Ball Heroes Episodes 01 – ongoing
Filler Content:
Anime Original Series
Rating Shares:
N/A (Streaming Release)

---

Main Staff:
Planning — Fumiaki Iwakura, Reina Fukuoka, Mari Kakuwa, & Yoshiyuki Suzuki
Story — Yūki Kadota
Character Design & Animation Supervision — Tadayoshi Yamamuro
Art Design — Ken Tokushige
Music — Yūya Mori
Dragon Ball Heroes — including its upgrade to Super Dragon Ball Heroes in 2016 — is a card-based Japanese arcade game. Opponents take turns placing physical cards on the game's platform to move characters around the play field to set up combo attacks and super moves while timing button presses on the machine itself. The games receive regular updates within an overarching series (e.g., "Evil Dragon Mission" series, "God Mission" series, etc.) adding new cards, loose story/plot points, and animated introduction sequences. Dragon Ball Heroes has received three Nintendo 3DS ports (Ultimate Mission, Ultimate Mission 2, and Ultimate Mission X); like the arcade game, none of these have been localized and released outside of their native Japan.
Following the completion of the Dragon Ball Super TV series and during the lead-up to the 2018 theatrical Dragon Ball Super film, Bandai Namco, Shueisha, and Toei Animation announced a joint "promotional anime" for the Super Dragon Ball Heroes card-based arcade game. The series began with the Prison Planet arc from the arcade game's "Universe Mission" series of updates (not to be confused with the Dragon Ball Super TV series' "Universe Survival arc"). The series debuted on 01 July 2018, including a preliminary screening that same day at Aeon LakeTown in Koshigaya, Saitama Prefecture. It has since continued on into the arcade game's "Big Bang Mission" and "Ultra God Mission" series of updates.
In addition to the ongoing storyline in the arcade game, Yoshitaka Nagayama's Super Dragon Ball Heroes: Universe Mission manga series in Saikyō Jump tells a similar version of events; the manga debuted in the magazine's May 2018 issue as a continuation/follow-up to Nagayama's previous Super Dragon Ball Heroes: Dark Demon Realm Mission series, which ran for ten standard chapters and received a collected edition release spanning two volumes.
All incarnations of the story feature Fu, a character originally created for the defunct MMORPG Dragon Ball Online. Fu also made a "re"appearance in Dragon Ball XENOVERSE 2 before also surfacing in Super Dragon Ball Heroes.
Series Story Arcs
Select a story arc to view an episode-by-episode break-down of that specific arc, with additional information pertaining to the original broadcast run, filler content, and rating shares. We've also included detailed pages for each individual episode, which includes screen shots from the original episodes, episode summaries, next episode information, complete opening and ending credits, and much more.
Universe Mission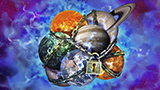 Trunks returns from the future to train with Goku and Vegeta. However, he abruptly vanishes. The mystery man "Fu" suddenly appears, telling them that Trunks has been locked up on the "Prison Planet", a mysterious facility in an unknown location between universes. The group searches for the Dragon Balls to free Trunks, but an unending super battle awaits them! Will Goku and the others manage to rescue Trunks and escape the Prison Planet…?
Premiere Dates: 01 July 2018 — 22 December 2018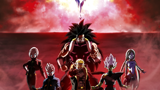 The multiverse has been devastated with the destruction of the Prison Planet, and a powerful new enemy has appeared — the "Core Area" warriors! Their goal: overthrow the universes' gods and destroy the Omni-King. As conflict spreads throughout the universes, countless unprecedented battles unfold. Will Goku make an appearance to help, or did our hero actually die with Fu in the Prison Planet's explosion?!
Premiere Dates: 10 January 2019 — 23 February 2020
Big Bang Mission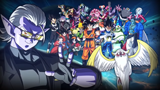 Members of the Time Patrol arrive on Earth in search of Tokitoki, a divine bird with the ability to create time who has gone missing. Foreseeing the appearance of such a bird in Universe 7 that will bring about the destruction of all 12 universes, Beerus and the other Gods of Destruction descend upon Earth. An all out battle with Earth's warriors breaks out, but who is truly pulling the strings behind this assault?!
Premiere Dates: 05 March 2020 — 25 February 2021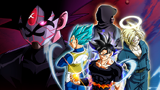 Through the power of the Universe Tree, Fu has birthed a new spacetime copy of the current universe. Trapped inside this new spacetime, Goku once again finds himself up against some familiar foes in Freeza, Coola, and Broli, although this time with the assistance of Hearts! Just what will be the outcome of this ultimate knock-down, drag-out fight to escape?!
Premiere Dates: 17 March 2021 — 18 December 2021
Ultra God Mission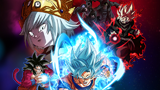 A mysterious guide invites Goku to partake in a grand tournament, where the mightiest warriors From across spacetime have gathered. The ultimate survival battle that transcends time and space, the "Super Spacetime Tournament" has begun! But at the same time Aios, the former Kaiōshin of Time, and her warriors set their disturbing plan into motion…
Premiere Dates: 23 February 2022 — ongoing