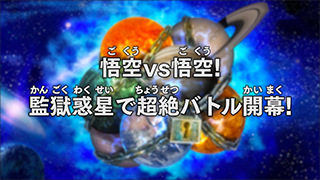 悟空vs悟空!監獄惑星で超絶バトル開幕!
Gokū Bāsasu Gokū! Kangoku Wakusei de Chōzetsu Batoru Kaimaku!
Goku vs Goku! A Transcendent Battle Begins on the Prison Planet!
Episode Information
Episode Summary
On Beerus' planet, Goku and Vegeta are sparring with Whis while Beerus himself naps nearby. Mai interrupts their training, telling Goku and Vegeta to come with her: it seems that Trunks has disappeared! Shin notes how Future Trunks had come to this planet for training. A purple man suddenly appears, saying he will tell them what has happened. He calls himself "Fu" and claims to be a friend of Trunks, who has gotten mixed up in something terrible, and is now on the Prison Planet.
Vegeta wonders how Fu knows this, but Fu explains that it is only natural for him to investigate the situation since his friend is in trouble. Fu explains how many dangerous criminals from throughout the universe are gathered on the Prison Planet; they had better hurry or Trunks will be in trouble! With that, Fu disappears. Vegeta and Goku resolve to head off, while Whis is concerned about this "Fu" person. Shin meanwhile asks Mai to do him a favor.
Goku teleports himself, Vegeta, and Mai to the Prison Planet. Goku is amazed at the planet's huge chains surrounding it, while Vegeta immediately senses someone's ki… which turns out to be another version of Goku, dressed in odd, red clothes. While Fu observes things from a distance, this new Goku spots him and says "I found you", then immediately transforms into Super Saiyan 4. This new Goku charges regular Goku, who counters by becoming Super Saiyan Blue.
While the two Gokus battle, Goku: Xeno figures that regular Goku must be his counterpart from another place, and wonders if he is an ally of "him". As the fight continues, Goku flies up and hits his head on an invisible barrier. Goku: Xeno explains that this is a fully sealed-off space, so escape is impossible. The two Gokus each fire a Kamehameha at each other, which cancel each other out. Goku: Xeno says it was no use, though regular Goku does not know what he means.
Fu laughs; just as one might expect of the Saiyans, two Gokus make for extremely interesting specimens. Goku: Xeno angrily fires a blast at Fu, but he easily deflects it. Fu knows that Goku: Xeno was trying to use the Kamehameha clash to break through the sealed space, but assures him this is impossible. Still, it is incredible for Goku: Xeno to have thought up a plan like that on the spot; just what you would expect of the Time Patrol!
It turns out that Goku: Xeno is a member of the Time Patrol; he is a version of Goku from another dimension, who works as a trans-dimensional cop. Vegeta points out that Fu sure knows a lot about the Prison Planet, and Fu happily explains that he created it as a laboratory. He gathers strong warriors from different universes here and has them fight forever! However, Fu rightly figures that Goku: Xeno got captured on purpose, as part of his investigation.
Mai is angry that Fu lied to them, and wonders if Trunks is even here. Fu declares that Trunks has travelled through time, an unforgivable offense for a mortal, and so Fu is now having him pay the penalty. Besides, Fu knew bringing Trunks here would serve as excellent bait for the others. Vegeta demands to know where Trunks is, but Fu says they will have to find him themselves. Even if the group does locate Trunks, they will still need to gather a set of special Dragon Balls to escape the planet. Goku: Xeno already has one which Fu gave him, but the rest are all in the hands of strong prisoners.
Fu declares a start to his experiment and takes off. Elsewhere on the planet, Trunks awakens in a cell, and the doors mysteriously open. Venturing out, Trunks soon encounters Coola, who demands Trunks hand over the Dragon Ball, though Trunks does not seem to know what he is talking about. Fu monitors the situation on the planet from some sort of control room. All the players are assembled, and the most interesting experiment in the universe can enter its main phase. Behind Fu, a mysterious chained figure crackles with energy. Fu assures this "evil Saiyan" that his turn will come a bit later.










Next Time:


"Goku Goes Beserk! The Evil Saiyan's Rampage!"
Episode Notes
Like the Dragon Ball XENOVERSE video game series before it, Dragon Ball Heroes has begun to take elements from the now-defunct MMORPG Dragon Ball Online, including the concept of a Time Patrol.
Fu is likewise a character originally created for Dragon Ball Online, though the incarnation used here is significantly updated from his original concept. (Fu also made a "re"-appearance in Dragon Ball XENOVERSE 2 before surfacing again in Super Dragon Ball Heroes.) The character's name is likely taken from the English word "future":

フューチャー

(

fyū·chā

)

›

フュー

(

fyū

)

Though the alternate "Goku" character — the Time Patrol version with Super Saiyan 4 — is not actively referred to as "Goku: Xeno" in dialog during the episode, this title is taken directly from the series' official website character biographies and the episode's end credits, as well as previous Super Dragon Ball Heroes stories and supplemental information. This designation in the above episode summary is used for clarity.
The "evil Saiyan" (

悪のサイヤ人

; aku no saiya-jin) is not referred to by name during the episode, but prior to the episode's debut it had already been revealed as "Cumber". Being a Saiyan, he would take his name from a vegetable; in this case, it is likely "cucumber", as his name is simply the end of the English word in katakana with its spelling otherwise intact:

キューカンバー

(

kyū·ka·n·bā

)

›

カンバー

(

ka·n·bā

)

Additional fighters appearing in Fu's monitors include: King Cold (Freeza's father from the original Dragon Ball series), Bojack (the main antagonist from the ninth Dragon Ball Z theatrical film), and Ozotto (the final boss from the 1994 Sega arcade game Dragon Ball Z: V.R.V.S.).
Staff & Cast Notes
As with the Dragon Ball GT and Dragon Ball Super TV series, the role of Shin (the Universe 7 Kaiōshin) is portrayed by Shin'ichirō Ōta, rather than the character's original voice actor Yūji Mitsuya.
Episode Credits
All credits listed below are as originally presented in the promotional episode. The credit structure used is quite simple; the staff involved with the production of the series as a whole are listed in the opening credits and the staff involved with this specific episode are listed in the ending credits.
Cast Credits
孫悟空

Son Goku

孫悟空:ゼノ

Son Goku: Xeno

野沢雅子

Masako Nozawa

 

ベジータ

Vegeta

堀川りょう

Ryō Horikawa

ウイス

Whis

森田成一

Masakazu Morita

界王神

Kaiōshin

太田真一郎

Shin'ichirō Ōta

トランクス

Trunks

草尾 毅

Takeshi Kusao

マイ

Mai

山田栄子

Eiko Yamada

フュー

Fu

山口勝平

Kappei Yamaguchi

クウラ

Coola

中尾隆聖

Ryūsei Nakaō
Opening Credits
企画協力

Planning In Cooperation With

集英社「Vジャンプ」編集部

Shueisha's "V-Jump" Editorial Department

まんが

Manga

集英社 最強ジャンプ 「スーパードラゴンボールヒーローズユニバースミッション!!」ながやま由貴

Shueisha's Saikyō Jump — "Super Dragon Ball Heroes: Universe Mission!!" by Yoshitaka Nagayama

主題歌

Theme Song

スーパードラゴンボールヒーローズ
「ユニバースミッションシリーズ テーマソング」

Super Dragon Ball Heroes
"Universe Mission Series Theme Song"

プロデュース

Production

うた

Vocals

エンジニアよしとくん

Engineer Yoshito-kun

Dragon Soul
(谷本貴義/五條真由美/YOFFY)

Dragon Soul
(Takayoshi Tanimoto / Mayumi Gojō / YOFFY)

ストーリー

Story

門田侑樹

Yūki Kadota

企画・開発

Planning & Development

岩倉史明

Fumiaki Iwakura

福岡麗南

Reina Fukuoka

格和真理

Mari Kakuwa

鈴木禄之

Yoshiyuki Suzuki

宣伝

Publicity

石田忠也

Chūya Ishida

川嵜駿雄

Toshio Kawasaki

菅原多絵

Tae Sugawara

プロデュサー

Producer

樋口 亘

Wataru Higuchi

企画・制作

Planning & Production

バンダイ

Bandai

アニメーション製作

Animation Production

東映アニメーション

Toei Animation
Ending Credits
声の出演

Voice Performances

~~~~

脚本

Script

冨岡淳広

Atsuhiro Tomioka

キャラクターデザイン・絵コンテ・作画監督

Character Design, Storyboard, & Animation Supervisor

山室直儀

Tadayoshi Yamamuro

演出

Director

難波 涼

Ryō Nanba

原画

Key Animation

北野幸広

Yukihiro Kitano

稲葉 仁

Jin Inaba

色彩設計

Color Design

加藤良高

Yoshitaka Katō

デジタル特殊効果

Digital Special Effects

太田 直

Nao Ōta

動画

In-Between Animation

デジタル彩色

Digital Coloring

Toei Phils.

Toei Animation Philippines

 

美術監督

Art Director

徳重 賢

Ken Tokushige

デジタル撮影

Digital Photography

AMGA

AMGA

競 昌則

Masanori Kisoi

服部 安

Yasushi Hattori

榎本星夢

Seimu Enomoto

岡田由紀

Yuki Okada

西 重成

Shigenari Nishi

杉浦仙一

Sen'ichi Sugiura

金 正徳

Masanori Kin

編集

Editing

西村英一

Ei'ichi Nishimura

編集助手

Editing Assistance

向井咲子

Sakiko Mukai

録音

Recording

伊東光晴

Mitsuharu Itō

音響効果

Sound Effects

西村睦弘

(Jet Sound Engine)

Mutsuhiro Nishimura

(Jet Sound Engine)

選曲

Music Selection

佐藤恭野

Yasuno Satō

音楽

Music

森 悠也

Yūya Mori

音楽協力

Music In Association With

東映アニメーション音楽出版

Toei Animation Music Publishing

FAIR WIND music

FAIR WIND music

音響製作

Audio Production

タバック

TAVAC

録音スタジオ

Recording Studio

スタジオユモ

Studio Jumo

東映デジタルセンター

Toei Digital Center

記録

Documentation

沢井尚子

Shōko Sawai

美術進行

Art Manager

海野知義

Tomoyoshi Umino

仕上進行

Finishing Manager

河本隆弘

Takahiro Kawamoto

製作進行

Assistant Production Manager

谷 晴香

Haruka Tani

製作担当

Production Manager

小林克規

Katsunori Kobayashi

プロデュサー

Producer

櫻田博之

Hiroyuki Sakurada

製作

Production

東映アニメーション

Toei Animation