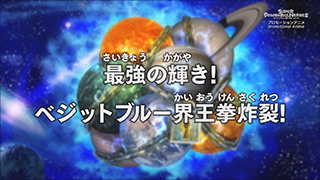 最強の輝き!ベジットブルー界王拳炸裂!
Saikyō no Kagayaki! Bejitto Burū Kaiō-Ken Sakuretsu!
The Strongest Radiance! Vegetto Blue's Kaiō-Ken Explosion!
Episode Information
Episode Summary
While Vegetto looks on, Cumber continues to strangle Trunks, and begins charging up an energy ball attack. Vegetto goes Super Saiyan Blue and finally steps in, colliding with the energy ball Cumber throws at him. Fu observes the resulting explosion from the safety of his control room, impressed with the Saiyans' fight. When the dust clears, Vegetto has gotten Trunks safely away from Cumber. He tells Trunks to stay back, and charges Cumber. After the two trade blows evenly for a while, Cumber rejoices to find such a worthy opponent. It will be his pleasure to break him!
Cumber launches an energy wave that chases after Vegetto and knocks him around. Golden Coola is also watching from a distance and finds that the fight is starting to get interesting. Vegetto begins using Kaiō-Ken on top of Super Saiyan Blue and starts trading blows with Cumber once more. As Mai helps Trunks to safety, they notice the huge ki and hope Goku and Vegeta will be fine. The battle continues, with Coola noticing cracks forming in the chains around the Prison Planet. In his control room, Fu is impressed by the Saiyans' mighty energy and wants them to take it even higher.
Cumber starts forming another gigantic energy ball, and Vegetto counters by charging a Final Kamehameha. The two attacks struggle against each other before the Final Kamehameha finally breaks through (causing a nearby chain to crack even further), but Cumber knocks both it and Vegetto back with a second energy wave. Cumber announces that he will bury Vegetto with his own hands, a great honor! He throws a small energy ball, which he orders to "burst and mix". Vegetto seems to recognize this technique; indeed, it is an artificial full moon! Cumber grows into a gigantic, orange-haired Great Ape, much to Vegetto's disgust. Even Trunks is amazed at his size!
Great Ape Cumber fires a mouth blast at Vegetto, who splits back up into Goku and Vegeta; apparently the two have used up their power. Cumber continues to ravage the surrounding area with his mouth blast, cracking the chain even further and even causing the sky to partially shatter. Goku and Vegeta (back in their base forms) struggle to their feet in front of the gigantic Great Ape Cumber. In his control room, Fu is thrilled at the Saiyans' incredible fight, and wants them to keep going.










Next Time:


"Rage! Super Fu Appears!"
Episode Credits
All credits listed below are as originally presented in the promotional episode. The credit structure used is quite simple; the staff involved with the production of the series as a whole are listed in the opening credits and the staff involved with this specific episode are listed in the ending credits.
Cast Credits
孫悟空

Son Goku

野沢雅子

Masako Nozawa

ベジータ

Vegeta

堀川りょう

Ryō Horikawa

トランクス

Trunks

草尾 毅

Takeshi Kusao

マイ

Mai

山田栄子

Eiko Yamada

フュー

Fu

山口勝平

Kappei Yamaguchi

クウラ

Coola

中尾隆聖

Ryūsei Nakaō

カンバー

Cumber

小山力也

Rikiya Koyama
Opening Credits
企画協力

Planning In Cooperation With

集英社「Vジャンプ」編集部

Shueisha's "V-Jump" Editorial Department

まんが

Manga

集英社 最強ジャンプ 「スーパードラゴンボールヒーローズユニバースミッション!!」ながやま由貴

Shueisha's Saikyō Jump — "Super Dragon Ball Heroes: Universe Mission!!" by Yoshitaka Nagayama

主題歌

Theme Song

スーパードラゴンボールヒーローズ
「ユニバースミッションシリーズ テーマソング」

Super Dragon Ball Heroes
"Universe Mission Series Theme Song"

プロデュース

Production

うた

Vocals

エンジニアよしとくん

Engineer Yoshito-kun

Dragon Soul
(谷本貴義/五條真由美/YOFFY)

Dragon Soul
(Takayoshi Tanimoto / Mayumi Gojō / YOFFY)

ストーリー

Story

門田侑樹

Yūki Kadota

企画・開発

Planning & Development

岩倉史明

Fumiaki Iwakura

福岡麗南

Reina Fukuoka

格和真理

Mari Kakuwa

鈴木禄之

Yoshiyuki Suzuki

宣伝

Publicity

石田忠也

Chūya Ishida

菅原多絵

Tae Sugawara

プロデュサー

Producer

樋口 亘

Wataru Higuchi

企画・制作

Planning & Production

バンダイ

Bandai

アニメーション製作

Animation Production

東映アニメーション

Toei Animation
Ending Credits
声の出演

Voice Performances

~~~~

脚本

Script

冨岡淳広

Atsuhiro Tomioka

キャラクターデザイン・絵コンテ・作画監督

Character Design, Storyboard, & Animation Supervisor

山室直儀

Tadayoshi Yamamuro

演出

Director

朝倉舞彩

Maya Asakura

原画

Key Animation

稲葉 仁

Hitoshi Inaba

香川 久

Hisashi Kagawa

北野幸広

Yukihiro Kitano

色彩設計

Color Design

北川太郎

Tarō Kitagawa

デジタル特殊効果

Digital Special Effects

太田 直

Nao Ōta

動画

In-Between Animation

デジタル彩色

Digital Coloring

Toei Phils.

Toei Animation Philippines

 

美術監督

Art Director

徳重 賢

Ken Tokushige

デジタル撮影

Digital Photography

AMGA

AMGA

競 昌則

Masanori Kisoi

服部 安

Yasushi Hattori

榎本星夢

Seimu Enomoto

岡田由紀

Yuki Okada

西 重成

Shigenari Nishi

杉浦仙一

Sen'ichi Sugiura

金 正徳

Masanori Kin

編集

Editing

西村英一

Ei'ichi Nishimura

編集助手

Editing Assistance

向井咲子

Sakiko Mukai

録音

Recording

伊東光晴

Mitsuharu Itō

音響効果

Sound Effects

西村睦弘

(Jet Sound Engine)

Mutsuhiro Nishimura

(Jet Sound Engine)

選曲

Music Selection

佐藤恭野

Yasuno Satō

音楽

Music

森 悠也

Yūya Mori

音楽協力

Music In Association With

東映アニメーション音楽出版

Toei Animation Music Publishing

FAIR WIND music

FAIR WIND music

音響製作

Audio Production

タバック

TAVAC

録音スタジオ

Recording Studio

スタジオユモ

Studio Jumo

東映デジタルセンター

Toei Digital Center

記録

Documentation

沢井尚子

Shōko Sawai

美術進行

Art Manager

海野知義

Tomoyoshi Umino

仕上進行

Finishing Manager

河本隆弘

Takahiro Kawamoto

製作担当

Production Manager

小林克規

Katsunori Kobayashi

プロデュサー

Producer

櫻田博之

Hiroyuki Sakurada

製作

Production

東映アニメーション

Toei Animation