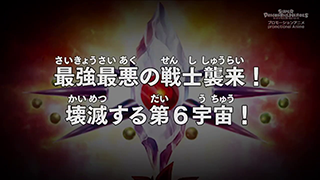 最強最悪の戦士将来!壊滅する第6宇宙!
Saikyō Saiaku no Senshi Shōrai! Kaimetsu Suru Dai-Roku Uchū!
The Ultimate, Worst Warriors Invade! Universe 6 Demolished!
Episode Information
Episode Summary
Trunks and Vegeta continue their battle against Kamin and Oren. Oren looks down on Caulifla and Kale, and muses that maybe he will use one of the girls. Kamin thinks that is a good idea, and says she will do so too.
Kamin and Oren dissolve their bodies into particles which rush into Caulifla and Kale. As the Saiyans' hair turns white, Kamin and Oren announce that Caulifla and Kale's bodies are now theirs. Hit warns Cabba they will be coming for them next. The possessed Caulifla and Kale rush in and attack with Crash Break and Smash Break, the signature attacks of Kamin and Oren.
Having blown back Cabba and Hit, Kamin and Oren set their sights on Trunks and Vegeta. After a skirmish, they reveal their origins as artificial life forms created by Tsufruian super science. However, those same Tsufruians feared their power and attempted to destroy them, which Kamin cannot forgive. The battle resumes, and Trunks and Hit manage to lure Kamin and Oren into the air and restrain them while Vegeta charges a Final Flash. Before taking the brunt of the attack, Kamin and Oren abandon their Saiyan bodies. As everyone recovers, a large crystalline structure appears in the sky, knocking Vegeta and the others down with a shockwave.
From atop the crystalline structure, a mysterious man proclaims that the Universe Seed is now filled with energy. Vegeta asks who he is, and he introduces himself as the one who will defeat the Omni-King: Hearts. With this Universe Seed, referring to the crystalline structure upon which he stands, he will crush the Omni-King, the Kaiōshin, and the Gods of Destruction underfoot. When he does, he will bring about true freedom for all mortals.
Vegeta asks if this destruction is what he calls "freedom" and accuses Hearts of being a hypocrite. Hearts agrees: he is! He then fires a cube into a planet near the one everyone has been battling on, crushing and seemingly converting it into energy. He lowers cubes onto Vegeta and the others, preparing to convert them into "nourishment" for the universe too.
Kamin and Oren protest. Trunks and the others are strong, so they can still play with them more. Hearts allows them to continue if they wish. He then turns to Hit and asks who Hit believes the strongest man in all the universes to be. Reading Hit's mind, Hearts learns of Jiren in Universe 11.
Hearts prepares to depart for the next universe, and tells Zamasu, now present on the battlefield, to join them. Together, they can realize both their dreams. Zamasu agrees, but warns Hearts, as a mortal, to not issue him any more orders.
As the two look ahead to their visit to Universe 11, the scene shifts to Cumber staring down Jiren, in front of an unconscious Toppo.
Elsewhere, the Great Priest asks Goku if he is ready. Goku, wearing an outfit matching the Great Priest's, says he is ready whenever the Grand Priest is.










Next Time:


"Goku Revived!! Strongest vs Strongest Collide!"
Episode Credits
All credits listed below are as originally presented in the promotional episode. The credit structure used is quite simple; the staff involved with the production of the series as a whole are listed in the opening credits and the staff involved with this specific episode are listed in the ending credits.
Cast Credits
孫悟空

Son Goku

野沢雅子

Masako Nozawa

ベジータ

Vegeta

堀川りょう

Ryō Horikawa

トランクス

Trunks

草尾 毅

Takeshi Kusao

ザマス

Zamasu

三木眞一郎

Shin'ichirō Miki

大神官

Great Priest

高塚正也

Masaya Takatsuka

ヒット

Hit

山路和弘

Kazuhiro Yamaji

キャベ

Cabba

岸尾だいすけ

Daisuke Kishio

カリフラ

Caulifla

小松由佳

Yuka Komatsu

ケール

Kale

ゆかな

Yukana

オレン

Oren

粕谷雄太

Yūta Kasuya

カミン

Kamin

津田美波

Minami Tsuda

ハーツ

Hearts

子安武人

Takehito Koyasu
Opening Credits
企画協力

Planning In Cooperation With

集英社「Vジャンプ」編集部

Shueisha's "V-Jump" Editorial Department

まんが

Manga

集英社 最強ジャンプ 「スーパードラゴンボールヒーローズユニバースミッション!!」ながやま由貴

Shueisha's Saikyō Jump — "Super Dragon Ball Heroes: Universe Mission!!" by Yoshitaka Nagayama

主題歌

Theme Song

スーパードラゴンボールヒーローズ
「ユニバースミッションシリーズ テーマソング」

Super Dragon Ball Heroes
"Universe Mission Series Theme Song"

プロデュース

Production

うた

Vocals

エンジニアよしとくん

Engineer Yoshito-kun

Dragon Soul
(谷本貴義/五條真由美/YOFFY)

Dragon Soul
(Takayoshi Tanimoto / Mayumi Gojō / YOFFY)

ストーリー

Story

門田侑樹

Yūki Kadota

企画・開発

Planning & Development

岩倉史明

Fumiaki Iwakura

福岡麗南

Reina Fukuoka

格和真理

Mari Kakuwa

鈴木禄之

Yoshiyuki Suzuki

宣伝

Publicity

石田忠也

Chūya Ishida

菅原多絵

Tae Sugawara

プロデュサー

Producer

樋口 亘

Wataru Higuchi

企画・制作

Planning & Production

バンダイ

Bandai

アニメーション製作

Animation Production

東映アニメーション

Toei Animation
Ending Credits
声の出演

Voice Performances

~~~~

脚本

Script

冨岡淳広

Atsuhiro Tomioka

キャラクターデザイン・絵コンテ・作画監督

Character Design, Storyboard, & Animation Supervisor

山室直儀

Tadayoshi Yamamuro

演出

Director

唐澤和也

Kazuya Karasawa

演出助手

Assistant Director

桐山貴央

Takao Kiriyama

原画

Key Animation

北野幸広

Yukihiro Kitano

稲葉 仁

Hitoshi Inaba

石川 修

Osamu Ishikawa

香川 久

Hisashi Kagawa

板井寛幸

Hiroyuki Itai

辻 美也子

Miyako Tsuji

色彩設計

Color Design

加藤良高

Yoshitaka Kato

デジタル特殊効果

Digital Special Effects

太田 直

Nao Ōta

動画

In-Between Animation

デジタル彩色

Digital Coloring

Toei Phils.

Toei Animation Philippines

 

美術監督

Art Director

徳重 賢

Ken Tokushige

撮影

Photography

AMGA

AMGA

競 昌則

Masanori Kisoi

服部 安

Yasushi Hattori

榎本星夢

Seimu Enomoto

岡田由紀

Yuki Okada

西 重成

Shigenari Nishi

杉浦仙一

Sen'ichi Sugiura

金 正徳

Masanori Kin

編集

Editing

西村英一

Ei'ichi Nishimura

編集助手

Editing Assistance

向井咲子

Sakiko Mukai

録音

Recording

伊東光晴

Mitsuharu Itō

音響効果

Sound Effects

西村睦弘

Mutsuhiro Nishimura

選曲

Music Selection

佐藤恭野

Yasuno Satō

音楽

Music

森 悠也

Yūya Mori

音楽協力

Music In Association With

東映アニメーション音楽出版

Toei Animation Music Publishing

FAIR WIND music

FAIR WIND music

音響製作

Audio Production

タバック

TAVAC

録音スタジオ

Recording Studio

スタジオユモ

Studio Jumo

東映デジタルセンター

Toei Digital Center

記録

Documentation

中島美咲

Misaki Nakajima

美術進行

Art Manager

海野知義

Tomoyoshi Umino

仕上進行

Finishing Manager

河本隆弘

Takahiro Kawamoto

製作担当

Production Manager

小林克規

Katsunori Kobayashi

プロデュサー

Producer

櫻田博之

Hiroyuki Sakurada

製作

Production

東映アニメーション

Toei Animation