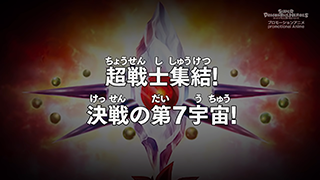 超戦士集結!決戦の第7宇宙!
Chō Senshi Shūketsu! Kessen no Dai-Nana Uchū!
Calling All Super Warriors! Universe 7's Decisive Battle!
Episode Information
Premiered:
22 June 2019 (Online Stream)
22 June 2019 (Super Dragon Ball Heroes Ultimate Tour 2019 National Representative Heroes Qualifying Round)
Opening Animation:
"Super Dragon Ball Heroes: Universe Mission Series Theme Song" (Version 2)
Ending Animation:
None

---

Availability:
YouTube: Dragon Ball Heroes Official Channel (22 June 2019)
Episode Summary
Hearts and the others arrive in Universe 7, planning to use it as their final battleground for fueling the Universe Seed. Goku, Trunks, Vegeta, Piccolo and No. 17 arrive to stop them. Trunks immediately rushes toward Zamasu, despite Vegeta's warnings. As he goes to help, however, he is stopped by Kamin and Oren, who promise to pay him back for the humiliation they suffered in Universe 11.
Piccolo and No. 17 come to Vegeta's aid and tell him to continue onward to Trunks. Oren is delighted by the promise of more strong opponents. No. 17 says the two do not give off the odor of living creatures, and shortly afterward Piccolo ascertains from their abilities that the two of them are artificial humans. Meanwhile, Goku is knocked to the ground by Hearts before he can reach him.
Fu watches the battle unfold from his laboratory, commenting that Universe 7's strength makes it an ideal place to grow the Universe Seed. At the same time, he monitors a battle in Universe 3, where Metal Coola has just defeated Lagss. Universe 3 has proven to be a great testing ground, too!
Cumber rushes in to fight Coola, and Fu wonders who will win: this gigantic Saiyan, or a Coola further powered-up by the Big Gete Star. Cumber pushes Coola to the ground and teases him for being foolish enough to be turned into a machine. Coola taunts back; let's just say he has obtained a new power. Coola knocks Cumber backward then catches him with a head-butt to the face. Coola endures a stream of Cumber's blasts, then announces he is through playing around. He powers up into his Golden form, now calling himself Golden Metal Coola.
In his new form, Coola easily bats Cumber around, but before he can deliver a final blast, the side of his face sparks and ruptures, exposing cords and panels. Nevertheless, he is able to finish tossing his attack at Cumber, before retreating while clutching the side of his face. Cumber survives the blast, but passes out after calling out to Coola to continue their fight.
In his laboratory, Fu laments that Coola overheated, but is happy he was able to collect useful data.
In Universe 7, Vegeta and Trunks fight Zamasu. Meanwhile, Oren and Kamin, still locked in battle against Piccolo and No. 17, fuse into Kamioren.
Goku continues to suffer the effects of Hearts' gravity techniques. Meanwhile, in the middle of the Core Area Warriors' crystalline structure, the Universe Seed begins glowing. Hearts removes his jacket and begins powering up atop the structure, assuming a more muscular form with his hair standing on end. The Universe Seed will soon be completed. Now, Hearts will finish things.










Next Time:


"Super Hearts Joins The Fight! An All-Out Earthshaking Battle!"
Episode Credits
All credits listed below are as originally presented in the promotional episode. The credit structure used is quite simple; the staff involved with the production of the series as a whole are listed in the opening credits and the staff involved with this specific episode are listed in the ending credits.
Cast Credits
孫悟空

Son Goku

野沢雅子

Masako Nozawa

ベジータ

Vegeta

堀川りょう

Ryō Horikawa

トランクス

Trunks

草尾 毅

Takeshi Kusao

ピッコロ

Piccolo

古川登志夫

Toshio Furukawa

人造人間17号

Artificial Human No. 17

中原 茂

Shigeru Nakahara

カンバー

Cumber

小山力也

Rikiya Koyama

ハーツ

Hearts

子安武人

Takehito Koyasu

ザマス

Zamasu

三木眞一郎

Shin'ichirō Miki

オレン

Oren

粕谷雄太

Yūta Kasuya

カミン

Kamin

津田美波

Minami Tsuda

フュー

Fu

山口勝平

Kappei Yamaguchi

クウラ

Coola

竹尾智晴

Ryūsei Nakao
Opening Credits
企画協力

Planning In Cooperation With

集英社「Vジャンプ」編集部

Shueisha's "V-Jump" Editorial Department

まんが

Manga

集英社 最強ジャンプ 「スーパードラゴンボールヒーローズユニバースミッション!!」ながやま由貴

Shueisha's Saikyō Jump — "Super Dragon Ball Heroes: Universe Mission!!" by Yoshitaka Nagayama

主題歌

Theme Song

スーパードラゴンボールヒーローズ
「ユニバースミッションシリーズ テーマソング」

Super Dragon Ball Heroes
"Universe Mission Series Theme Song"

プロデュース

Production

うた

Vocals

エンジニアよしとくん

Engineer Yoshito-kun

Dragon Soul
(谷本貴義/五條真由美/YOFFY)

Dragon Soul
(Takayoshi Tanimoto / Mayumi Gojō / YOFFY)

ストーリー

Story

門田侑樹

Yūki Kadota

開発・運営プロデューサー

Development & Operations Producer

福岡麗南

Reina Fukuoka

宣伝・イベントプロデューサー

Publicity & Event Producer

岩倉史明

Fumiaki Iwakura

ゲーム開発

Game Development

格和真理

Mari Kakuwa

伊藤亜以子

Akio Itō

カード開発

Card Development

鈴木禄之

Yoshiyuki Suzuki

宣伝

Publicity

中静智夫

Toshio Nakazu

西村雄一朗

Yūichirō Nishimura

プロデュサー

Producer

樋口 亘

Wataru Higuchi

企画・制作

Planning & Production

バンダイ

Bandai

アニメーション製作

Animation Production

東映アニメーション

Toei Animation
Ending Credits
声の出演

Voice Performances

~~~~

脚本

Script

冨岡淳広

Atsuhiro Tomioka

キャラクターデザイン・作画監督

Character Design & Animation Supervisor

山室直儀

Tadayoshi Yamamuro

絵コンテ

Storyboard

唐澤和也

Kazuya Karasawa

演出

Director

小松由依

Yui Komatsu

原画

Key Animation

稲葉 仁

Hitoshi Inaba

加野 晃

Akira Kano

梨澤孝司

Kōji Nashizawa

村 俊太朗

Shuntarō Mura

久保田由華

Yūka Kubota

澤木巳登理

Midori Sawaki

辻 美也子

Miyako Tsuji

色彩設計

Color Design

加藤良高

Yoshitaka Kato

デジタル特殊効果

Digital Special Effects

太田 直

Nao Ōta

動画

In-Between Animation

デジタル彩色

Digital Coloring

Toei Phils.

Toei Animation Philippines

 

美術監督

Art Director

徳重 賢

Ken Tokushige

撮影

Photography

AMGA

AMGA

競 昌則

Masanori Kisoi

服部 安

Yasushi Hattori

榎本星夢

Seimu Enomoto

岡田由紀

Yuki Okada

西 重成

Shigenari Nishi

杉浦仙一

Sen'ichi Sugiura

金 正徳

Masanori Kin

編集

Editing

西村英一

Ei'ichi Nishimura

編集助手

Editing Assistance

向井咲子

Sakiko Mukai

録音

Recording

伊東光晴

Mitsuharu Itō

音響効果

Sound Effects

西村睦弘

Mutsuhiro Nishimura

選曲

Music Selection

佐藤恭野

Yasuno Satō

音楽

Music

森 悠也

Yūya Mori

音楽協力

Music In Association With

東映アニメーション音楽出版

Toei Animation Music Publishing

FAIR WIND music

FAIR WIND music

音響製作

Audio Production

タバック

TAVAC

録音スタジオ

Recording Studio

タバック

TAVAC

Studio T&T

Studio T&T

記録

Documentation

中島美咲

Misaki Nakajima

美術進行

Art Manager

澤田真央起

Maoki Sawada

仕上進行

Finishing Manager

河本隆弘

Takahiro Kawamoto

製作担当

Production Manager

小林克規

Katsunori Kobayashi

プロデュサー

Producer

櫻田博之

Hiroyuki Sakurada

製作

Production

東映アニメーション

Toei Animation