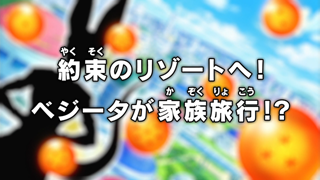 約束のリゾートへ!ベジータが家族旅行!?
Yakusoku no Rizōto e! Bejīta ga Kazoku Ryokō!?
Onward to the Promised Resort! Vegeta Goes on a Family Trip?!
Episode Information
Episode Summary
Kaiō is going for a joyride around his small planet, cracking bad jokes to Bubbles and Gregory like always, when Goku suddenly teleports in front of them. He crashes his car into his house in surprise, and is rather annoyed to learn that Goku has stopped by for more training.
On Earth, Bulma is flying over to a resort island in her personal plane, with Trunks napping in the back and Vegeta standing outside on the roof. When Vegeta complains that this will not count as training, Bulma ramps up the speed and even dives underwater for a bit. Later while shopping on the island, Bulma asks Vegeta why he's taking time out of his training to go on a trip like this with them. Vegeta flashes back to when he promised to take Trunks to an amusement park while the two were training before Majin Boo appeared. Bulma notes that Vegeta seems somehow different since fighting Boo. The family goes on to enjoy various attractions around the island, including a train and a lot more shopping, before having dinner in a fancy restaurant. Trunks and Vegeta chow down on endless food, until Vegeta gets covered head to toe in ink while eating a whole octopus. This angers him so much that his power shatters the restaurant's windows, but he finally manages to restrain himself.
While the family sit on the beach watching the sunset, Bulma sees a massive cruise liner and thinks that a ship like that might be a good place to hold her birthday party. As the nighttime festivities get increasingly rowdy and crowded, Vegeta is having trouble containing his irritation. Despite having admitted during the battle with Boo that Goku is #1, he still doesn't want to fall behind on his training. When the MC invites him up on stage, it's the last straw: he finally snaps and blasts off. Bulma is impressed that he managed to last so long, and Trunks happily calls out "thanks dad!" as Vegeta vanishes into the distance.
Out in the depths of space, Beerus is trying to remember the details of his dream as he and Whis head to another alien planet. On this planet, primitive green creatures with four eyes and four arms battle against a gigantic winged dinosaur. The native's stone weapons are no match, but in the end the dinosaur is single-handedly defeated by a larger, yellow member of their species, their leader. No sooner has the leader defeated the dinosaur than Whis appears before him, asking if he and Beerus can try some of the dinosaur's meat. When the leader doesn't understand, Whis repeats the request in the native's grunting language. Unpersuaded, the leader transforms into a larger red form, clearly ready for a fight. Beerus has lost patience; he had hoped eating the meat of such a "gutsy" creature might help him remember the figure from his prophetic dream. Whis points out the Beerus' "prophetic" dreams have not been terribly accurate in the past, such as when Beerus dreamed than a pop idol would be moving in with them. Deciding he can do without the meat after all, Beerus easily kills the native leader, then blows up the entire planet.
As the planet is destroyed, the Elder Kaiōshin off in the Kaiōshin Realm can tell that something is wrong. He asks the younger East Kaiōshin if he can sense it: the God of Destruction Beerus has awakened! Back on Earth, Vegeta has returned to Capsule Corporation and starts training in the gravity room, while Goku has likewise begun training on Kaiō's planet by dragging huge weights around. Seeing the planet's explosion causes Beerus to finally remember the figure from his dream: "Super Saiyan God". He and Whis return home so that he can try and remember more…










Next Time:


"Where Does the Dream Continue?! Find Super Saiyan God!"
Episode Notes
The musical track in the first episode that played during the Majin Boo battle recap, an homage to and rearrangement of "CHA-LA HEAD-CHA-LA", appears to be the standard recap music going forward.
Gregory is present during this episode alongside Kaiō and Bubbles. Gregory, not present in the manga, was developed and designed by Akira Toriyama as extra material for the Dragon Ball Z TV series when the staff asked for an additional character.
Kaiō's pun — 平和がへいわー (heiwa ga hei waa) — set in the standard structure of "X is X" using homophones, roughly means "hooray, peace!"
Vegeta's family vacation is predicated on a line from Chapter 429 / Episode 207, where Vegeta promises to take Trunks to an amusement park if he manages to punch him.
The two fruits sticking out of Vegeta's head during Bulma's aggressive flight are a pomelo ("zabon" in Japanese) and durian, a nod to Zarbon and Dodoria.
When discussing the winged dinosaur's meat, Whis notes that it has a good reputation in Universe 7. This is the first mention in the series of one of the twelve universes originally alluded to at the end of the 2013 theatrical film Dragon Ball Z: Battle of Gods.
Staff & Cast Notes
While the character Zarbon is referenced earlier in the episode (see notes above) , it is actually Zarbon's voice actor from Dragon Ball Kai, Hiroaki Miura, who voices the character trying to convince Vegeta to come up on stage.
Episode Credits
All credits listed below are as originally presented in the episode. The credit structure used in Dragon Ball Super is actually quite simple; the staff involved with the production of the series as a whole are listed in the opening credits and the staff involved with this specific episode are listed in the ending credits. All original credit errors have been corrected to maintain accurate spellings throughout the site. For more information and a complete listing of the series staff, visit the Production Guide.
Cast Credits
孫悟空

Son Goku

野沢雅子

Masako Nozawa

ブルマ

Bulma

鶴 ひろみ

Hiromi Tsuru

ベジータ

Vegeta

堀川りょう

Ryō Horikawa

トランクス

Trunks

草尾 毅

Takeshi Kusao

ビルス

Beerus

山寺宏一

Kōichi Yamadera

ウイス

Whis

森田成一

Masakazu Morita

キビト界王神

Kibito-Kaiōshin

太田真一郎

Shin'ichirō Ōta

老界王神

Elder Kaiōshin

田中亮一

Ryōichi Tanaka

界王

Kaiō

八奈見乗児

Jōji Yanami

バブルス

Bubbles

藤本たかひろ

Takahiro Fujimoto

司会者

Moderator

三浦祥朗

Hiroaki Miura

リーダー

Leader

荒井聡太

Sōta Arai

客

Guest

滑川洋平

Yōhei Namekawa

石原朋典

Tomonori Ishihara

高橋花林

Takahashi Karin

金魚わかな

Wakana Kingyo

大和田仁美

Hitomi Ōwada
Opening Credits
原作・ストーリー原案・キャラクター原案

Original Author / Story Draft / Character Drafts

鳥山 明

(集英社「ジャンプコミックス」刊)

Akira Toriyama

(Published in Shueisha's "Jump Comics")

企画

Planning

情野誠人

(フジテレビ)

Masato Seino

(Fuji TV)

渡辺和哉

(読売広告社)

Kazuya Watanabe

(Yomiko Advertising, Inc.)

森下孝三

Kōzō Morishita

プロデュサー

Producer

野﨑 理

(フジテレビ)

Osamu Nozaki

(Fuji TV)

佐川直子

(読売広告社)

Naoko Sagawa

(Yomiko Advertising, Inc.)

木戸 睦

Atsushi Kido

音楽

Music

住友紀人

Norihito Sumitomo

オープニングテーマ

Opening Theme

作詞

Lyrics

作曲

Composition

唄

Vocals

「超絶☆ダイナミック!」

"Chōzetsu ☆ Dynamic!"

森 雪之丞

Yukinojō Mori

吉井和哉

Kazuya Yoshii

吉井和哉

Kazuya Yoshii

(日本コロムビア/トライアド)

(Nippon Columbia / Triad)

製作担当

Production Manager

末竹 憲

Ken Suetake

美術デザイン

Art Design

行 信三

Shinzō Yuki

色彩設計

Color Design

堀田哲平

Teppei Hotta

キャラクターデザイン・作画監修

Character Design & Supervising
Director of Animation

山室直儀

Tadayoshi Yamamuro


シリーズディレクター

Series Director

地岡公俊

Kimitoshi Chioka

制作協力

Production Coordination

東映

Toei

制作

Production

フジテレビ

Fuji TV

読売広告社

Yomiko Advertising, Inc.

東映アニメーション

Toei Animation
Ending Credits
脚本

Script

キング・リュウ

King Ryū

声の出演

Voice Performances

~~~~

協力

In Cooperation With

青二プロダクション

Aoni Production

原画

Key Animation

舘 直樹

Naoki Tate

木下由衣

Yui Kinoshita

板井寛幸

Hiroyuki Itai

中村 翠

Midori Nakamura

福原恵次

Keiji Fukuhara

中野彰子

Akiko Nakano

佐藤道雄

Michio Satō

大下知之

Tomoyuki Ōshita

野口莉英子

Rieko Noguchi

鰐渕和彦

Kazuhiko Wanibuchi

冨木由美子

Yumiko Tomiki

石井珠樹

Tamaki Ishii

会津五月

Satsuki Aizu

林 祐己

Yūki Hayashi

楠木智子

Tomoko Kusunoki

小酒井智也

Tomoya Kosakai

中渡葉月

Hazuki Nakawatari

月乃むあ

Mua Tsukino

飯飼一幸

Kazuyuki Ikai

平林 孝

Takashi Hirabayashi

木下ゆうき

Yūki Kinoshita

服部森樹朗

Shinkiro Hattori

上杉遵史

Junji Uesugi

安達祐輔

Yūsuke Adachi

三柴直樹

Naoki Mishiba

王益

Wang Ik

動画

In-Between Animation

Toei Phils.

Toei Animation Philippines

デジタル彩色

Digital Coloring

Toei Phils.

Toei Animation Philippines

色指定

Color Designation

加藤良高

Yoshitaka Katō

デジタル特殊効果

Digital Special Effects

下川信裕

Nobuhiro Shimokawa

デジタルアーティスト

Digital Artist

牧野 快

Kai Makino

大沢彩也花

Sayaka Ōsawa

背景

Backgrounds

井芹達朗

Tatsurō Iseri

徳重 賢

Ken Tokushige

山下千歌

Chika Yamashita

 

ムクオスタジオ

Mukuo Studio

井上慎太郎

Shintarō Inoue

鹿野良行

Yoshiyuki Shikano

Toei Phils.

Toei Animation Philippines

林 鴻生

Hong-Sheng Lin

一瀬あかね

Akane Ichinose

エルウィン・サデーア

Erwin Sadia

デジタル撮影

Digital Photography

AMGA

AMGA

競 昌則

Masanori Kisoi

服部 安

Yasushi Hattori

平井智朗

Tomoaki Hirai

姜 亜偉

Ai Kyō

岡田由紀

Yuki Okada

西 重成

Shigenari Nishi

杉浦仙一

Sen'ichi Sugiura

茂木邦夫

Kunio Mogi

 

エンディングテーマ

Ending Theme

作詞

Lyrics

作曲

Composition

唄

Vocals

「ハローハローハロー」

"Hello Hello Hello"

金廣真悟

Shingo Kanehiro

金廣真悟

Shingo Kanehiro

グッドモーニングアメリカ

Good Morning America

(日本コロムビア/トライアド)

(Nippon Columbia / Triad)

音響監督

Audio Director

本田保則

Yasunori Honda

編集

Editing

西村英一

Ei'ichi Nishimura

録音

Recording

伊東光晴

Mitsuharu Itō

録音助手

Recording Assistance

新垣未希

Miki Aragaki

音響効果

Sound Effects

西村睦弘

(フィズサウンド)

Mutsuhiro Nishimura

(Fizz Sound)

記録

Documentation

沢井尚子

Shōko Sawai

アシスタントプロデュサー

Assistant Producer

出樋昌稔

(フジテレビ)

Masatoshi Dasuze

(Fuji TV)

静 美保

(読売広告社)

Miho Shizuka

(Yomiko Advertising, Inc.)

音響製作

Audio Production

タバック

TAVAC

録音スタジオ

Recording Studio

タバック

TAVAC

東映デジタルセンター

Toei Digital Center

オンライン編集

Online Editing

東映デジタルラボ

Toei Digital Lab

音楽協力

Music In Association With

東映アニメーション音楽出版

Toei Animation Music Publishing

フジパシフィックミュージック

FUJIPACIFIC MUSIC

企画協力

Planning In Cooperation With

集英社「Vジャンプ」編集部

Shueisha's "V-Jump" Editorial Department

演出助手

Assistant Director

三上雅人

Masato Mikami

石谷 恵

Megumi Ishitani

製作進行

Assistant Production Manager

難波 涼

Ryō Nanba

美術進行

Art Manager

西牧正人

Masato Nishimaki

仕上進行

Finishing Manager

河本隆弘

Takahiro Kawamoto

CG進行

CG Manager

渡辺克博

Katsuhiro Watanabe

演技事務

Talent Coordination

角 康昭

Yasuaki Tsuno

広報

Public Relations

山本麻未子

(フジテレビ)

Mamiko Yamamoto

(Fuji TV)

美術

Art Director

佐藤美幸

Miyuki Satō

総作画監督

Chief Animation Supervisor

辻 美也子

Miyako Tsuji

作画監督

Animation Supervisor

石川 修

Osamu Ishikawa

絵コンテ

Storyboard

志田直俊

Naotoshi Shida

演出

Director

三上雅人

Masato Mikami