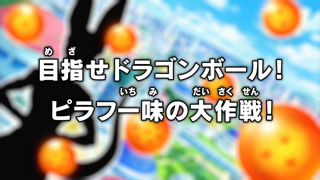 目指せドラゴンボール!ピラフ一味の大作戦!
Mezase Doragon Bōru! Pirafu Ichimi no Dai-Sakusen!
Aim for the Dragon Balls! The Pilaf Gang's Great Strategy!
Episode Information
Episode Summary
As Beerus and Whis head toward North Kaiō's planet, Kaiō is desperate to prevent Goku from meeting Beerus. He suggests Goku leave to attend Bulma's birthday party, but Goku is only interested in training and wonders why Kaiō is suddenly acting so suspicious. Meanwhile, Bulma's friends and family are enjoying themselves on her luxurious cruise ship. Bulma is upset that Goku and Vegeta are not there, and gets even more annoyed when Kuririn asks about her age. No. 18 is obsessed with the extravagant bingo tournament prizes, which include a plane and even a castle. She is determined to get second place! Below deck, Goten and Trunks run through the ship's kitchen and come to the enormous room where the tournament prizes are being stored. Goten is amazed at the prizes, but Trunks goes on to show him the secret top prize, which is protected by a high-tech security system of Bulma's own invention. Goten is amazed at how impenetrable it is, but Trunks simply unplugs the security system, revealing the Dragon Balls.
On a small desert island, Pilaf is fishing while Shuu and Mai dig for buried treasure. Despite the clear instructions of the treasure map they obtained, they have had no success, and their boat is likewise in poor condition. Bulma's cruise ship happens to be nearing Pilaf's island, and with the security system deactivated by Trunks, the Dragon Balls suddenly appear as blips on Pilaf's Dragon Radar, right as Pilaf gets a big fish on the line. In his excitement and confusion he drops the radar into the sea, then loses the fish, too. Trunks reactivates the security system, so by the time Pilaf manages to retrieve the radar, it no longer detects the Dragon Balls. Shuu and Mai think Pilaf was simply imagining things, but he insists they set out for the approaching cruise ship. Their rickety boat begins filling with water halfway there, and to make matters worse, a shark suddenly attacks. The trio manage to grab on to the side of the cruise ship and hang on for dear life, before Goten and Trunks notice them and toss a rope ladder their way. Now on board the ship, Pilaf keeps quiet about his search for the Dragon Balls, and even turns down any offer of food despite the trio's extreme hunger, but he finally succumbs before too long and they all eat happily.
At Capsule Corp., Vegeta continues his training in the gravity chamber, where now even 150 times gravity provides him little challenge. The gravity suddenly reverts to normal as a secretary comes in to inform him that he has a message from Bulma. Vegeta is still uninterested in the party, and so Bulma chews him out over the phone. Back on Kaiō's planet, Kaiō repaints his damaged house, while Goku fires a Kamehameha which quickly circles around the planet and comes straight back at him. He successfully blocks his own Kamehameha, but the impact causes Kaiō's house to collapse. Exasperated, Kaiō says that this endless obsession with getting stronger is precisely why Goku can't be allowed to meet Beerus. Goku's curious: who's Beerus? Having accidentally let it slip, Kaiō has no choice but to explain: though Beerus governs destruction and is therefore necessary to maintain the balance of the universe, he is fickle and destroys whatever annoys him. Kaiō hastily hides Goku inside his house, but it is too late. Whis and Beerus arrive on his planet in a puff of smoke!










Next Time:


"Showdown on Kaiō's Planet! Goku vs God of Destruction Beerus"
Episode Notes
At the end of the previous episode, Whis says it will take about 26 minutes to reach North Kaiō's planet, which Beerus complains is long enough to watch a regular anime episode. Whether intentional or not, when Beerus and Whis finally arrive at North Kaiō's planet at the end of this episode, it has actually taken them an entire episode of Dragon Ball Super to do so.
Staff & Cast Notes
The episode's script was written by Makoto Koyama, son of veteran Dragon Ball and Dragon Ball Z series composer and script writer Takao Koyama. His only previous involvement with the Dragon Ball franchise was providing the script for the 2011 "Episode of Bardock" feature.
Episode Credits
All credits listed below are as originally presented in the episode. The credit structure used in Dragon Ball Super is actually quite simple; the staff involved with the production of the series as a whole are listed in the opening credits and the staff involved with this specific episode are listed in the ending credits. All original credit errors have been corrected to maintain accurate spellings throughout the site. For more information and a complete listing of the series staff, visit the Production Guide.
Cast Credits
孫悟空

Son Goku

孫悟飯

Son Gohan

孫悟天

Son Goten

野沢雅子

Masako Nozawa

 

 

ブルマ

Bulma

鶴 ひろみ

Hiromi Tsuru

ベジータ

Vegeta

堀川りょう

Ryō Horikawa

クリリン

Kuririn

田中真弓

Mayumi Tanaka

トランクス

Trunks

草尾 毅

Takeshi Kusao

チチ

Chi-Chi

渡辺菜生子

Naoko Watanabe

ピラフ

Pilaf

千葉 繁

Shigeru Chiba

シュウ

Shuu

玄田哲章

Tesshō Genda

マイ

Mai

山田栄子

Eiko Yamada

ビルス

Beerus

山寺宏一

Kōichi Yamadera

ウイス

Whis

森田成一

Masakazu Morita

人造人間18号

Artificial Human No. 18

伊藤美紀

Miki Itō

バブルス

Bubbles

藤本たかひろ

Takahiro Fujimoto

グレゴリー

Gregory

沼田祐介

Yūsuke Numata

コック

Cook

半田裕典

Yūsuke Handa

スタッフ

Staff

森下由樹子

Yukiko Morishita

界王

Kaiō

八奈見乗児

Jōji Yanami
Opening Credits
原作・ストーリー原案・キャラクター原案

Original Author / Story Draft / Character Drafts

鳥山 明

(集英社「ジャンプコミックス」刊)

Akira Toriyama

(Published in Shueisha's "Jump Comics")

企画

Planning

情野誠人

(フジテレビ)

Masato Seino

(Fuji TV)

渡辺和哉

(読売広告社)

Kazuya Watanabe

(Yomiko Advertising, Inc.)

森下孝三

Kōzō Morishita

プロデュサー

Producer

野﨑 理

(フジテレビ)

Osamu Nozaki

(Fuji TV)

佐川直子

(読売広告社)

Naoko Sagawa

(Yomiko Advertising, Inc.)

木戸 睦

Atsushi Kido

音楽

Music

住友紀人

Norihito Sumitomo

オープニングテーマ

Opening Theme

作詞

Lyrics

作曲

Composition

唄

Vocals

「超絶☆ダイナミック!」

"Chōzetsu ☆ Dynamic!"

森 雪之丞

Yukinojō Mori

吉井和哉

Kazuya Yoshii

吉井和哉

Kazuya Yoshii

(日本コロムビア/トライアド)

(Nippon Columbia / Triad)

製作担当

Production Manager

末竹 憲

Ken Suetake

美術デザイン

Art Design

行 信三

Shinzō Yuki

色彩設計

Color Design

堀田哲平

Teppei Hotta

キャラクターデザイン・作画監修

Character Design & Supervising
Director of Animation

山室直儀

Tadayoshi Yamamuro


シリーズディレクター

Series Director

地岡公俊

Kimitoshi Chioka

制作協力

Production Coordination

東映

Toei

制作

Production

フジテレビ

Fuji TV

読売広告社

Yomiko Advertising, Inc.

東映アニメーション

Toei Animation
Ending Credits
脚本

Script

小山 真

Makoto Koyama

声の出演

Voice Performances

~~~~

協力

In Cooperation With

青二プロダクション

Aoni Production

原画

Key Animation

苫 政三

Seizo Toma

堀井伸雄

Nobuo Horii

北野幸広

Yukihiro Kitano

永木龍博

Tatsuhiro Nagaki

手塚江美

Emi Tezuka

動画

In-Between Animation

Toei Phils.

Toei Animation Philippines

デジタル彩色

Digital Coloring

Toei Phils.

Toei Animation Philippines

かぐら

Kagura

色指定

Color Designation

加藤良高

Yoshitaka Katō

デジタル特殊効果

Digital Special Effects

下川信裕

Nobuhiro Shimokawa

デジタルアーティスト

Digital Artist

牧野 快

Kai Makino

背景

Backgrounds

ムクオスタジオ

Mukuo Studio

井上慎太郎

Shintarō Inoue

大門友花里

Yukari Daimon

村田裕斗

Hiroto Murata

林 鴻生

Hong-Sheng Lin

石原麻美

Asami Ishihara

 

デジタル撮影

Digital Photography

AMGA

AMGA

競 昌則

Masanori Kisoi

服部 安

Yasushi Hattori

平井智朗

Tomoaki Hirai

姜 亜偉

Ai Kyō

岡田由紀

Yuki Okada

西 重成

Shigenari Nishi

杉浦仙一

Sen'ichi Sugiura

茂木邦夫

Kunio Mogi

 

エンディングテーマ

Ending Theme

作詞

Lyrics

作曲

Composition

唄

Vocals

「ハローハローハロー」

"Hello Hello Hello"

金廣真悟

Shingo Kanehiro

金廣真悟

Shingo Kanehiro

グッドモーニングアメリカ

Good Morning America

(日本コロムビア/トライアド)

(Nippon Columbia / Triad)

音響監督

Audio Director

本田保則

Yasunori Honda

編集

Editing

西村英一

Ei'ichi Nishimura

録音

Recording

伊東光晴

Mitsuharu Itō

録音助手

Recording Assistance

新垣未希

Miki Aragaki

音響効果

Sound Effects

西村睦弘

(フィズサウンド)

Mutsuhiro Nishimura

(Fizz Sound)

記録

Documentation

沢井尚子

Shōko Sawai

アシスタントプロデュサー

Assistant Producer

出樋昌稔

(フジテレビ)

Masatoshi Dasuze

(Fuji TV)

静 美保

(読売広告社)

Miho Shizuka

(Yomiko Advertising, Inc.)

音響製作

Audio Production

タバック

TAVAC

録音スタジオ

Recording Studio

サウンドイン

Sound Inn

東映デジタルセンター

Toei Digital Center

オンライン編集

Online Editing

東映デジタルラボ

Toei Digital Lab

音楽協力

Music In Association With

東映アニメーション音楽出版

Toei Animation Music Publishing

フジパシフィックミュージック

FUJIPACIFIC MUSIC

企画協力

Planning In Cooperation With

集英社「Vジャンプ」編集部

Shueisha's "V-Jump" Editorial Department

演出助手

Assistant Director

川崎弘二

Kōji Kawasaki

製作進行

Assistant Production Manager

福田一夫

Kazuo Fukuda

美術進行

Art Manager

西牧正人

Masato Nishimaki

仕上進行

Finishing Manager

河本隆弘

Takahiro Kawamoto

CG進行

CG Manager

渡辺克博

Katsuhiro Watanabe

協力プロダクション

A Cooperative Production With

スタジオ歩

Studio Ayumu

広報

Public Relations

山本麻未子

(フジテレビ)

Mamiko Yamamoto

(Fuji TV)

美術

Art Director

鹿野良行

Yoshiyuki Shikano

総作画監督

Chief Animation Supervisor

辻 美也子

Miyako Tsuji

作画監督

Animation Supervisor

苫 政三

Seizo Toma

絵コンテ

Storyboard

八島善孝

Yoshitaka Yashima

演出

Director

中村亮太

Ryōta Nakamura