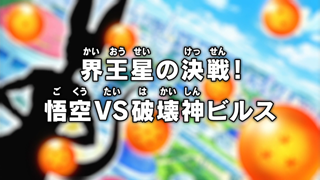 界王星の決戦!悟空VS破壊神ビルス
Kaiō-sei no Kessen! Gokū Tai Hakaishin Birusu
Showdown on Kaiō's Planet! Goku vs God of Destruction Beerus
Episode Information
Episode Summary
As Kaiō welcomes Beerus and Whis to his planet, Goku hides inside. Peering out, he assumes Whis must be the "God of Destruction" Kaiō warned him about, and is surprised when Beerus steps out from behind Whis. Kaiō offers the pair food, but Beerus warns that if it tastes as bad as last time, he'll make Kaiō's planet even smaller. Despite Kaiō's attempts at distracting him, Beerus casually asks about the hiding Saiyan. With no way around it, Goku comes out and formally introduces himself to Beerus and Whis, but Beerus is disappointed to learn Goku knows nothing of "Super Saiyan God". Whis suggests they head back home, but Beerus is still determined: after all, even the Oracle Fish spoke of Super Saiyan God. They decide to travel to Earth to ask Vegeta, but Goku interrupts and requests a match against Beerus. Despite all of Kaiō's warnings, he still wants to see Beerus' power for himself.
Goku first powers up into his regular Super Saiyan form, but Beerus easily dodges all of his attacks. He next goes up to Super Saiyan 2, but his punches still have no effect on Beerus, who isn't even bothering to counterattack. Beerus asks Goku to bring out all of the power he's hiding; otherwise, Beerus won't show his own power. In response, Goku finally powers all the way up to Super Saiyan 3. Beerus notes that this transformation far surpasses Goku's prior forms, and even Whis decides that now the fight will probably last long enough for him to eat his bentō. Goku unleashes a furious barrage of punches against Beerus, blowing away the ground of Kaiō's planet through sheer force, but even still Beerus easily blocks them all with one hand. Goku nails Beerus with a head-on Kamehameha, but when the dust clears Beerus isn't even scratched. Goku charges headfirst at Beerus, but suddenly draws back at the last moment. Beerus is impressed: somehow Goku must have sensed Beerus was finally about to attack, despite being unable to detect Beerus' ki. This makes him think Goku must have some real potential. Could this potential be Super Saiyan God?
Goku fires another Kamehameha, and though it goes straight through Kaiō's planet it's no more effective against Beerus than the first. Since Goku has shown him some interesting stuff, Beerus decides to tell Goku something worthwhile in return: Gods of Destruction… are scary! With that, he takes Goku down with two small, quick blows. Whis gives Bubbles his leftovers, and he and Beerus depart for Earth. Kaiō sees that Goku is luckily still alive; Beerus must have gone easy on him. On Earth, Vegeta has finally come to the cruise ship to join Bulma's party, though he refuses to mingle with the others. While he sits by himself, Kaiō telepathically contacts him and warns of Beerus' imminent arrival. Though Vegeta has heard of Beerus, he's still amazed to hear that Beerus defeated Goku so easily. Kaiō warns that Vegeta must do whatever it takes to prevent Beerus from getting angry, or the Earth is doomed! Back on Kaiō's planet, Goku regains consciousness. He can't believe someone as powerful as Beerus exists; even merging with Vegeta wouldn't be enough to defeat him! It seems the only way is to become Super Saiyan God…










Next Time:


"Don't Anger the God of Destruction! The Heart Pounding Birthday Party"
Episode Notes
In the 2013 theatrical film Battle of Gods, Whis notes that Beerus destroyed Kaiō's planet after losing a game of "hide-and-seek", whereas in Dragon Ball Super Beerus himself says that it was because of the bad tasting food Kaiō served during his last visit. This tidbit was first introduced by author Akira Toriyama in his seven question Q&A in the third volume of the "Dragon Ball Full Color: Saiyan Arc", although he noted that it was because Beerus lost to Kaiō in a car racing video game.
In the previous episode's next episode preview Goku is shown charging his signature Kamehameha attack, however his "go" (悟) kanji is missing from the back of his dōgi. The logo was later added and does properly appear within the episode.
Episode Credits
All credits listed below are as originally presented in the episode. The credit structure used in Dragon Ball Super is actually quite simple; the staff involved with the production of the series as a whole are listed in the opening credits and the staff involved with this specific episode are listed in the ending credits. All original credit errors have been corrected to maintain accurate spellings throughout the site. For more information and a complete listing of the series staff, visit the Production Guide.
Cast Credits
孫悟空

Son Goku

野沢雅子

Masako Nozawa

ブルマ

Bulma

鶴 ひろみ

Hiromi Tsuru

ベジータ

Vegeta

堀川りょう

Ryō Horikawa

ビルス

Beerus

山寺宏一

Kōichi Yamadera

ウイス

Whis

森田成一

Masakazu Morita

バブルス

Bubbles

藤本たかひろ

Takahiro Fujimoto

グレゴリー

Gregory

沼田祐介

Yūsuke Numata

界王

Kaiō

八奈見乗児

Jōji Yanami
Opening Credits
原作・ストーリー原案・キャラクター原案

Original Author / Story Draft / Character Drafts

鳥山 明

(集英社「ジャンプコミックス」刊)

Akira Toriyama

(Published in Shueisha's "Jump Comics")

企画

Planning

情野誠人

(フジテレビ)

Masato Seino

(Fuji TV)

渡辺和哉

(読売広告社)

Kazuya Watanabe

(Yomiko Advertising, Inc.)

森下孝三

Kōzō Morishita

プロデュサー

Producer

野﨑 理

(フジテレビ)

Osamu Nozaki

(Fuji TV)

佐川直子

(読売広告社)

Naoko Sagawa

(Yomiko Advertising, Inc.)

木戸 睦

Atsushi Kido

音楽

Music

住友紀人

Norihito Sumitomo

オープニングテーマ

Opening Theme

作詞

Lyrics

作曲

Composition

唄

Vocals

「超絶☆ダイナミック!」

"Chōzetsu ☆ Dynamic!"

森 雪之丞

Yukinojō Mori

吉井和哉

Kazuya Yoshii

吉井和哉

Kazuya Yoshii

(日本コロムビア/トライアド)

(Nippon Columbia / Triad)

製作担当

Production Manager

末竹 憲

Ken Suetake

美術デザイン

Art Design

行 信三

Shinzō Yuki

色彩設計

Color Design

堀田哲平

Teppei Hotta

キャラクターデザイン・作画監修

Character Design & Supervising
Director of Animation

山室直儀

Tadayoshi Yamamuro


シリーズディレクター

Series Director

地岡公俊

Kimitoshi Chioka

制作協力

Production Coordination

東映

Toei

制作

Production

フジテレビ

Fuji TV

読売広告社

Yomiko Advertising, Inc.

東映アニメーション

Toei Animation
Ending Credits
脚本

Script

福嶋幸典

Yoshifumi Fukushima

声の出演

Voice Performances

~~~~

協力

In Cooperation With

青二プロダクション

Aoni Production

原画

Key Animation

大塚 健

Ken Ōtsuka

門 智昭

Tomoaki Kado

八木元喜

Motoki Yagi

服部森樹朗

Shinkiro Hattori

佐藤道雄

Michio Satō

春日久美子

Kumiko Kasuga

冨木由美子

Yumiko Tomiki

山田まさし

Masashi Yamada

大西麻衣子

Maiko Ōnishi

木下ゆうき

Yūki Kinoshita

峯岸桃子

Momoko Minegishi

小倉せれん

Seren Ogura

大下知之

Tomoyuki Ōshita

佐藤友子

Tomoko Satō

内山 光

Hikaru Uchiyama

王益

Wang Ik

原 恵梨奈

Erina Hara

藁科将人

Masato Takashina

ジーアンドジーディレクション

G&G Direction

Toei Phils.

Toei Animation Philippines

動画

In-Between Animation

Toei Phils.

Toei Animation Philippines

武遊

Buyū

デジタル彩色

Digital Coloring

Toei Phils.

Toei Animation Philippines

武遊

Buyū

色指定

Color Designation

加藤良高

Yoshitaka Katō

デジタル特殊効果

Digital Special Effects

下川信裕

Nobuhiro Shimokawa

デジタルアーティスト

Digital Artist

牧野 快

Kai Makino

背景

Backgrounds

ビック・スタジオ

bic-Studio

studio AR.T.ON

柳 煥錫

Liu Huanxi

李 旼貞

Li Minzhen

徐 柱星

Xu Zhuxing

高 智榮

Gao Zhirong

李 智恩

Li Zhi'en

黄 琇詠

Huang Xiuyong

崔 有眞

Cui Youzhen

 

デジタル撮影

Digital Photography

AMGA

AMGA

競 昌則

Masanori Kisoi

服部 安

Yasushi Hattori

平井智朗

Tomoaki Hirai

姜 亜偉

Ai Kyō

岡田由紀

Yuki Okada

西 重成

Shigenari Nishi

杉浦仙一

Sen'ichi Sugiura

茂木邦夫

Kunio Mogi

 

エンディングテーマ

Ending Theme

作詞

Lyrics

作曲

Composition

唄

Vocals

「ハローハローハロー」

"Hello Hello Hello"

金廣真悟

Shingo Kanehiro

金廣真悟

Shingo Kanehiro

グッドモーニングアメリカ

Good Morning America

(日本コロムビア/トライアド)

(Nippon Columbia / Triad)

音響監督

Audio Director

本田保則

Yasunori Honda

編集

Editing

西村英一

Ei'ichi Nishimura

録音

Recording

伊東光晴

Mitsuharu Itō

録音助手

Recording Assistance

新垣未希

Miki Aragaki

音響効果

Sound Effects

西村睦弘

(フィズサウンド)

Mutsuhiro Nishimura

(Fizz Sound)

記録

Documentation

沢井尚子

Shōko Sawai

アシスタントプロデュサー

Assistant Producer

出樋昌稔

(フジテレビ)

Masatoshi Dasuze

(Fuji TV)

静 美保

(読売広告社)

Miho Shizuka

(Yomiko Advertising, Inc.)

音響製作

Audio Production

タバック

TAVAC

録音スタジオ

Recording Studio

サウンドイン

Sound Inn

東映デジタルセンター

Toei Digital Center

オンライン編集

Online Editing

東映デジタルラボ

Toei Digital Lab

音楽協力

Music In Association With

東映アニメーション音楽出版

Toei Animation Music Publishing

フジパシフィックミュージック

FUJIPACIFIC MUSIC

企画協力

Planning In Cooperation With

集英社「Vジャンプ」編集部

Shueisha's "V-Jump" Editorial Department

演出助手

Assistant Director

三上雅人

Masato Mikami

石谷 恵

Megumi Ishitani

製作進行

Assistant Production Manager

難波 涼

Ryō Nanba

美術進行

Art Manager

西牧正人

Masato Nishimaki

仕上進行

Finishing Manager

河本隆弘

Takahiro Kawamoto

CG進行

CG Manager

渡辺克博

Katsuhiro Watanabe

演技事務

Talent Coordination

角 康昭

Yasuaki Tsuno

広報

Public Relations

山本麻未子

(フジテレビ)

Mamiko Yamamoto

(Fuji TV)

美術

Art Director

李 凡善

Bun-sun Lee

総作画監督

Chief Animation Supervisor

井手武生

Takeo Ide

作画監督

Animation Supervisor

舘 直樹

Naoki Tate

絵コンテ

Storyboard

志水淳児

Junji Shimizu

演出

Director

岩井隆央

Takao Iwai