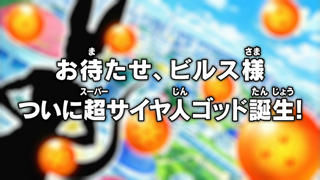 お待たせ、ビルス様 ついに超サイヤ人ゴッド誕生!
O Matase, Birusu-sama Tsui ni Sūpā Saiya-jin Goddo Tanjō!
Sorry About the Wait, Beerus-sama — Finally, Super Saiyan God is Born!
Episode Information
Episode Summary
On the cruise ship, Goten and Trunks bring out the Dragon Balls. Beerus remarks that those must be the "wishing spheres", though he thought they were supposed to be bigger. Whis explains that the God of Earth is a Namekian, and that the "wishing spheres" of Earth are indeed smaller. As Shenlong is summoned, the Pilaf Gang see him as they row away from the cruise ship, and realize that the Dragon Balls were on board after all. Goku asks Shenlong to bring them Super Saiyan God, but Shenlong explains (after groveling before Beerus for a while) that Super Saiyan God is a figure from Saiyan myth, and does not currently exist. However, Shenlong does know the method for producing Super Saiyan God: according to a Namekian book of legends, if five pure-hearted Saiyans hold hands and pour their hearts into another pure-hearted Saiyan, the god of the Saiyans will be born. With that, Shenlong bids a very respectful farewell to Beerus and departs. Piccolo thinks things are hopeless because they only have four pure-hearted Saiyans, but Kame-Sen'nin says that Vegeta is no longer evil. Goku, Gohan, Goten, Vegeta, and Trunks hold hands and attempt to turn Goku into a Super Saiyan God. Vegeta complains about Goku getting the honor, but Goku says they will make Vegeta one next.
Though Goku's ki grows higher than before, he still does not feel like a god. Whis interjects that according to Shenlong's instructions, the Saiyans need to infuse their "hearts" rather than their "ki". What's more, since five Saiyans must share their hearts with one more, a total of six pure-hearted Saiyans are needed. Things seem truly hopeless now, and Beerus begins charging another attack to destroy the Earth, but Videl interrupts, revealing that she is pregnant with Gohan's child. Everyone celebrates, and Chi-Chi even suggests that they name the baby "Gomen". However, Beerus abruptly interrupts their celebration and tells them to hurry up.
Though nobody is sure if it will work, the group tries the hand-holding ritual once more, this time with Videl added to the mix. At first nothing seems to happen, and Goku suggests that perhaps Vegeta or even Gohan's baby is not pure-hearted, but after the group concentrates a light begins shining out from Videl. Golden clouds begin swirling around the cruise ship, and the seas become violent, creating a whirlpool that starts sucking in the Pilaf Gang's rowboat. Goku says his body is starting to hurt a little, and then a blue light surrounds the group. A huge pillar of light shoots out from them and pierces through the clouds, and the group begins to shake. Goku glows red, and when the glow fades he has transformed into a younger-looking, thinner form with bright red hair. Dende seems to offer confirmation to Piccolo that Goku is indeed now a god. Beerus is reminded of the figure from his dream, and Goku is totally excited!










Next Time:


"Show Me, Goku! The Power of Super Saiyan God!!"
Episode Notes
After learning that Videl is pregnant, Chi-Chi suggests they name the child "Gomen" (悟麺). The go (悟) at the beginning of the name is the same kanji as used by every other male member of the Son family, and men (麺) is simply the Japanese word for noodles, as in ramen. The child's proposed name is actually derived from Gohan's name, which itself is a pun on rice, so it would only be fitting that his child's name be a pun on noodles.
Episode Credits
All credits listed below are as originally presented in the episode. The credit structure used in Dragon Ball Super is actually quite simple; the staff involved with the production of the series as a whole are listed in the opening credits and the staff involved with this specific episode are listed in the ending credits. All original credit errors have been corrected to maintain accurate spellings throughout the site. For more information and a complete listing of the series staff, visit the Production Guide.
Cast Credits
孫悟空

Son Goku

孫悟飯

Son Gohan

孫悟天

Son Goten

野沢雅子

Masako Nozawa

 

 

亀仙人

Kame-Sen'nin

佐藤正治

Masaharu Satō

ブルマ

Bulma

鶴 ひろみ

Hiromi Tsuru

ベジータ

Vegeta

堀川りょう

Ryō Horikawa

クリリン

Kuririn

田中真弓

Mayumi Tanaka

ピッコロ

Piccolo

古川登志夫

Toshio Furukawa

トランクス

Trunks

草尾 毅

Takeshi Kusao

チチ

Chi-Chi

渡辺菜生子

Naoko Watanabe

ビーデル

Videl

皆口裕子

Yūko Minaguchi

ミスターサタン

Mister Satan

石塚運昇

Unshō Ishizuka

ビルス

Beerus

山寺宏一

Kōichi Yamadera

ウイス

Whis

森田成一

Masakazu Morita

ピラフ

Pilaf

千葉 繁

Shigeru Chiba

シュウ

Shuu

玄田哲章

Tesshō Genda

マイ

Mai

山田栄子

Eiko Yamada

神龍

Shenlong

大友龍三郎

Ryūzaburō Ōtomo

ナレーション

Narration

八奈見乗児

Jōji Yanami
Opening Credits
原作・ストーリー原案・キャラクター原案

Original Author / Story Draft / Character Drafts

鳥山 明

(集英社「ジャンプコミックス」刊)

Akira Toriyama

(Published in Shueisha's "Jump Comics")

企画

Planning

情野誠人

(フジテレビ)

Masato Seino

(Fuji TV)

渡辺和哉

(読売広告社)

Kazuya Watanabe

(Yomiko Advertising, Inc.)

森下孝三

Kōzō Morishita

プロデュサー

Producer

野﨑 理

(フジテレビ)

Osamu Nozaki

(Fuji TV)

佐川直子

(読売広告社)

Naoko Sagawa

(Yomiko Advertising, Inc.)

木戸 睦

Atsushi Kido

音楽

Music

住友紀人

Norihito Sumitomo

オープニングテーマ

Opening Theme

作詞

Lyrics

作曲

Composition

唄

Vocals

「超絶☆ダイナミック!」

"Chōzetsu ☆ Dynamic!"

森 雪之丞

Yukinojō Mori

吉井和哉

Kazuya Yoshii

吉井和哉

Kazuya Yoshii

(日本コロムビア/トライアド)

(Nippon Columbia / Triad)

製作担当

Production Manager

末竹 憲

Ken Suetake

美術デザイン

Art Design

行 信三

Shinzō Yuki

色彩設計

Color Design

堀田哲平

Teppei Hotta

キャラクターデザイン・作画監修

Character Design & Supervising
Director of Animation

山室直儀

Tadayoshi Yamamuro


シリーズディレクター

Series Director

地岡公俊

Kimitoshi Chioka

制作協力

Production Coordination

東映

Toei

制作

Production

フジテレビ

Fuji TV

読売広告社

Yomiko Advertising, Inc.

東映アニメーション

Toei Animation
Ending Credits
脚本

Script

吉高寿男

Toshio Yoshitaka

声の出演

Voice Performances

~~~~

協力

In Cooperation With

青二プロダクション

Aoni Production

原画

Key Animation

八島善孝

Yoshitaka Yashima

トリプルエイ

Triple A

Toei Phils.

Toei Animation Philippines

動画

In-Between Animation

Toei Phils.

Toei Animation Philippines

トリプルエイ

Triple A

彩色

Digital Coloring

Toei Phils.

Toei Animation Philippines

トリプルエイ

Triple A

色指定

Color Designation

加藤良高

Yoshitaka Katō

デジタル特殊効果

Digital Special Effects

下川信裕

Nobuhiro Shimokawa

デジタルアーティスト

Digital Artist

牧野 快

Kai Makino

背景

Backgrounds

ビック・スタジオ

bic-Studio

studio AR.T.ON

柳 煥錫

Liu Huanxi

李 旼貞

Li Minzhen

徐 柱星

Xu Zhuxing

高 智榮

Gao Zhirong

李 智恩

Li Zhi'en

黄 琇詠

Huang Xiuyong

崔 有眞

Cui Youzhen

 

デジタル撮影

Digital Photography

AMGA

AMGA

競 昌則

Masanori Kisoi

服部 安

Yasushi Hattori

平井智朗

Tomoaki Hirai

姜 亜偉

Ai Kyō

岡田由紀

Yuki Okada

西 重成

Shigenari Nishi

杉浦仙一

Sen'ichi Sugiura

茂木邦夫

Kunio Mogi

 

エンディングテーマ

Ending Theme

作詞

Lyrics

作曲

Composition

唄

Vocals

「ハローハローハロー」

"Hello Hello Hello"

金廣真悟

Shingo Kanehiro

金廣真悟

Shingo Kanehiro

グッドモーニングアメリカ

Good Morning America

(日本コロムビア/トライアド)

(Nippon Columbia / Triad)

音響監督

Audio Director

本田保則

Yasunori Honda

編集

Editing

西村英一

Ei'ichi Nishimura

録音

Recording

伊東光晴

Mitsuharu Itō

録音助手

Recording Assistance

新垣未希

Miki Aragaki

音響効果

Sound Effects

西村睦弘

(フィズサウンド)

Mutsuhiro Nishimura

(Fizz Sound)

記録

Documentation

沢井尚子

Shōko Sawai

アシスタントプロデュサー

Assistant Producer

出樋昌稔

(フジテレビ)

Masatoshi Dasuze

(Fuji TV)

静 美保

(読売広告社)

Miho Shizuka

(Yomiko Advertising, Inc.)

音響製作

Audio Production

タバック

TAVAC

録音スタジオ

Recording Studio

サウンドイン

Sound Inn

東映デジタルセンター

Toei Digital Center

オンライン編集

Online Editing

東映デジタルラボ

Toei Digital Lab

音楽協力

Music In Association With

東映アニメーション音楽出版

Toei Animation Music Publishing

フジパシフィックミュージック

FUJIPACIFIC MUSIC

企画協力

Planning In Cooperation With

集英社「Vジャンプ」編集部

Shueisha's "V-Jump" Editorial Department

演出助手

Assistant Director

佐藤雅教

Masanori Satō

製作進行

Assistant Production Manager

難波 涼

Ryō Nanba

美術進行

Art Manager

西牧正人

Masato Nishimaki

仕上進行

Finishing Manager

河本隆弘

Takahiro Kawamoto

CG進行

CG Manager

渡辺克博

Katsuhiro Watanabe

演技事務

Talent Coordination

角 康昭

Yasuaki Tsuno

広報

Public Relations

山本麻未子

(フジテレビ)

Mamiko Yamamoto

(Fuji TV)

美術

Art Director

李 凡善

Bun-sun Lee

総作画監督

Chief Animation Supervisor

井手武生

Takeo Ide

作画監督

Animation Supervisor

八島善孝

Yoshitaka Yashima

絵コンテ

Storyboard

小村敏明

Toshiaki Komura

演出

Director

佐藤雅教

Masanori Satō