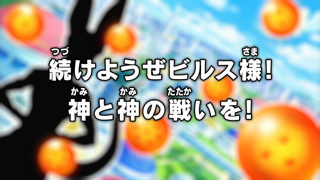 続けようぜビルス様!神と神の戦いを!
Tsudukeyō ze Birusu-sama! Kami to Kami no Tatakai o!
Let's Keep Going Beerus-sama! The Battle of Gods Continues!
Episode Information
Episode Summary
Bulma and the others try to catch up with Goku and Beerus in their plane, which is now having engine trouble due to its fall. Gohan and Goten are stuck riding along with everyone as they no longer have enough energy left to fly, which Piccolo assumes is due to the Super Saiyan God ritual. Up above in the clouds, Goku and Beerus are having a stare-down. Beerus tells Goku to start anytime he wants, and so Goku pummels him with a flurry of blows, but Beerus is unharmed. Thinking he needs to egg Goku on a bit more, Beerus forms an extra-large energy ball and hurls it his way. Goku grabs the ball with both hands and squeezes it until it explodes. Back on the plane, Bulma asks if Gohan and co. can use their ki-sensing skills to locate the battle, but Gohan explains that they cannot sense the ki of gods. Just then though, Bulma spots "pretty" lights in the sky, and Gohan realizes they are explosions from the battle. Drawing nearer, they see Goku seeming to hold his own against Beerus.
However, Goku realizes that Beerus is still not using his full power. Over in the Kaiōshin Realm, the two Kaiōshin realize that although Beerus seems to be getting beat up by Goku, he is really holding back in order to help raise Goku into a "complete" Super Saiyan God. Once Goku's complete, Beerus can then use his full power to crush him, simply for fun. Back on Earth Goku feels like he understands Beerus' motivation — once Beerus grew so strong, he was left without anyone to fight against with his full power. But Beerus cuts Goku off, saying he could not possibly understand, and begins knocking him around with a series of extremely close-range energy blasts. Grabbing Goku, he flies straight down toward a nearby island to slam Goku into the ground, challenging Goku to do anything to stop him. But Goku seems powerless, and with a huge explosion the two collide with the island.
Following the crash, Beerus casually strolls through the smoking crater on the island and finds Goku sprawled out on the ground, gasping in pain. Beerus says it is a good thing Goku managed to escape his grasp the moment of the explosion. He sits himself down on Goku's chest and begins repeatedly punching him in the face, yelling that he cannot stand how tired he is. Finally Goku punches back, knocking Beerus off his chest. Beerus says it was a good attack, but still not enough to work against him, and he knocks Goku up into the stratosphere with a series of headbutts. With Goku floating stunned and motionless, Beerus asks how long he plans to rest. Though Beerus prefers his destruction to be meaningless, in this case it seems he will have to destroy the Earth to help make Goku properly motivated. Beerus forms a small energy ball and plays with it a bit, dribbling it with his feet. Goku hates the way Beerus toys with human life, but Beerus replies that a battle between gods is more important than human life.
Finally kicking the ball down at the planet, he says Goku will not be able to knock this one back or squash it like the energy ball from before… but Goku simply destroys it instead. In response, Beerus creates countless identical energy balls and rains them all down on Goku at once. Goku counters with a Kamehameha, resulting in a massive explosion. Though the Earth remains intact, when the smoke clears Beerus has stabbed Goku through the chest with his bare hand. "Sorry, I've got the wrong man. It seems you weren't the one I was searching for after all". Goku plummets back down to Earth and crashes into the ocean. Sinking down, he wonders how anyone as powerful as Beerus could exist… yet somehow, Beerus' strength excites him. Goku's wounds suddenly heal, and he rockets out of the water, straight back up into the stratosphere. Out of respect for Goku's persistence, Beerus says he will finally show him his true power!










Next Time:


"The Universe Crumbles?! Clash! The God of Destruction vs Super Saiyan God!"
Episode Credits
All credits listed below are as originally presented in the episode. The credit structure used in Dragon Ball Super is actually quite simple; the staff involved with the production of the series as a whole are listed in the opening credits and the staff involved with this specific episode are listed in the ending credits. All original credit errors have been corrected to maintain accurate spellings throughout the site. For more information and a complete listing of the series staff, visit the Production Guide.
Cast Credits
孫悟空

Son Goku

孫悟飯

Son Gohan

孫悟天

Son Goten

野沢雅子

Masako Nozawa

 

 

ブルマ

Bulma

鶴 ひろみ

Hiromi Tsuru

ピッコロ

Piccolo

古川登志夫

Toshio Furukawa

ビルス

Beerus

山寺宏一

Kōichi Yamadera

キビト界王神

Kibito-Kaiōshin

太田真一郎

Shin'ichirō Ōta

老界王神

Elder Kaiōshin

田中亮一

Ryōichi Tanaka

ナレーション

Narration

八奈見乗児

Jōji Yanami
Opening Credits
原作・ストーリー原案・キャラクター原案

Original Author / Story Draft / Character Drafts

鳥山 明

(集英社「ジャンプコミックス」刊)

Akira Toriyama

(Published in Shueisha's "Jump Comics")

企画

Planning

情野誠人

(フジテレビ)

Masato Seino

(Fuji TV)

渡辺和哉

(読売広告社)

Kazuya Watanabe

(Yomiko Advertising, Inc.)

森下孝三

Kōzō Morishita

プロデュサー

Producer

野﨑 理

(フジテレビ)

Osamu Nozaki

(Fuji TV)

佐川直子

(読売広告社)

Naoko Sagawa

(Yomiko Advertising, Inc.)

木戸 睦

Atsushi Kido

音楽

Music

住友紀人

Norihito Sumitomo

オープニングテーマ

Opening Theme

作詞

Lyrics

作曲

Composition

唄

Vocals

「超絶☆ダイナミック!」

"Chōzetsu ☆ Dynamic!"

森 雪之丞

Yukinojō Mori

吉井和哉

Kazuya Yoshii

吉井和哉

Kazuya Yoshii

(日本コロムビア/トライアド)

(Nippon Columbia / Triad)

製作担当

Production Manager

末竹 憲

Ken Suetake

美術デザイン

Art Design

行 信三

Shinzō Yuki

色彩設計

Color Design

堀田哲平

Teppei Hotta

キャラクターデザイン・作画監修

Character Design & Supervising
Director of Animation

山室直儀

Tadayoshi Yamamuro


シリーズディレクター

Series Director

地岡公俊

Kimitoshi Chioka

制作協力

Production Coordination

東映

Toei

制作

Production

フジテレビ

Fuji TV

読売広告社

Yomiko Advertising, Inc.

東映アニメーション

Toei Animation
Ending Credits
脚本

Script

キング・リュウ

King Ryū

声の出演

Voice Performances

~~~~

協力

In Cooperation With

青二プロダクション

Aoni Production

原画

Key Animation

梨沢孝司

Kōji Nashizawa

伊藤公崇

Kimitaka Itō

堀井伸雄

Nobuo Horii

春日久美子

Kumiko Kasuga

手塚江美

Emi Tezuka

M.S.J.武蔵野制作所

M.S.J. Musashino Production

Toei Phils.

Toei Animation Philippines

舘 直樹

Naoki Tate

青木昭仁

Akihito Aoki

林 康弘

Yasuhiro Hayashi

八木元喜

Motoki Yagi

OFFICE DCI

OFFICE DCI

かぐら

Kagura

 

動画

In-Between Animation

Toei Phils.

Toei Animation Philippines

かぐら

Kagura

武遊

Buyū

彩色

Digital Coloring

Toei Phils.

Toei Animation Philippines

かぐら

Kagura

武遊

Buyū

色指定

Color Designation

加藤良高

Yoshitaka Katō

デジタル特殊効果

Digital Special Effects

下川信裕

Nobuhiro Shimokawa

デジタルアーティスト

Digital Artist

牧野 快

Kai Makino

背景

Backgrounds

アテネアートスタジオ

Athens Art Studio

斉藤信二

Shinji Saito

木下千春

Chiharu Kinoshita

山本真生

Mao Yamamoto

大谷正信

Masanobu Ōtani

赤保谷則子

Noriko Akahoya

勝又アイ子

Aiko Katsumata

デジタル撮影

Digital Photography

AMGA

AMGA

競 昌則

Masanori Kisoi

服部 安

Yasushi Hattori

平井智朗

Tomoaki Hirai

姜 亜偉

Ai Kyō

岡田由紀

Yuki Okada

西 重成

Shigenari Nishi

杉浦仙一

Sen'ichi Sugiura

茂木邦夫

Kunio Mogi

 

エンディングテーマ

Ending Theme

作詞

Lyrics

作曲

Composition

唄

Vocals

「ハローハローハロー」

"Hello Hello Hello"

金廣真悟

Shingo Kanehiro

金廣真悟

Shingo Kanehiro

グッドモーニングアメリカ

Good Morning America

(日本コロムビア/トライアド)

(Nippon Columbia / Triad)

音響監督

Audio Director

本田保則

Yasunori Honda

編集

Editing

西村英一

Ei'ichi Nishimura

録音

Recording

伊東光晴

Mitsuharu Itō

録音助手

Recording Assistance

新垣未希

Miki Aragaki

音響効果

Sound Effects

西村睦弘

(フィズサウンド)

Mutsuhiro Nishimura

(Fizz Sound)

記録

Documentation

沢井尚子

Shōko Sawai

アシスタントプロデュサー

Assistant Producer

出樋昌稔

(フジテレビ)

Masatoshi Dasuze

(Fuji TV)

静 美保

(読売広告社)

Miho Shizuka

(Yomiko Advertising, Inc.)

音響製作

Audio Production

タバック

TAVAC

録音スタジオ

Recording Studio

サウンドイン

Sound Inn

東映デジタルセンター

Toei Digital Center

オンライン編集

Online Editing

東映デジタルラボ

Toei Digital Lab

音楽協力

Music In Association With

東映アニメーション音楽出版

Toei Animation Music Publishing

フジパシフィックミュージック

FUJIPACIFIC MUSIC

企画協力

Planning In Cooperation With

集英社「Vジャンプ」編集部

Shueisha's "V-Jump" Editorial Department

演出助手

Assistant Director

石谷 恵

Megumi Ishitani

製作進行

Assistant Production Manager

福田一夫

Kazuo Fukuda

美術進行

Art Manager

西牧正人

Masato Nishimaki

仕上進行

Finishing Manager

河本隆弘

Takahiro Kawamoto

CG進行

CG Manager

渡辺克博

Katsuhiro Watanabe

演技事務

Talent Coordination

角 康昭

Yasuaki Tsuno

広報

Public Relations

山本麻未子

(フジテレビ)

Mamiko Yamamoto

(Fuji TV)

美術

Art Director

杦浦正一郎

Sei'ichiro Sugiura

斉藤信二

Shinji Saito

総作画監督

Chief Animation Supervisor

井手武生

Takeo Ide

作画監督

Animation Supervisor

舘 直樹

Naoki Tate

絵コンテ

Storyboard

志田直俊

Naotoshi Shida

演出

Director

岩井隆央

Takao Iwai