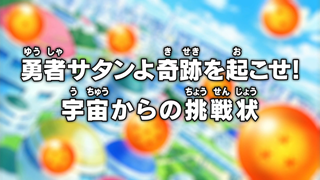 勇者サタンよ奇跡を起こせ!宇宙からの挑戦状
Yūsha Satan yo Kiseki o Okose! Uchū Kara no Chōsenjō
Heroic Satan, Cause a Miracle! A Challenge From Outer Space
Episode Information
Episode Summary
Over at the Son household, Goku is itching to go back to Kaiō's to train, but Chi-Chi forbids it, saying they are already out of money again. Besides, they've got a grandchild on the way, and Goku needs to be a good grandfather, and not just fighting all the time. At Gohan's house, Videl is about to make dinner, but Gohan insists on making it instead, since he does not want Videl to be overworked. Out in the mountains, Vegeta stands alone, thinking about how he will surpass Super Saiyan God, Beerus, and Kakarrot, too. Meanwhile, out in space, a spaceship is fast approaching Earth. The aliens inside discuss how fortunately, Earth does not seem to be inhabited by any members of "that race" with intelligence on par with their own…
Mister Satan heads off to an emergency press conference, taking Bee with him, where he explains the true cause of the mysterious shockwave phenomenon that had plagued the world to the public. Satan had learned that the Earth was being targeted by the "God of Destruction, Be… Be… Beebus", and hurried to confront him. At first, even the mighty Satan was no match for the god, but all of a suddenly a miracle occurred: he became a god himself and triumphed. The crowd cheers, but are soon sent running as a spaceship lands.
Out of the spaceship emerge the lion-like people of the Planet Snak. The Snakian ambassador is dismayed that everyone is scared by their appearance, and explains that they simply came to extend their greetings to the hero who defeated the God of Destruction. They display their ultimate sign of respect, a very silly looking dance, and ask where this hero is. Satan identifies himself as the one who defeated the God of Destruction, and the Snakian ambassador presents him with a "hero medal", but the Snakian hero Galbi is not content. He wants to spar with Earth's hero to see what he is really made of; otherwise he will not acknowledge Satan as a true hero. Satan protests, saying he is still tired from battling the God of Destruction. He quickly tries calling Gohan for help, but Gohan is too busy cooking to answer his phone. He calls Capsule Corporation to try and reach Vegeta, but nobody is home.
Just as things are looking bad for Satan, Goku flies by carrying his tractor. It turns out he was trying to get his broken tractor fixed at Bulma's, but nobody was home, and he wonders if Satan can fix it. Instead, Satan gets Goku to fight Galbi in his place, saying that if Galbi cannot even defeat Goku, he is not worthy to take on Satan. Galbi and the other Snakians are unimpressed by Goku's appearance, and to make matters worse, Chi-Chi happens by at that moment. She is carrying a huge load of food over to Gohan's house in order to help ensure Videl gets plenty of nutrition, and having Piccolo help carry the groceries as payback for always eating at their place for free. Goku panics, and in a vain attempt to prevent Chi-Chi from seeing him out fighting, he asks Satan to hit him, then pretends to be sent flying by the blow. With Goku now gone, Satan desperately thinks that even Kuririn or "that green guy" are all the help he needs, or even Goten or Trunks.
As the match starts, Satan desperately runs around avoiding Galbi's blows, but the crowd is unimpressed by his performance. Realizing he has to do something, Satan imagines how he tried to protect Videl during the battle with Beerus. He stands firm before Galbi, who seems to punch him square in the face… but in reality he has stopped just short of making contact. In fact, Galbi is completely paralyzed with fear, because he has just spotted Satan's dog, Bee. It turns out the feline Snakians are mortal enemies with a race of canine aliens, and even though the dogs on Earth are not sentient, they are still enough to strike fear into the Snakians' heart. Galbi makes a run for the ship, and the other Snakians follow behind, but not before doing their dance of respect one last time. Leaving Earth, they sadly think that it will be many thousands of years before they ever manage to conquer their mortal enemies. The crowd cheers at the sight of Satan's power, and Bee is still holding the Snakian's "hero medal" in his mouth.
That night at the Son household, Goten remarks that Goku is out late, and Chi-Chi promises to give him lots of "rest" (apparently meaning punishment) once he gets back. Meanwhile, Goku is lurking around outside, starving, but too scared to come home.










Next Time:


"Vegeta Becomes a Pupil?! Take Down Whis!"
Episode Notes
Planet Snak's name is taken from the term "snack".

スナック (su·na·k·ku) › スナク (su·na·ku)

The Snakian warrior Galbi's name most likely comes from the Korean dish of the same name, which can be romanized as either galbi or kalbi. In Japanese, the dish is traditionally written as

カルビ

(karubi).

カルビ (ka·ru·bi) › ガルビ (ga·ru·bi)
Episode Credits
All credits listed below are as originally presented in the episode. The credit structure used in Dragon Ball Super is actually quite simple; the staff involved with the production of the series as a whole are listed in the opening credits and the staff involved with this specific episode are listed in the ending credits. All original credit errors have been corrected to maintain accurate spellings throughout the site. For more information and a complete listing of the series staff, visit the Production Guide.
Cast Credits
孫悟空

Son Goku

孫悟飯

Son Gohan

孫悟天

Son Goten

野沢雅子

Masako Nozawa

 

 

亀仙人

Kame-Sen'nin

佐藤正治

Masaharu Satō

ベジータ

Vegeta

堀川りょう

Ryō Horikawa

ピッコロ

Piccolo

古川登志夫

Toshio Furukawa

チチ

Chi-Chi

渡辺菜生子

Naoko Watanabe

ビーデル

Videl

皆口裕子

Yūko Minaguchi

ミスターサタン

Mister Satan

石塚運昇

Unshō Ishizuka

ガルビ

Galbi

星野充昭

Mitsuaki Hoshino

大使

Ambassador

斉藤次郎

Jirō Saitō

秘書

Secretary

後藤哲夫

Tetsuo Gotō

ピロシキ

Piroshki

江川央生

Hisao Egawa

ピーザ

Pizza

森下由樹子

Yukiko Morishita

カロニー

Karoni

藤本たかひろ

Takahiro Fujimoto

ベエ

Bee

鈴木真仁

Masami Suzuki

ビビス

Beebus

半田裕典

Yūsuke Handa

司会者

Moderator

鹿野優以

Yui Kano

客

Spectator

滑川洋平

Yōhei Namekawa

ナレーション

Narration

龍田直樹

Naoki Tatsuta
Opening Credits
原作・ストーリー原案・キャラクター原案

Original Author / Story Draft / Character Drafts

鳥山 明

(集英社「ジャンプコミックス」刊)

Akira Toriyama

(Published in Shueisha's "Jump Comics")

企画

Planning

情野誠人

(フジテレビ)

Masato Seino

(Fuji TV)

渡辺和哉

(読売広告社)

Kazuya Watanabe

(Yomiko Advertising, Inc.)

森下孝三

Kōzō Morishita

プロデューサー

Producer

野﨑 理

(フジテレビ)

Osamu Nozaki

(Fuji TV)

佐川直子

(読売広告社)

Naoko Sagawa

(Yomiko Advertising, Inc.)

木戸 睦

Atsushi Kido

音楽

Music

住友紀人

Norihito Sumitomo

オープニングテーマ

Opening Theme

作詞

Lyrics

作曲

Composition

唄

Vocals

「超絶☆ダイナミック!」

"Chōzetsu ☆ Dynamic!"

森 雪之丞

Yukinojō Mori

吉井和哉

Kazuya Yoshii

吉井和哉

Kazuya Yoshii

(日本コロムビア/トライアド)

(Nippon Columbia / Triad)

製作担当

Production Manager

末竹 憲

Ken Suetake

美術デザイン

Art Design

行 信三

Shinzō Yuki

色彩設計

Color Design

堀田哲平

Teppei Hotta

キャラクターデザイン・作画監修

Character Design & Supervising
Director of Animation

山室直儀

Tadayoshi Yamamuro


シリーズディレクター

Series Director

地岡公俊

Kimitoshi Chioka

制作協力

Production Coordination

東映

Toei

制作

Production

フジテレビ

Fuji TV

読売広告社

Yomiko Advertising, Inc.

東映アニメーション

Toei Animation
Ending Credits
脚本

Script

福嶋幸典

Yoshifumi Fukushima

声の出演

Voice Performances

~~~~

協力

In Cooperation With

青二プロダクション

Aoni Production

原画

Key Animation

八島善孝

Yoshitaka Yashima

Toei Phils.

Toei Animation Philippines

動画

In-Between Animation

Toei Phils.

Toei Animation Philippines

武遊

Buyū

彩色

Digital Coloring

Toei Phils.

Toei Animation Philippines

武遊

Buyū

色指定

Color Designation

加藤良高

Yoshitaka Katō

デジタル特殊効果

Digital Special Effects

下川信裕

Nobuhiro Shimokawa

デジタルアーティスト

Digital Artist

牧野 快

Kai Makino

背景

Backgrounds

アテネアートスタジオ

Athens Art Studio

斉藤信二

Shinji Saito

木下千春

Chiharu Kinoshita

山本真生

Mao Yamamoto

大谷正信

Masanobu Ōtani

赤保谷則子

Noriko Akahoya

勝又アイ子

Aiko Katsumata

デジタル撮影

Digital Photography

AMGA

AMGA

競 昌則

Masanori Kisoi

服部 安

Yasushi Hattori

平井智朗

Tomoaki Hirai

姜 亜偉

Ai Kyō

岡田由紀

Yuki Okada

西 重成

Shigenari Nishi

杉浦仙一

Sen'ichi Sugiura

茂木邦夫

Kunio Mogi

 

エンディングテーマ

Ending Theme

作詞

Lyrics

作曲

Composition

編曲

Arrangement

唄

Vocals

「スターリングスター」

"Starring Star"

首藤義勝

Yoshikatsu Shutō

首藤義勝

Yoshikatsu Shutō

KEYTALK & NARASAKI

KEYTALK & NARASAKI

KEYTALK

KEYTALK

(ビクターエンタテインメント)

(Victor Entertainment)

音響監督

Audio Director

本田保則

Yasunori Honda

編集

Editing

西村英一

Ei'ichi Nishimura

録音

Recording

伊東光晴

Mitsuharu Itō

録音助手

Recording Assistance

新垣未希

Miki Aragaki

音響効果

Sound Effects

西村睦弘

(フィズサウンド)

Mutsuhiro Nishimura

(Fizz Sound)

記録

Documentation

沢井尚子

Shōko Sawai

アシスタントプロデューサー

Assistant Producer

出樋昌稔

(フジテレビ)

Masatoshi Dasuze

(Fuji TV)

静 美保

(読売広告社)

Miho Shizuka

(Yomiko Advertising, Inc.)

音響製作

Audio Production

タバック

TAVAC

録音スタジオ

Recording Studio

サウンドイン

Sound Inn

東映デジタルセンター

Toei Digital Center

オンライン編集

Online Editing

東映デジタルラボ

Toei Digital Lab

音楽協力

Music In Association With

東映アニメーション音楽出版

Toei Animation Music Publishing

フジパシフィックミュージック

FUJIPACIFIC MUSIC

企画協力

Planning In Cooperation With

集英社「Vジャンプ」編集部

Shueisha's "V-Jump" Editorial Department

演出助手

Assistant Director

石谷 恵

Megumi Ishitani

製作進行

Assistant Production Manager

福田一夫

Kazuo Fukuda

美術進行

Art Manager

西牧正人

Masato Nishimaki

仕上進行

Finishing Manager

河本隆弘

Takahiro Kawamoto

CG進行

CG Manager

渡辺克博

Katsuhiro Watanabe

演技事務

Talent Coordination

角 康昭

Yasuaki Tsuno

広報

Public Relations

山本麻未子

(フジテレビ)

Mamiko Yamamoto

(Fuji TV)

美術

Art Director

杦浦正一郎

Sei'ichiro Sugiura

斉藤信二

Shinji Saito

総作画監督

Chief Animation Supervisor

井手武生

Takeo Ide

作画監督

Animation Supervisor

八島善孝

Yoshitaka Yashima

絵コンテ

Storyboard

八島善孝

Yoshitaka Yashima

演出

Director

広嶋秀樹

Hideki Hiroshima