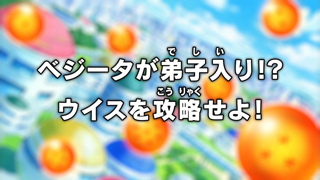 ベジータが弟子入り!?ウイスを攻略せよ!
Bejīta ga Deshi'iri!? Uisu o Kōryakuse yo!
Vegeta Becomes a Pupil?! Take Down Whis!
Episode Information
Episode Summary
In the Kaiōshin Realm, the two Kaiōshin are wondering about the recent mysterious disappearance of some planets. Did Beerus destroy them? It does not quite seem like it, because the two planets disappeared so suddenly, "as if by magic". When Elder Kaiōshin suddenly gets distracted, East Kaiōshin assumes he is using his divine sight to peep on women or something equally perverted, but he turns out to instead be watching two beetles wrestle.
On Earth, Goku is driving his tractor out in the field again when Kuririn comes by to visit. Kuririn had thought Goku might have gone off to Kaiō's to train again, so he is glad to find him here. Seeing that Goku is still set on continuing his training, Kuririn reminiscences about how the two of them used to train together under Kame-Sen'nin. Now though, Goku has grown strong enough to be a match for even the God of Destruction Beerus. Curious to experience for himself just how strong Goku has become, Kuririn asks Goku to hit him. After some persuading, Goku does, sending Kuririn flying across the countryside and straight through a house or two. Goku teleports to try and catch him… but misses, and Kuririn crashes straight into a large boulder. Back at the Son household, No. 18 treats Kuririn's bruise, while Goten and Marron play together. Back on his own out in the field, Goku confirms that nobody's around, then becomes a Super Saiyan and starts to train.
In a desolate wasteland, Vegeta is still standing by himself, thinking of how he will surpass Goku and everyone else. After enduring a storm, he powers up, but seems disappointed that he is still at this level and flies off. At a tempura restaurant, Whis is trying tempura for the first time… with Bulma there beside him. It turns out that Bulma has been taking Whis out to various restaurants for quite a while now, in order to convince him to save her family's lives if Beerus ever tries to destroy Earth again. As Vegeta returns home to Capsule Corporation, he is surprised to run into Bulma and Whis, who have just returned from the restaurant. Vegeta asks Whis where Beerus is, and when Whis replies that he is still sleeping back on his planet, Vegeta demands that Whis take him there so that he can show Beerus the true power of the Saiyans. Bulma angrily pulls Vegeta aside and explains her plan to bribe Whis with food, which she thinks is the only surefire way to keep safe. After all, even Goku could not beat Beerus, so Vegeta definitely would not stand a chance. Vegeta is not happy about any of this, and wants to force Whis to take him to Beerus… but he quickly changes his tune when he senses an unknown power from Whis. When Vegeta demands to know who or what he is, Whis explains that he is Beerus' martial arts master.
In order to get Whis to train him, Vegeta promises to feed Whis the tastiest thing on Earth. He first takes Whis to a tempura restaurant, but it turns out to be the exact same one he and Bulma just ate at. In fact, Whis and Bulma have already been to every restaurant Vegeta can think of, leaving him no choice but to cook something of his own for Whis. But Vegeta's attempt at cooking is a complete disaster: he cannot even crack eggs open so that the yolk goes into the bowl, and one of his eggs hatches into a chick as a final insult. Bulma and Vegeta insult each other's cooking for a bit, before Vegeta asks Whis to list all the things Bulma has had him eat, and realizes that something is missing. Bulma has been hiding the tastiest food of all from Whis… instant ramen! When Whis tries some, he is at a loss for words, and soon takes Vegeta with him through space to Beerus' planet.










Next Time:


"Pan is Born! And Goku Goes Off on a Training Journey?!"
Episode Notes
In addition to some exposition provided by the Kaiōshin, Whis notes that it "has been a while" when he runs into Vegeta at Capsule Corporation, indicating that a decent amount of time has passed since Beerus and Son Goku's battle.
When Whis declines to take Vegeta to Beerus, Vegeta readies himself with the intention of using force , but suddenly notices a mysterious ki emanating from Whis that will not allow him to get near, let alone attack. The phrase Vegeta uses to describe this ki as "mu ki no ki" (無気の気), meaning "nothingness ki". In essence, it is like an airy or nonexistent ki, but it is still ki at the same time, or a "ki-less" ki.
As Vegeta prepares to crack an egg and cook a delicious meal for Whis, some ingredients have already been lined up on the table. In order, they are creamer (Recoom), yogurt (Gurd), milk (Ginyu), cheese (Jheese), and butter (Butta), all references to the name puns of the Ginyu Special-Squad members.

This episode references several Japanese foods, more-so than any other episode of Dragon Ball to date. Some of the foods mentioned include Tempura (along with Tentsuyu dip), Broiled Eel, Oden, Sukiyaki, Crab shabu-shabu, Motsunabe, Ramen, and Kaiseki cuisine.
Episode Credits
All credits listed below are as originally presented in the episode. The credit structure used in Dragon Ball Super is actually quite simple; the staff involved with the production of the series as a whole are listed in the opening credits and the staff involved with this specific episode are listed in the ending credits. All original credit errors have been corrected to maintain accurate spellings throughout the site. For more information and a complete listing of the series staff, visit the Production Guide.
Cast Credits
孫悟空

Son Goku

孫悟天

Son Goten

野沢雅子

Masako Nozawa

 

ブルマ

Bulma

鶴 ひろみ

Hiromi Tsuru

ベジータ

Vegeta

堀川りょう

Ryō Horikawa

クリリン

Kuririn

田中真弓

Mayumi Tanaka

人造人間18号

Artificial Human No. 18

伊藤美紀

Miki Itō

キビト界王神

Kibito-Kaiōshin

太田真一郎

Shin'ichirō Ōta

老界王神

Elder Kaiōshin

田中亮一

Ryōichi Tanaka

ウイス

Whis

森田成一

Masakazu Morita

マーロン

Marron

牛田裕子

Hiroko Ushida

男

Man

新井良平

Ryōhei Arai

女

Woman

金魚わかな

Wakana Kingyo

ナレーション

Narration

龍田直樹

Naoki Tatsuta
Opening Credits
原作・ストーリー原案・キャラクター原案

Original Author / Story Draft / Character Drafts

鳥山 明

(集英社「ジャンプコミックス」刊)

Akira Toriyama

(Published in Shueisha's "Jump Comics")

企画

Planning

情野誠人

(フジテレビ)

Masato Seino

(Fuji TV)

渡辺和哉

(読売広告社)

Kazuya Watanabe

(Yomiko Advertising, Inc.)

森下孝三

Kōzō Morishita

プロデューサー

Producer

野﨑 理

(フジテレビ)

Osamu Nozaki

(Fuji TV)

佐川直子

(読売広告社)

Naoko Sagawa

(Yomiko Advertising, Inc.)

木戸 睦

Atsushi Kido

音楽

Music

住友紀人

Norihito Sumitomo

オープニングテーマ

Opening Theme

作詞

Lyrics

作曲

Composition

唄

Vocals

「超絶☆ダイナミック!」

"Chōzetsu ☆ Dynamic!"

森 雪之丞

Yukinojō Mori

吉井和哉

Kazuya Yoshii

吉井和哉

Kazuya Yoshii

(日本コロムビア/トライアド)

(Nippon Columbia / Triad)

製作担当

Production Manager

末竹 憲

Ken Suetake

美術デザイン

Art Design

行 信三

Shinzō Yuki

色彩設計

Color Design

堀田哲平

Teppei Hotta

キャラクターデザイン・作画監修

Character Design & Supervising
Director of Animation

山室直儀

Tadayoshi Yamamuro


シリーズディレクター

Series Director

地岡公俊

Kimitoshi Chioka

制作協力

Production Coordination

東映

Toei

制作

Production

フジテレビ

Fuji TV

読売広告社

Yomiko Advertising, Inc.

東映アニメーション

Toei Animation
Ending Credits
脚本

Script

福嶋幸典

Yoshifumi Fukushima

声の出演

Voice Performances

~~~~

協力

In Cooperation With

青二プロダクション

Aoni Production

原画

Key Animation

谷田部透湖

Tōko Yatabe

小堀史絵

Fumie Kobori

山井紗也香

Sayaka Yamai

大島塔也

Tōya Ōshima

西ノ宮超太郎

Watarō Nishinomiya

松浦里美

Satomi Matsu'ura

田中 萌

Moe Tanaka

井畑翔太

Shōta Ibata

森中正春

Masaharu Morinaka

手塚江美

Emi Tezuka

佐藤友子

Tomoko Satō

阿部安佳里

Akari Abe

Toei Phils.

Toei Animation Philippines

高木麻穂

Maho Takagi

池田由美

Yumi Ikeda

浅野 元

Gen Asano

森 久司

Hisashi Mori

阿部美佐緒

Misao Abe

野崎真一

Shin'ichi Nozaki

 

鈴木奈都子

Natsuko Suzuki

北條裕之

Hiroyuki Hōjō

服部森樹朗

Shinkiro Hattori

会津五月

Satsuki Aizu

旭プロダクション

Asahi Production

 

動画

In-Between Animation

Toei Phils.

Toei Animation Philippines

武遊

Buyū

ミュウ

Myū

彩色

Digital Coloring

Toei Phils.

Toei Animation Philippines

武遊

Buyū

ミュウ

Myū

色指定

Color Designation

加藤良高

Yoshitaka Katō

デジタル特殊効果

Digital Special Effects

下川信裕

Nobuhiro Shimokawa

デジタルアーティスト

Digital Artist

牧野 快

Kai Makino

背景

Backgrounds

ムクオスタジオ

Mukuo Studio

井上慎太郎

Shintarō Inoue

村田裕斗

Hiroto Murata

林 鴻生

Hong-Sheng Lin

石原麻美

Asami Ishihara

デジタル撮影

Digital Photography

AMGA

AMGA

競 昌則

Masanori Kisoi

服部 安

Yasushi Hattori

平井智朗

Tomoaki Hirai

姜 亜偉

Ai Kyō

岡田由紀

Yuki Okada

西 重成

Shigenari Nishi

杉浦仙一

Sen'ichi Sugiura

茂木邦夫

Kunio Mogi

 

エンディングテーマ

Ending Theme

作詞

Lyrics

作曲

Composition

編曲

Arrangement

唄

Vocals

「スターリングスター」

"Starring Star"

首藤義勝

Yoshikatsu Shutō

首藤義勝

Yoshikatsu Shutō

KEYTALK & NARASAKI

KEYTALK & NARASAKI

KEYTALK

KEYTALK

(ビクターエンタテインメント)

(Victor Entertainment)

音響監督

Audio Director

本田保則

Yasunori Honda

編集

Editing

西村英一

Ei'ichi Nishimura

録音

Recording

伊東光晴

Mitsuharu Itō

録音助手

Recording Assistance

新垣未希

Miki Aragaki

音響効果

Sound Effects

西村睦弘

(フィズサウンド)

Mutsuhiro Nishimura

(Fizz Sound)

記録

Documentation

沢井尚子

Shōko Sawai

アシスタントプロデューサー

Assistant Producer

出樋昌稔

(フジテレビ)

Masatoshi Dasuze

(Fuji TV)

静 美保

(読売広告社)

Miho Shizuka

(Yomiko Advertising, Inc.)

音響製作

Audio Production

タバック

TAVAC

録音スタジオ

Recording Studio

サウンドイン

Sound Inn

東映デジタルセンター

Toei Digital Center

オンライン編集

Online Editing

東映デジタルラボ

Toei Digital Lab

音楽協力

Music In Association With

東映アニメーション音楽出版

Toei Animation Music Publishing

フジパシフィックミュージック

FUJIPACIFIC MUSIC

企画協力

Planning In Cooperation With

集英社「Vジャンプ」編集部

Shueisha's "V-Jump" Editorial Department

演出助手

Assistant Director

栗原ひとみ

Hitomi Kurihara

製作進行

Assistant Production Manager

杉谷勇樹

Yūki Sugitani

小林克規

Katsunori Kobayashi

美術進行

Art Manager

西牧正人

Masato Nishimaki

仕上進行

Finishing Manager

河本隆弘

Takahiro Kawamoto

CG進行

CG Manager

渡辺克博

Katsuhiro Watanabe

演技事務

Talent Coordination

角 康昭

Yasuaki Tsuno

協力プロダクション

A Cooperative Production With

スタジカラー

Studio Color

広報

Public Relations

山本麻未子

(フジテレビ)

Mamiko Yamamoto

(Fuji TV)

美術

Art Director

鹿野良行

Yoshiyuki Shikano

総作画監督

Chief Animation Supervisor

辻 美也子

Miyako Tsuji

作画監督

Animation Supervisor

井関修一

Shūichi Iseki

絵コンテ

Storyboard

中島太貫

Nakajima Ōtsura

演出

Director

三上雅人

Masato Mikami