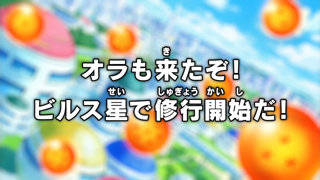 オラも来たぞ!ビルス星で修行開始だ!
Ora mo Kita zo! Birusu-sei de Shugyō Kaishi da!
I've Come Too! Training Begins on Beerus' Planet!
Episode Information
Episode Summary
Whis and Goku arrive on Beerus' planet, where Goku is reunited with Vegeta. Goku is impressed with how much stronger Vegeta has grown since he last saw him, saying Vegeta might even be stronger than him now (though he does tease Vegeta about the pink apron he's wearing). While Whis and the Oracle Fish go off to eat some sweets from Bulma, Vegeta takes Goku (now sporting a blue apron) to Beerus' bedroom. Their first task: change Beerus' blankets and sheets without waking him up. This is harder than it looks, because Beerus constantly attacks them in his sleep. At one point Vegeta is knocked into one of the floating alarm clock bombs that fill Beerus' room, and Goku teleports it over to Whis outside in order to prevent the explosion from waking Beerus. Finally, after much difficulty the two finish the job. Goku asks if Vegeta does hard training like this every day, but Vegeta says that is not training at all, it is just ordinary household chores! The real training is still to come. First though, the two must complete the rest of the chores, which Whis requires them to perform in exchange for his training. After cleaning the Oracle Fish's numerous bowls, they cut the grass (which Vegeta says will have already grown back by the next day). With that done, training can finally begin!
First, Whis presents Goku with a new martial arts uniform, to go along with the redesigned armor Vegeta received from Bulma. Their first training is to lift up heavy weights. When Goku struggles to lift his, Vegeta arrogantly offers to show him how it is done… but he cannot lift his weight either. It turns out Whis has made Vegeta's weight for today twice as heavy as before. Struggling mightily, Goku and Vegeta finally lift up both their weights, at which point Whis orders them to run around the entire planet. To make matters worse, the road they are on disappears bit by bit, so if they are not fast enough they will fall off and become trapped in an inescapable alternate dimension. While Whis begins to wonder if maybe the pace is a little too fast, the Oracle Fish comes out to say Beerus seems to be waking up. Whis teleports everyone back into Beerus' room, where the groggy Beerus shoots an energy blast from his mouth, nailing Goku and Vegeta head-on, then goes right back to sleep. Thankfully the two are still alive, and Whis declares training finished for the day.
That night, Goku and Vegeta discuss their training: Vegeta says Goku can always head back home if it is too difficult for him, but Goku will not have any of that. After Goku nods off, Vegeta goes off and does extra training on his own, determined not to fall behind Goku. Elsewhere, the Oracle Fish asks Whis if maybe his training is too rough. He is terribly concerned about Goku and Vegeta's well-being: after all, he has been getting more snacks since they started doing the chores around the place. At the very least, would it not be safer to have them train as Super Saiyans? Whis explains that training in their regular state will yield better results in the long-term, and that most likely the two of them have realized that on their own. After all, Whis never told them they could not become Super Saiyans, yet they have not anyway.
The next morning, Whis says he is changing the training program up a bit. Today he will fight Goku and Vegeta… at the same time! The two go at him together, but cannot lay a finger on him. Whis stops them and explains that their speed simply is not up to snuff. They are thinking first before acting, which slows them down. After all, it takes time for messages to be relayed from their senses to their brain, slowing down their reaction speed. Instead, they need to make each part of their body capable of reacting all on its own, something even Beerus has not perfected yet. While Whis claims to have mastered this technique, Goku points out that he has unwittingly stepped in some poop, causing Whis to freak out. Whis sheepishly explains that even if each part of his body can react on its own, his shoes cannot…
Out in space, a familiar-looking spaceship is traveling along. Inside are the remains of Freeza's army: Sorbet, Tagoma, Shisami, and various officers and random goons. An officer reports to Sorbet about a rebellion by the inhabitants of Planet 448. Since most of their soldiers are off fighting on other planets, they have very few troops available to send as reinforcements. Sorbet angrily orders them to cut their losses and withdraw from Planet 448… moments before something shoots past their ship. Floating in space above a planet, Champa orders Vados to destroy it, making her complain that Champa ought to do it himself. Still, she follows orders, although after it is destroyed the two say that this planet was "the wrong one", and they take off for the "next" one…










Next Time:


"Despair Once More! Revival of the Evil Emperor, Freeza!"
Episode Credits
All credits listed below are as originally presented in the episode. The credit structure used in Dragon Ball Super is actually quite simple; the staff involved with the production of the series as a whole are listed in the opening credits and the staff involved with this specific episode are listed in the ending credits. All original credit errors have been corrected to maintain accurate spellings throughout the site. For more information and a complete listing of the series staff, visit the Production Guide.
Cast Credits
孫悟空

Son Goku

野沢雅子

Masako Nozawa

ベジータ

Vegeta

堀川りょう

Ryō Horikawa

ビルス

Beerus

山寺宏一

Kōichi Yamadera

ウイス

Whis

森田成一

Masakazu Morita

シャンパ

Champa

岩田光央

Mitsuo Iwata

ヴァドス

Vados

山口由里子

Yuriko Yamaguchi

ソルベ

Sorbet

斎藤志郎

Shirō Saitō

参謀

Staff Officer

麻生智久

Tomohisa Asō

予言魚

Oracle Fish

中川翔子

Shōko Nakagawa

ナレーション

Narration

龍田直樹

Naoki Tatsuta
Opening Credits
原作・ストーリー原案・キャラクター原案

Original Author / Story Draft / Character Drafts

鳥山 明

(集英社「ジャンプコミックス」刊)

Akira Toriyama

(Published in Shueisha's "Jump Comics")

企画

Planning

情野誠人

(フジテレビ)

Masato Seino

(Fuji TV)

渡辺和哉

(読売広告社)

Kazuya Watanabe

(Yomiko Advertising, Inc.)

森下孝三

Kōzō Morishita

プロデューサー

Producer

野﨑 理

(フジテレビ)

Osamu Nozaki

(Fuji TV)

佐川直子

(読売広告社)

Naoko Sagawa

(Yomiko Advertising, Inc.)

木戸 睦

Atsushi Kido

音楽

Music

住友紀人

Norihito Sumitomo

オープニングテーマ

Opening Theme

作詞

Lyrics

作曲

Composition

唄

Vocals

「超絶☆ダイナミック!」

"Chōzetsu ☆ Dynamic!"

森 雪之丞

Yukinojō Mori

吉井和哉

Kazuya Yoshii

吉井和哉

Kazuya Yoshii

(日本コロムビア/トライアド)

(Nippon Columbia / Triad)

製作担当

Production Manager

末竹 憲

Ken Suetake

美術デザイン

Art Design

行 信三

Shinzō Yuki

色彩設計

Color Design

堀田哲平

Teppei Hotta

キャラクターデザイン・作画監修

Character Design & Supervising
Director of Animation

山室直儀

Tadayoshi Yamamuro


シリーズディレクター

Series Director

地岡公俊

Kimitoshi Chioka

制作協力

Production Coordination

東映

Toei

制作

Production

フジテレビ

Fuji TV

読売広告社

Yomiko Advertising, Inc.

東映アニメーション

Toei Animation
Ending Credits
脚本

Script

福嶋幸典

Yoshifumi Fukushima

声の出演

Voice Performances

~~~~

協力

In Cooperation With

青二プロダクション

Aoni Production

原画

Key Animation

舘 直樹

Naoki Tate

北野幸広

Yukihiro Kitano

村 俊太郎

Shuntarō Mura

松本勝次

Katsuji Matsumoto

山田まさし

Masashi Yamada

手塚江美

Emi Tezuka

Toei Phils.

Toei Animation Philippines

稲葉 仁

Hitoshi Inaba

佐藤道雄

Michio Satō

二階堂渥志

Atsushi Nikaidō

留都沢乃実

Nomi Tomechisa

辻 美也子

Miyako Tsuji

会津五月

Satsuki Aizu

 

動画

In-Between Animation

Toei Phils.

Toei Animation Philippines

武遊

Buyū

ミュウ

Myū

彩色

Digital Coloring

Toei Phils.

Toei Animation Philippines

武遊

Buyū

ミュウ

Myū

色指定

Color Designation

加藤良高

Yoshitaka Katō

デジタル特殊効果

Digital Special Effects

下川信裕

Nobuhiro Shimokawa

デジタルアーティスト

Digital Artist

牧野 快

Kai Makino

奥村崇之

Takayuki Okumura

背景

Backgrounds

徳重 賢

Ken Tokushige

佐藤美幸

Miyuki Satō

いいだりえ

Rie Iida

行 信三

Shinzō Yuki

マジックハウス

Magic House

吉田智子

Tomoko Yoshida

安積裕子

Yūko Azumi

デジタル撮影

Digital Photography

AMGA

AMGA

競 昌則

Masanori Kisoi

服部 安

Yasushi Hattori

平井智朗

Tomoaki Hirai

姜 亜偉

Ai Kyō

岡田由紀

Yuki Okada

西 重成

Shigenari Nishi

杉浦仙一

Sen'ichi Sugiura

茂木邦夫

Kunio Mogi

 

エンディングテーマ

Ending Theme

作詞

Lyrics

作曲

Composition

編曲

Arrangement

唄

Vocals

「スターリングスター」

"Starring Star"

首藤義勝

Yoshikatsu Shutō

首藤義勝

Yoshikatsu Shutō

KEYTALK & NARASAKI

KEYTALK & NARASAKI

KEYTALK

KEYTALK

(ビクターエンタテインメント)

(Victor Entertainment)

音響監督

Audio Director

本田保則

Yasunori Honda

編集

Editing

西村英一

Ei'ichi Nishimura

録音

Recording

伊東光晴

Mitsuharu Itō

録音助手

Recording Assistance

新垣未希

Miki Aragaki

音響効果

Sound Effects

西村睦弘

(フィズサウンド)

Mutsuhiro Nishimura

(Fizz Sound)

記録

Documentation

沢井尚子

Shōko Sawai

アシスタントプロデューサー

Assistant Producer

出樋昌稔

(フジテレビ)

Masatoshi Dasuze

(Fuji TV)

静 美保

(読売広告社)

Miho Shizuka

(Yomiko Advertising, Inc.)

音響製作

Audio Production

タバック

TAVAC

録音スタジオ

Recording Studio

サウンドイン

Sound Inn

東映デジタルセンター

Toei Digital Center

オンライン編集

Online Editing

東映デジタルラボ

Toei Digital Lab

音楽協力

Music In Association With

東映アニメーション音楽出版

Toei Animation Music Publishing

フジパシフィックミュージック

FUJIPACIFIC MUSIC

企画協力

Planning In Cooperation With

集英社「Vジャンプ」編集部

Shueisha's "V-Jump" Editorial Department

演出助手

Assistant Director

川崎弘二

Kōji Kawasaki

製作進行

Assistant Production Manager

小林克規

Katsunori Kobayashi

美術進行

Art Manager

西牧正人

Masato Nishimaki

仕上進行

Finishing Manager

河本隆弘

Takahiro Kawamoto

CG進行

CG Manager

渡辺克博

Katsuhiro Watanabe

演技事務

Talent Coordination

角 康昭

Yasuaki Tsuno

広報

Public Relations

山本麻未子

(フジテレビ)

Mamiko Yamamoto

(Fuji TV)

美術

Art Director

西田 渚

Nagisa Nishida

総作画監督

Chief Animation Supervisor

辻 美也子

Miyako Tsuji

作画監督

Animation Supervisor

舘 直樹

Naoki Tate

絵コンテ

Storyboard

志田直俊

Naotoshi Shida

演出

Director

岩井隆央

Takao Iwai